Fast fashion: Inside the fight to end the silence on waste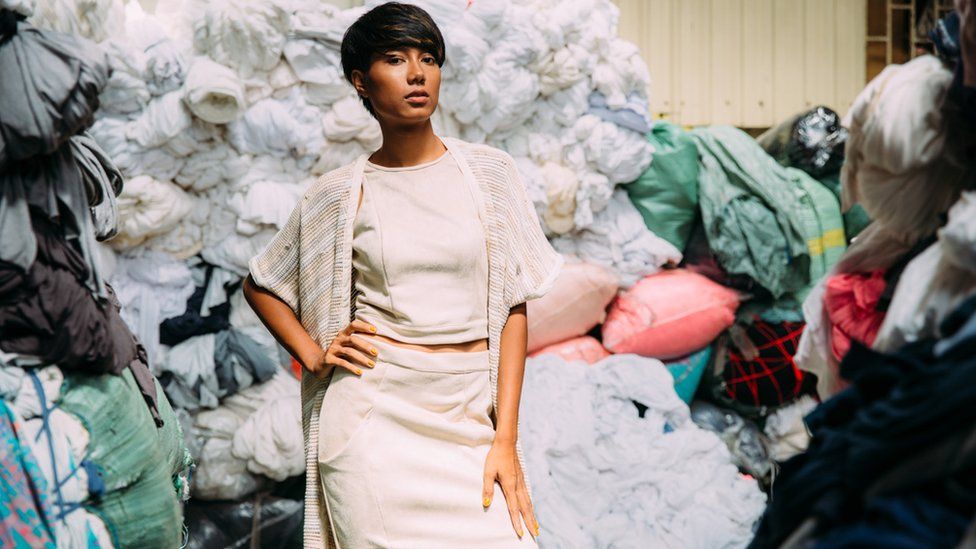 At a time when our waste and our environmental impact is firmly under the spotlight, news in early July that fashion brand Burberry had burned almost £30m ($40m) of stock has caused outrage.
But how widespread is stock destruction at this level?
Orsola de Castro is the co-founder and creative director of activist group Fashion Revolution, who lobby brands on production transparency. She describes landfilling and burning as fashion's "dirtiest open secret" and says she has been waiting decades for a story like Burberry's to emerge.
The BBC contacted 35 high-end designers and high-street retailers to ask about their practice.
Only six replied with breakdowns or further information, and the rest said they could not help or did not respond at all.
Many now opt to publish end-of-year reports that detail progress on workers' rights and environmental sustainability. The information about Burberry's stock burning was released in one such report - and Orsola points out that the designer is in fact one of the most transparent.
So why is stock destruction even a thing?
Designer brands typically work on much lower stock levels than high-street retailers, so their waste stock should be lower.
Retailer Inditex (who own brands like Zara and Bershka) work on a similar model - buying small batches at the start of the season and using customer popularity to gauge how much more to produce.
Larger commercial producers have greater stock levels and tend to first reduce prices to shift their product, then recycle or resell what is left. In some cases, external companies that specialise in moving on unsold goods are used by some retailers. Others have adopted initiatives to donate unwanted clothes to NGOs and social enterprises.
But environmental activists say fashion's waste problem is much bigger than just unsold stock. They blame 'fast fashion' - a term describing our high rate of fashion consumption fuelled by the quantity of new clothes that go on sale.
How is the industry changing?
While our passion for fashion is at least part of the problem, experts say the industry itself needs to be smarter with production to lessen environmental damage.
The conference was organised by a group called Global Fashion Agenda, who want brands to adopt initiatives like using monofibres instead of synthetic and mixed-fibre fabrics, which are hard to break down in the recycling process.
It is estimated that only 1% of our clothing is ultimately recycled into new garments because of this complexity - instead becoming items like insulation and cloths, which in turn may end up in landfill.
By May 2018, 12.5% of the global fashion market had signed up to the 2020 targets - including big global names like Nike, Asos and Gap.
Certain brands are capitalising on the environmental wave to set ambitious targets for themselves: Adidas for example have committed to only using recycling plastic in their shoes by 2024 and H&M says it hopes to only use sustainable materials in its production by 2030.
Jack Ostrowski, founder and CEO of the reGAIN app which helps people recycle unwanted clothing, believes fast fashion is not just an industry problem but a social one too.
"People simply don't understand how big negative impact fashion industry is on the environment and how quickly that has to change," he says. "It just simply cannot continue in the way it is now."
He has developed an app that encourages consumers to recycle their clothes by offering incentives such as retailer discounts. He believes retailers who profit from clothes have a responsibility to better inform, facilitate and incentivise recycling from customers.
The sentiment is echoed by activists such as Greenpeace, who say fashion's circularity targets do not go far enough. They say the industry needs to stop marketing cheap fast-fashion altogether, advocating for a slowdown our current consumption level.
Part of fashion retailers' advertising strategy to younger audiences is now through social media. Popular figures are brought on board for line collaborations and online influencers are sent goods for free to help promote them to their followers.
"There's going to be a tipping point where consumers will start seeing this act of hoarding or hauling goods as negative," Orsola from Fashion Revolution says.
"Which influencers right now will film themselves drinking from 50 different plastic straws because they're 50 different colours? That would look so wrong right now but two years ago would have been fine."
She has worked in the fashion industry for years advocating for upcycling of products. This also has currency in the online world - with bloggers and social media accounts sharing advice on how to repair, reuse or repurpose our clothes in inventive ways.
Asked for advice on how to resist the temptation to spend, she recommends people return to engaging emotionally with their clothing - learning to love the things they own and taking longer to consider future purchases.
"Torture yourself a little bit! Because actually waiting for something, waiting to see if you really, really want it, waiting to see if it has a function in your life and then buying it is beautiful."