Syria: Who's in control of Idlib?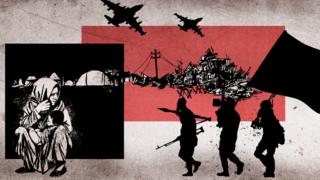 The northern Syrian province of Idlib is the last remaining stronghold controlled by forces opposed to President Bashar al-Assad.
Amid signs of an imminent Syrian government offensive, there have been conflicting claims about the armed groups operating there.
A pro-Assad Syrian MP, Fares Shehabi, told BBC Reality Check that there were as many as 100,000 "al-Qaeda affiliated terrorists" in Idlib, of whom 40,000 were what he called "hardcore radicals".
A general in the Russian military, which is providing air support to forces loyal to President Assad, has said that more than 70% of Idlib is now controlled by "terrorists".
The US' top general is reported to have estimated that there were 20,000 to 30,000 militants in Idlib, while the UN's special envoy for Syria, Staffan de Mistura, recently estimated there were 10,000 fighters in Idlib associated with al-Qaeda, including many foreigners.
There are an estimated 2.9 million people living in Idlib and its surrounding area. While the vast majority of them are civilians, thousands have taken up arms against the government, including jihadists linked to al-Qaeda, over the past seven years.
However, what is less clear is exactly how many fighters each of the various groups command, and whether they would be designated as terrorists by the United Nations.
Disparate factions
The main armed groups operating in Idlib are:
Hayat Tahrir al-Sham (HTS, a jihadist alliance)
National Liberation Front (Turkish-backed rebel alliance)
Hurras al-Din (pro-al-Qaeda HTS offshoot)
Turkistan Islamic Party (Chinese Uighur-dominated jihadist group)
HTS is the most dominant force and controls large parts of Idlib, including the provincial capital and the border crossing with Turkey at Bab al-Hawa.
HTS is the latest incarnation of al-Nusra Front, which was al-Qaeda's official affiliate in Syria.
In 2016, al-Nusra Front declared that it had severed formal ties with the global jihadist network and renamed itself Jabhat Fateh al-Sham.
The following year, it merged with several small jihadist groups fighting in Syria and formed HTS.
Although HTS insists it is independent and not linked to an external entity, the UN, US and Turkey consider it a group associated with al-Qaeda and list it as a terrorist organisation.
"HTS is the largest and best armed group in Idlib, which means the other small groups follow its lead - even if they say they are separate," says Tim Ripley, a defence analyst and author of a book on Russian involvement in Syria.
However, he adds that "all the rebel groups in Idlib are made up of alliances that shift on a daily basis".
Although some experts caution against making estimates, Charles Lister, of the US-based Middle East Institute, says he believes HTS has 12,000 full-time fighters.
"This number can be added to by other loyal [to HTS] groups in the North West, which may bring HTS's broader influence umbrella to around 20,000," he adds.
The other key force is the National Liberation Front (NLF), which was formed earlier this year by rebel factions wanting to counter HTS.
It includes hard-line Islamist groups, including Ahrar al-Sham and the Nour al-Din al-Zinki Brigades as well as several groups fighting under the banner of the Free Syrian Army, a force considered more "moderate" by Western powers.
Aron Lund, a fellow with the US-based research group the Century Foundation, says the NLF is held together by Turkish leadership, as well as money, weapons and supplies.
"The NLF will stand or fall with Turkey's involvement in Syria," he says.
There are other groups as well.
One is Hurras al-Din (Guardians of Religion) a splinter group from HTS that is widely believed to be al-Qaeda's new affiliate in Syria.
Foreign militants
There are also many foreign jihadists in Idlib, many of them fighting for groups associated with al-Qaeda.
Mr de Mistura said there was "an extremely high concentration" of foreign fighters linked to al-Qaeda.
The Turkistan Islamic Party (TIP) is a group of Uighur fighters allied to HTS.
The Uighurs - a Muslim ethnic minority mostly based in China's Xinjiang province - established a presence in northern Syria in the early years of the civil war.
Mr Shehabi says the Uighurs and their families number as many as 10,000 in Idlib, concentrated in the Qusur district.
But Raffaello Pantucci, of the UK-based security think tank Rusi (Royal United Services Institute), believes this number is too high.
"They and their families may not number more than several thousand," he says.
There are also believed to be other foreign jihadists in Idlib, including Chechens and Uzbeks, although the numbers are likely to be smaller.
Civilians trapped in Idlib
A major concern now is for the civilians living in Idlib.
Most are displaced from elsewhere in Syria, including those evacuated under deals reached with the government as it attacked other rebel strongholds, most recently the south-western provinces of Deraa and Quneitra and the Eastern Ghouta region near Damascus.
Many may have hoped that they would be safe in Idlib because in May 2017 it was designated a "de-escalation" zone under an agreement between Turkey, Russia and Iran, another key ally of President Assad.
UN officials fear that as many as 800,000 people could be displaced by a full-scale offensive on the province and that the number of people in need of aid in Syria - which already stands at two million - could increase dramatically.
Update 7 March 2019: We later added an updated map of Idlib province, produced on 24 September 2019, in this article.