Judy Garland's slippers: Five more items that are still missing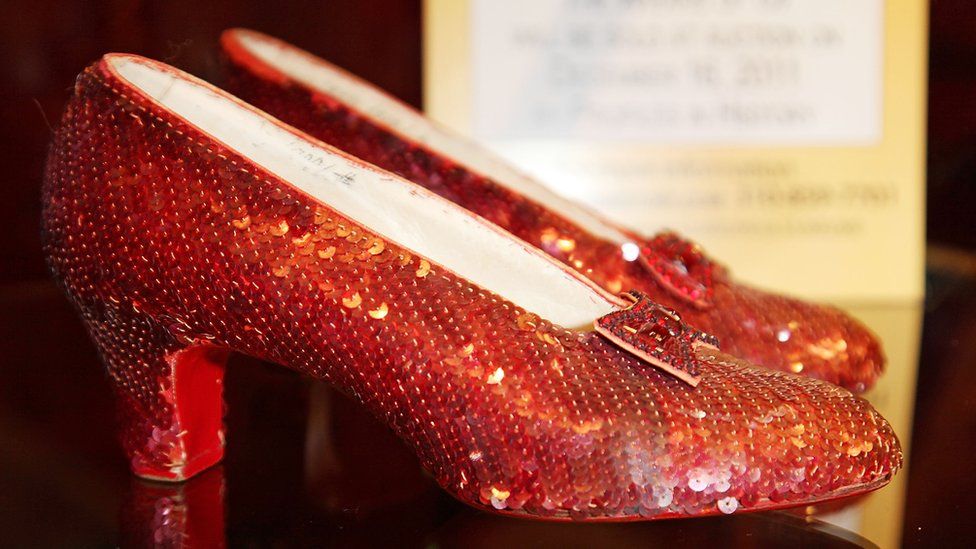 The lion was missing his courage, the tin man his heart and the scarecrow his brain. And in this alternate version of The Wizard of Oz, Dorothy was missing her ruby-red slippers.
That was until this week, when it was announced that a pair of the shoes worn by Judy Garland in the 1939 film had been recovered, 13 years after they were stolen.
It puts an end to a particularly intriguing disappearance - but here are five others that are still to be resolved.
1) The painting taken on Millennium Eve
It was 31 December 1999 and fireworks were going off around Oxford as the new millennium was about to begin. Those who weren't celebrating were cowering in their bunkers in fear at what the Millennium Bug would bring.
It was at this exact moment that someone entered the city's Ashmolean Museum, after sneaking in through a building site for a new library next door.
The man - for it is believed to be a man - then let off a smoke canister to hide himself from cameras, before lifting Cézanne's Auvers-sur-Oise, a painting produced between 1879 and 1882 and worth at least £3m (now $3.8m).
This particular sword, or katana, was produced in 14th-Century Japan by renowned swordmaker Masamune and was named a national treasure in 1939.
It was said to be able to split a helmet in two and was worn by the shoguns, or rulers, of Japan's military government for centuries.
There's just one problem: no-one knows where it is now.
It is not clear what happened to the sword, or 14 others from the same collection, but it may have been handed to American soldiers at the end of World War Two when Japan surrendered its weapons.
A search for a soldier who may have taken it - identified as Coldy Bimore, but possibly misinterpreted as Cole D B Moore - has proven fruitless.
3) A violin stolen from someone's deathbed
Austrian concert violinist Erica Morini was gifted a Stradivarius violin, dating to 1727, by her father in the 1930s.
In October 1995, when she was aged 91 and living in New York City, Morini was admitted to hospital. While she was there, the violin - believed to be worth $3.5m (now £2.7m) - was stolen from a cupboard in her locked apartment.
Morini died a few days later, unaware of the theft, and the violin has never been recovered.
Her case is not unique: there have been a number of thefts of Stradivarius violins in the US in recent years.
On 26 November 1983, an armed gang raided the Brinks Mat warehouse near London's Heathrow Airport and stole close to three tonnes of gold bullion then worth about £26m.
A number of people were jailed for their part in the robbery and for laundering the proceeds, but it is not known what happened to most of the gold. A small amount is known to have been melted in the city of Bath before being resold.
In truth, the stolen gold is unlikely to be recovered, as it is all thought to have been melted and sold over the past 35 years.
5) From the museum to the bin?
Security camera footage showed the thief, later nicknamed Spiderman, clambering in to Paris' Museum of Modern Art in May 2010, before taking his time to walk around.
The thief, Vjeran Tomic, was jailed last year, but he told police he had panicked and hidden the paintings in a bin, and had assumed they were then destroyed.
In their report, investigators said they believed the paintings had been transferred abroad, but they added there was no firm proof of this.