Freedom Trash Can: Lipstick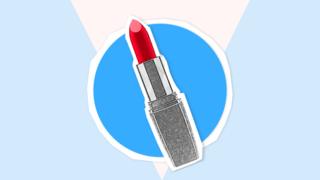 A recent US study suggests women who wear more make-up to work get paid more, on average, than other female colleagues.
The global beauty and personal care industry is worth about $500bn (£390bn) a year, but critics say the way cosmetics are marketed perpetuates unrealistic beauty expectations.
Advertising campaigns for cosmetics have become a focus of criticism in many countries. Protesters say that the images are too heavily edited and they lead to women to compare themselves unfavourably with seemingly flawless models.
In some cases protesters want certain products to be taken off the market, for example the skin-whitening cosmetics sold in some Asian and African countries.
Select an object from the list and find out how it might be considered an object of oppression.
America's suffragettes were early adopters of lipstick, in defiance of the expectation that women should be modest.
But nowadays, women are more likely to protest against social expectations by posting selfies without any make-up on.
Pick another object to explore