Freedom Trash Can: The Bra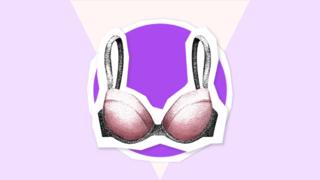 Social media influencers have been championing comfort over form for this iconic item of underwear.
One of this year's 100 Women, bra-less blogger Chidera Eggerue, says there is "more than one way to be beautiful" and "it's not about how perky your boobs are".
UK retailers have reported a rise in sales of non-wired underwear as women start to demand more comfortable options.
But this is not even close to the first time women have campaigned against bras.
The phrase "bra-burning feminists" originated after a protest outside the Miss America beauty pageant in 1968, which inspired this Freedom Trash Can project.
A group of women threw items - including bras, which they saw as symbolically oppressing women - into a bin, although they never actually burned them.
However "bra-burning feminists" became an idea that spread, and the controversy probably inspired many women at the time to express their opinion on issues affecting them.
The bra has existed in some form for thousands of years, but it wasn't until 1907 that the term brassiere was coined - by Vogue magazine. It remained a one-size-fits all proposition until dressmaker Ida Rosenthal designed a bra with different cup sizes.
Pick another object to explore