Freedom Trash Can: Women's magazines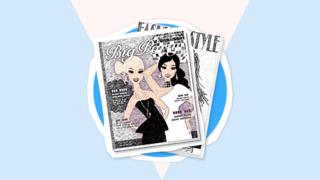 The first ever women's magazine was thought to be The Ladies Mercury published in the UK in 1693.
The magazine pledged to cover "all the most nice and curious questions concerning love, marriage, behaviour, dress and humour" for women "whether virgins, wives, or widows".
Today's magazines are more likely to pledge themselves to cover fashion and celebrity gossip, though, of course, they cover a wide range of other topics too.
Publication owners and editors might argue their success shows they are giving the readers what they want.
Select an object from the list and find out how it might be considered an object of oppression.
But the modern obsession with celebrity has also been blamed for affecting young people's mental health.
A recent UK survey found that 58% of 11-16 year olds blamed celebrity culture for the pressure to look perfect.
Pick another object to explore