Freedom Trash Can: Wedding ring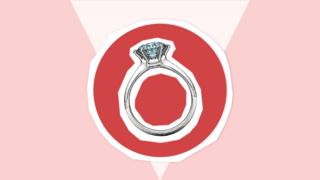 Before its modern associations with love and romance, marriage was traditionally used to form tribal and political relationships.
Today ceremonies are big business, with a recent survey finding the average wedding costs couples in the UK £30,355 ($39,000).
Some argue the practice of marriage, and of engagement rings, is outdated and undermines feminism.
"I believe engagement rings are anti-feminist," says media strategist Matilde Suescún, writing for 100 Women.
"They symbolise an attitude which is in complete antithesis to the idea of an independent woman - signifying that the woman with the ring belongs to another person."
In 2015, marriage rates in the UK hit a record low, with the decline attributed to factors like the increased social acceptance of unmarried couples co-habiting and the potentially crippling cost of wedding ceremonies.
Select an object from the list and find out how it might be considered an object of oppression.
But it's not all bad news for people who are marriage fans.
In the US and UK, the proportion of people marrying may have been decreasing for the last three decades, but divorce rates have been falling too.
Pick another object to explore