Freedom Trash Can: Social media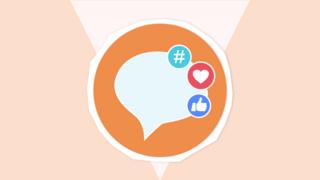 Almost half the people in the world now use social media - from major US companies like Facebook, Twitter and Instagram, to the huge Asian brands of Weibo, WeChat and KakaoStory.
In western and northern Europe, more than nine out of 10 people say they are on at least one social media network.
But comparing our lives with friends and celebrities may be making us miserable.
Research suggests heavy users of social media are more likely to report poor mental health, including anxiety and depression.
Young women in particular say that social media makes them feel more conscious of how they look. A survey by Girlguiding found that 59% of girls aged 11 to 21 say that social media is one of the main causes of stress among girls in their age group.
Select an object from the list and find out how it might be considered an object of oppression.
At the same time, others point out the positive aspects of social media. People say it gives them a way to express themselves and can help isolated people find emotional support.
It has also allowed social campaigns to increase their impact.
The #MeToo movement, which has allowed many women to talk about sexual assault and harassment, was a protest that was amplified on social media.
It became an international talking point last year when women began sharing their stories online.
Pick another object to explore