'Hakuna Matata' and other unlikely trademarked phrases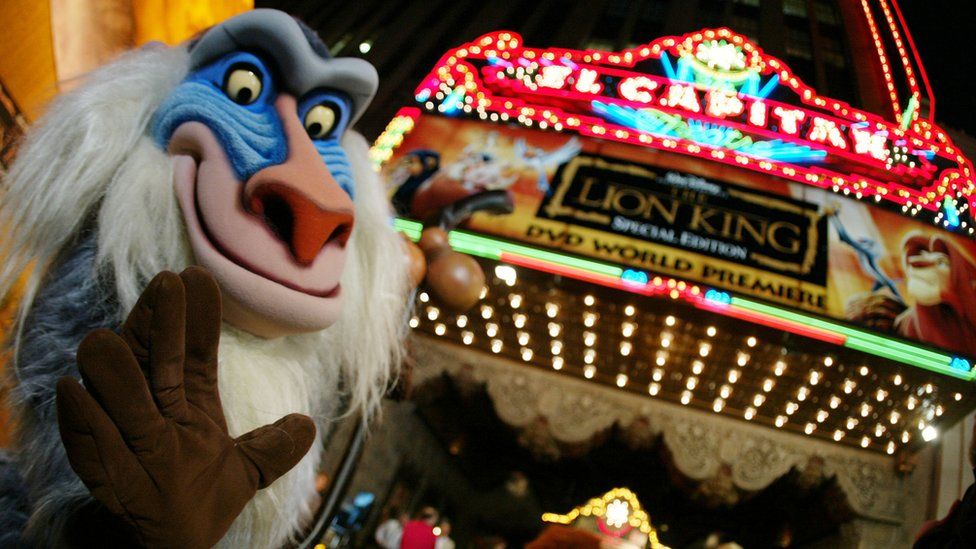 In recent days angry opinion pieces have sprung up in Kenyan media over the well-known Swahili phrase "Hakuna Matata".
The phrase translated means "no problems" or "no worries" and is a common expression throughout east Africa.
But to the rest of the world, it's best known as a song from the Lion King - and Walt Disney registered a trademark for the phrase for their merchandise.
Some Kenyan newspapers have accused the company of stealing from Kenyan culture by claiming ownership of the phrase.
However the trademark they're talking about is itself not new - US records show it was first filed back in 1994 coinciding with the movie's original release.
The row has likely come up now as hype around the film's live action remake brews.
We take a look at other famous phrases that were claimed as trademarks.
"That's hot" became heiress Paris Hilton's signature catchphrase on The Simple Life reality television show in the early 00s.
She loved it so much that she trademarked it in 2004 for merchandising reasons, and the move paid off just a few years later when she got into a dispute about its use with Hallmark cards.
The company had portrayed her as a waitress using the catchphrase on a spoof greetings card.
Hilton sued the company in 2007 and after a lengthy legal battle, where Hallmark cited free-speech as their defence, the two parties settled out of court for an unknown sum.
The late Nigerian novelist Chinua Achebe found himself at the centre of an unlikely dispute with 50 Cent, whose real name is Curtis Jackson, back in 2011.
Lawyers for Achebe took issue with the rapper shooting a film with the same name of his influential 1958 novel Things Fall Apart.
Despite an alleged offer from the rapper's side to pay $1m to hold on to the title, Jackson's production eventually conceded defeat and changed the film's name to All Things Fall Apart.
Interestingly, Achebe himself did not coin the phrase through, nor was it trademarked to him.
It first appeared in a poem written by William Butler Yeats in 1919, a line that Achebe used in his work.
Tennis legend John McEnroe's famous 1981 Wimbledon rant against a line call has become one of the things he is best remembered for - so much so it was the title of his autobiography.
US Patent and Trademark Office records show he trademarked the famous phrase first in television entertainment and then for T-shirts, until 2014, when it was not renewed.
He's not the only person in the world of sports stars to protect their famous catchphrase.
Boxing ring announcer Michael Buffer is synonymous with his pre-fight gambit: "Let's get ready to rumble!"
In the mid 1990s he trademarked the phrase on everything from beachwear, to coffee cups, but also in entertainment and advertising.
The idea was reportedly the idea of his brother and manager, and is said to have helped earn him hundreds of millions of dollars throughout his career, including from lawsuits.
Pop-star Taylor Swift has trademarked a number of key phrases from her most well-known song lyrics in recent years.
Other examples include: "Party Like It's 1989", "Cause We Never Go Out of Style", and "Nice to Meet You, Where You Been?"
The move protects exclusivity on merchandising, and Taylor wasn't afraid to use it.
Mr. T (of 1980s A-Team fame) trademarked his well-known catchphrase back in 2011 on everything from key rings, to costumes to caps.
The actor, whose real name is Laurence Tureaud, ironically does not hold the trademark over the use of "Mr T" itself.
That is actually held by a company in Illinois over a foam T-shaped scrubber device for "household cleaning needs" and an automobile part company.
Long before Donald Trump was president of the United States, he was best known for his boardroom antics on NBC's The Apprentice.
As the show's host, he would round-off episodes by eliminating contestants using his famous firing phrase.
They thought it could be mistaken for an educational board game called: ''You're Hired!"
Interestingly enough, a search of trademarks held today show that the phrase was registered this year in the political service category, alongside "You're fired 2020" - perhaps by the president's political opponents.