Coronavirus: A visual guide to the pandemic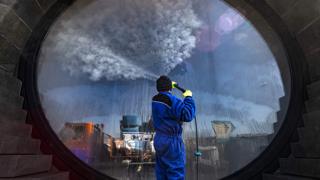 There are now more than 860,000 confirmed cases of coronavirus in 180 countries. At least 42,000 people have died from the disease.
The United States now has more confirmed cases than any other single country, including China where the disease emerged in December 2019.
Europe has also recorded hundreds of thousands of infections, with Italy and Spain worst affected.
This series of maps and charts will help you understand what's going on.
How many deaths and recoveries have there been?
The virus is spreading rapidly in many countries.
The US overtook China on 26 March and now has double the number of confirmed cases, according to figures collated by Johns Hopkins University.
Around 3,300 people died in the Chinese outbreak - but Italy, Spain and France now have higher death tolls.
The outbreak was declared a global pandemic by the World Health Organization (WHO) on 11 March. This is when an infectious disease is passing easily from person to person in many parts of the world at the same time.
The WHO said it took more than three months to reach the first 100,000 confirmed cases worldwide, but only 12 days to reach 200,000, four days to reach 300,000, three days to reach 400,000 and another five to reach 700,000.