Coronavirus: Olympic doubts grow as Canada withdraws athletes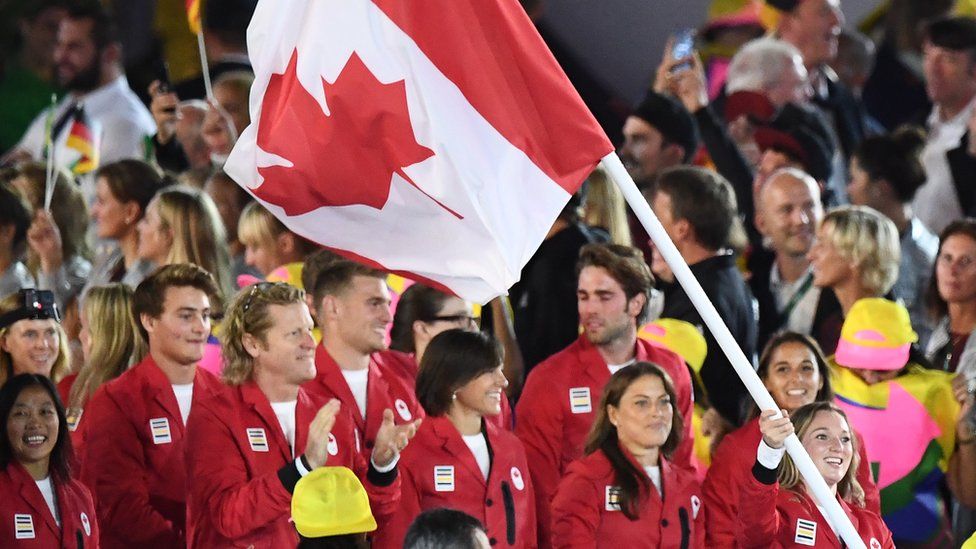 The 2020 Olympic and Paralympic Games in Tokyo have been thrown into further doubt after Canada became the first major country to withdraw.
Japan's Prime Minister, Shinzo Abe, admitted for the first time that the games could be postponed.
Australia's team said it was clear the games could not go ahead, while the British Olympic Association said it was unlikely to be able to send a team.
The International Olympic Committee is expected to decide in four weeks' time.
It said postponement - but not cancellation - was an option being examined.
The Canadian Olympic Committee and Canadian Paralympic Committee said on Sunday that they had taken "the difficult decision" to withdraw after consulting athletes, sports groups, and the Canadian government.
They then "urgently called" on the IOC, International Paralympic Committee and World Health Organization, to postpone the games for a year.
"While we recognise the inherent complexities around a postponement, nothing is more important than the health and safety of our athletes and the world community," their statement said.
The Canadians later posted a message on Twitter saying: "Postpone today. Conquer tomorrow."
The BBC is not responsible for the content of external sites.
Skip twitter post by Team Canada
Allow Twitter content?
This article contains content provided by Twitter. We ask for your permission before anything is loaded, as they may be using cookies and other technologies. You may want to read Twitter's cookie policy, external and privacy policy, external before accepting. To view this content choose 'accept and continue'.
The BBC is not responsible for the content of external sites.
End of twitter post by Team Canada
Canadian Prime Minister Justin Trudeau told reporters on Monday: "This was absolutely the right call and everyone should follow their lead."
For weeks, Japanese officials have said the games will go ahead as planned.
But, speaking in parliament on Monday, Mr Abe admitted for the first time that Tokyo 2020 might have to be delayed.
"If it is difficult to hold [the games] in a complete way, a decision of postponement would be unavoidable as we think the athletes' safety is paramount," he said.
But he insisted the games would not be cancelled altogether.
The Olympics have never been postponed or cancelled in peacetime. The 1940 Olympics - which were called off because of World War Two - were due to be held in Tokyo.
What is the International Olympic Committee's position?
The IOC has said postponement is one "scenario" but insists that cancellation "would not solve any of the problems or help anybody".
In a letter to athletes, IOC president Thomas Bach said: "Human lives take precedence over everything, including the staging of the games...
"At the end of this dark tunnel we are all going through together, not knowing how long it is, the Olympic flame will be a light at the end of this tunnel."
What do other countries and athletes say?
The head of World Athletics, Sebastian Coe, wrote to Mr Bach on Sunday to say holding the games in July was "neither feasible nor desirable".
On Monday, Australia told its athletes to prepare for an Olympics and Paralympics in the northern summer of 2021, while Germany's Olympic Committee has called for a postponement.
"It's clear the games can't be held in July," Australian chef-de-mission Ian Chesterman said.
The chairman of the British Olympic Association said he was doubtful it would be able to participate if the games went ahead as scheduled.
"I think it is very simple. If the virus continues as predicted by the government, I don't think there is any way we can send a team," Hugh Robertson told Sky Sports News.
"And I base that on two things. Firstly, I don't see any way that the athletes and Team GB could be ready by then," he added. "Second, there is the appropriateness of holding an Olympic Games at a time like this."
Norwegian Olympic and Paralympic Committee President Berit Kjøll told reporters that she had advised its board "that you should ask not to send any athletes to the Paralympics or Olympics in Tokyo 2020 in light of the serious situation".
Spain's Olympics chief, Alejandro Blanco, said he would prefer the games to be postponed because the country's athletes were unable to train and that would result in "unequal conditions".
"As the pandemic gets worse and worse and there are more and more societal restrictions put in place, I think the call needs to be made now," said British cyclist Callum Skinner, who fronts the Global Athlete.