Coronavirus and gender: More chores for women set back gains in equality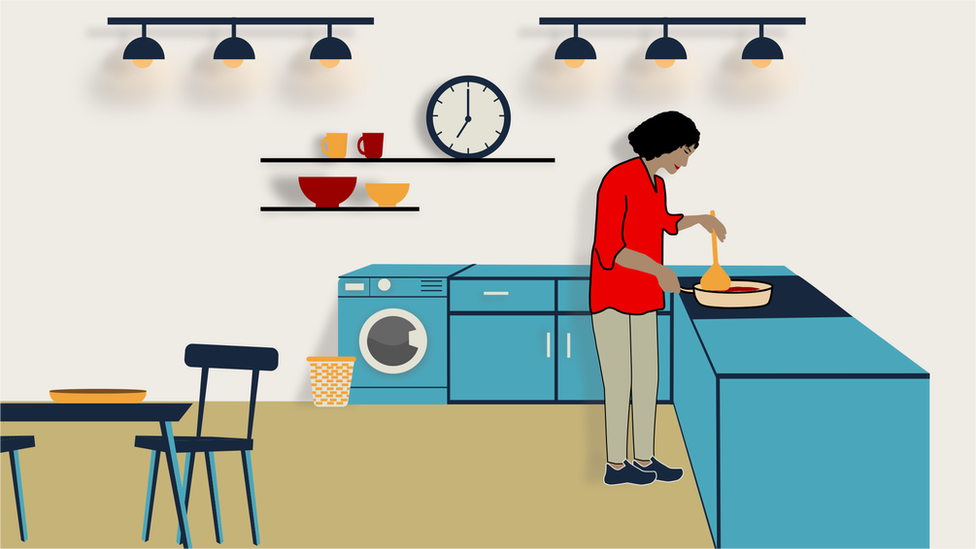 Women are doing significantly more domestic chores and family care, because of the impact of the pandemic.
"Everything we worked for, that has taken 25 years, could be lost in a year," says UN Women Deputy Executive Director Anita Bhatia.
Employment and education opportunities could be lost, and women may suffer from poorer mental and physical health.
The care burden poses a "real risk of reverting to 1950s gender stereotypes", Ms Bhatia says.
Even before the pandemic, it was estimated women were doing about three quarters of the 16 billion hours of unpaid work that are done each day around the world.
In other words, before coronavirus, for every one hour of unpaid work done by men, three hours was done by women. Now that figure is higher.
"If it was more than three times as much as men before the pandemic, I assure you that number has at least doubled," says Ms Bhatia.
Though the 38 surveys carried out by UN Women primarily focused on lower and middle-income countries, data from more industrialised countries show a similar picture.
"More alarming is the fact that many women are actually not going back to work," says Ms Bhatia.
"In the month of September alone, in the US, something like 865,000 women dropped out of the labour force compared to 200,000 men, and most of that can be explained by the fact that there was a care burden and there's nobody else around."
UN Women warns that the ripple effect from having fewer working women will be dire on not only women's wellbeing but their economic progress and independence.
BBC 100 Women has spoken to three women, looking at how the pandemic has impacted the amount of work they do. They were asked to keep a time diary, noting down how they used the hours in a typical day, covering a 24-hour-period.
'I reached my limit everyday'
Even before the pandemic, women in Japan spent on average almost five times longer than men on unpaid care work and chores.
Teni Wada is a brand consultant based in Tokyo and was working a part-time nursery teacher before lockdown began.
"It's 5am and I'm desperately trying to complete this article on sake. The deadline isn't for a few days, but I like to stay ahead of the game. 'Mum life' is unpredictable, and I don't want this unpredictability to cost me a pay cheque," she writes in her diary.
Teni says time is a luxury she doesn't have in between home-schooling, planning meals, working and doing the laundry.
During lockdown, Teni and her husband have both been working from home, but their days look very different.
"He works from 9.30am to around 5-6.30pm, and I do feel like he has the luxury of going into a room and can concentrate on his work, but I don't have that luxury, she says, "I do feel it's a bit unfair."
At home, Teni says she does around 80% of the unpaid work which includes home-schooling her three-year-old daughter.
"The first two-three months were awful, mentally I reached my limit almost every day, my daughter would be crying and then I'd be crying," she recalls.
"We are seeing worrying impacts, including high levels of stress and mental health challenges, particularly for women, partly as a result of the increased workloads," says Papa Seck, Chief Statistician at UN Women.
'I had to do everything alone'
Delina Velasquez is a farmer from the Cercado province in the southern city of Tarija in Bolivia.
Her days usually start around 5am, and she splits most of her time between working in the greenhouse and housework. But every two months she travels to the city's farmers' market to sell the vegetables she's been growing.
"The days are very exhausting in the field, at least for me, because I have other tasks in the house, but for now my daughter helps me, she is my right hand. She helps me in the house, in the field, in the greenhouse," she says.
Traditional gender norms reinforce the idea that men are the breadwinners while women are the homemakers, and girls are often expected to take on housework.
"When it comes to children's assistance [in unpaid work], parents are more likely to cite help from daughters than sons," says Mr Seck.
But Delina is happy that she gets to spend more time with her family during the pandemic.
"Before, I had to do everything alone in the nursery, buying seeds, storing, propagating, watering, cooking, cleaning," she says.
"But now that the school year has closed, my daughter helps me with cleaning, cooking, washing clothes; my little boy helps me in the nursery, my husband spends more time with us and helps us in everything he can. It's more relaxing for me."
Dr Ijeoma Kola is a Nigerian-American woman living in Nairobi, Kenya.
She says part of the reason she has been able to juggle becoming a new mum and her job is because her husband is supportive and they can afford to hire someone to help them at home.
"Not all women have that, or are an economic position where they can afford help. But I still wake up every day at 6 or 7 to nurse our son," she says.
Ijeoma says society is not economically set up in favour of women and instils gender norms that make it impossible for the average women to be able to have it all.
"Women can have it all, but not all at the same time and not without major sacrifices," she explains.
"I think that they're probably very few of us and I count myself very lucky to be able to have most things, if not everything."
Being able to hire someone to help out, made lockdown a bit easier for Ijeoma and her family.
"There was about a month where it was just us and I was miserable," she says.
"I felt like I just had so much work to do and couldn't get any professional work done because I was doing so much household work."
Although her husband is a good partner when it comes to parenting and takes the lead on things like cleaning, dishes, and laundry, she says she often feels that the responsibility of managing the home falls on her.
"My mind is always thinking about things he doesn't think about like the grocery list, our son's first birthday, whether we should take family photos for the holidays, or scheduling a Zoom hangout with friends," she says.
The mental load - having to juggle things like healthcare appointments, meal plans and house repairs - can take a toll on women's physical and mental health as well.
Women's unpaid work often covers the cost of care that sustains families, supports economies and fills in for the lack of social services, but it's rarely officially recognised as work.
"The key point here is that this has always been undervalued and it has always been treated as something that you didn't have to worry about because there wasn't compensation involved," says Ms Bhatia.
"The pandemic has shone a spotlight on the fact that unpaid work has really been the social safety net for the world and has made it possible for others to go out and earn a productive income, while actually hampering the growth opportunities and the employment opportunities of those women who are carrying the care burden."
Women who do the bulk of unpaid work will either have less time to engage in paid labour, or work longer hours, and often face financial insecurity either way.
"You cannot underscore enough how big a problem this is and how big an impact it's going to have if governments and businesses don't do something," says Ms Bhatia.
The UN is calling on governments and businesses to acknowledge that unpaid work exists and implement measures such as extra family leave, or extra paid leave, and keeping childcare centres open.
"This is not just a question of rights, it's also a question of what makes economic sense," says Ms Bhatia.
"And it makes economic sense that women participate fully in the economy,"
Additional reporting by Will Dahlgreen and illustrations by Sana Jasemi.
BBC 100 Women names 100 influential and inspirational women each year and shares their stories. Find us on Facebook, Instagram and Twitter, and use #BBC100Women.