BBC 100 Women 2020: Who is on the list this year?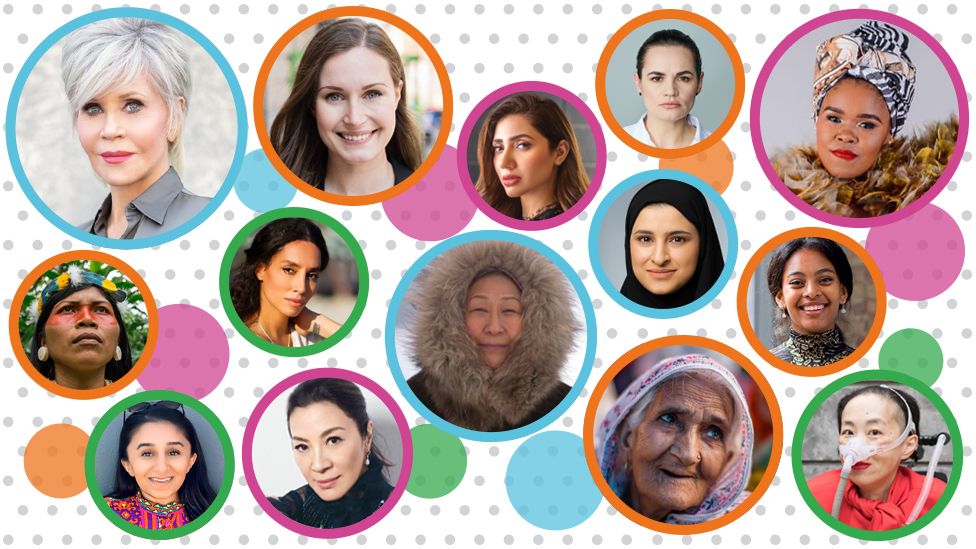 The BBC has revealed its list of 100 inspiring and influential women from around the world for 2020.
This year 100 Women is highlighting those who are leading change and making a difference during these turbulent times.
The list includes Sanna Marin, who leads Finland's all-female coalition government, Michelle Yeoh, star of the new Avatar and Marvel films and Sarah Gilbert, who heads the Oxford University research into a coronavirus vaccine, as well as Jane Fonda, a climate activist and actress.
And in an extraordinary year - when countless women around the world have made sacrifices to help others - one name on the 100 Women list has been left blank as a tribute.
The BBC's 100 women of 2020
Unsung hero

Worldwide

Making a difference

In an extraordinary year, when countless women around the world have made a sacrifice to help others, the first place on the list is left open to acknowledge their work and to remember those who have lost their lives while making a difference.

Though BBC 100 Women cannot name every woman across the globe who has made a contribution, this space is designed to allow you to think of the people who have had an impact on you, over the course of 2020.

Loza Abera Geinore

Ethiopia

Footballer

LozaAbera

Loza Abera Geinore was born and raised in a small town in southern Ethiopia. She played for Hawassa City SC in the Ethiopian Women's Premier League for two seasons, during which time she became the club's top goalscorer.

She is now a professional footballer, and a member of the Ethiopian national women's team.

> Every woman in the world can achieve whatever she has dreamed of or planned to do, in spite of any circumstances she faces.

Houda Abouz

Houda Abouz, aka Khtek, is a Moroccan rapper known for her unique style and lyrical songs.

She stands up for women's rights and gender equality. As a Moroccan rapper in a heavily male-dominated industry, Houda considers her music a tool for change.

> Keep on fighting, creating, resisting; never back down. Our fight has just started, and we are everything this world needs: woman power.

Christina Adane

Netherlands

Campaigner

christina.adane

Christina was behind the UK petition for free school meals over the summer holidays, which footballer Marcus Rashford supported.

As the youth board co-chairwoman of Bite Back 2030, a campaign to fight injustice in the food industry – and having received free school meals herself – Christina wants to make sure no child in the UK goes hungry.

> Never compromise on yourself or your beliefs. No woman has ever made a change by blending in with the crowd.

Yvonne Aki-Sawyerr

Sierra Leone

Mayor

yakisawyerr

Mayor Yvonne Aki-Sawyerr OBE is best known for her Transform Freetown plan, which targets 11 sectors – from tackling environmental degradation and climate change to helping create jobs in order to reduce youth unemployment.

During a year in which flooding and fires have affected millions of people internationally, Freetown mayor Aki-Sawyerr has inspired residents to join her campaign to plant one million trees over two years.

#FreetownTheTreeTown launched in January 2020 with no resources. By October more than 450,000 seedlings had been planted, with the rest scheduled for the next rainy season. The trees are critical in addressing the challenges of flooding, soil erosion and water shortages.

> We probably feel frustrated and dissatisfied. That doesn't have to remain a negative. We can turn it into a positive by allowing our dissatisfaction to give birth to the change we want to see.

Rina Akter

Bangladesh

Former sex worker

During the pandemic, Rina and her team of helpers have served around 400 meals a week - including rice, vegetables, eggs and meat - to sex workers in Dhaka who have found themselves without clients, and are thus struggling to feed themselves.

> People see our profession as demeaning, but we do it to buy food. I am trying to make sure women in this profession are not left hungry, and their children will not have to do this work.

Sarah Al-Amiri

UAE

Minister for Advanced Technologies

SarahAmiri1

Her Excellency Sarah Al-Amiri is UAE Minister of State for Advanced Technologies and chairs the UAE Space Agency. She was previously science lead and deputy project manager for the Emirates Mars Mission.

The Emirates Mars Mission will be the first interplanetary venture of any Arab nation. The orbiter, known as Hope (or Amal in Arabic), is expected to land at the red planet in February 2021 and collect data on, for example, its climate and weather.

> The virus has required the world to go into an absolute stillness, in which we reflect and grow as individuals. We need to make a collective effort to continue growing, and to ensure the sustainability of our fragile world.

Waad al-Kateab

Syria

Film-maker

waadalkateab

Waad al-Kateab is a Syrian activist, journalist and award-winning film-maker who has received numerous accolades (including an Emmy) for her news reports in Aleppo. In 2020 her first feature, For Sama, won the Bafta award for best documentary, and was nominated for the Academy Award for best documentary feature.

Having been displaced from Aleppo in 2016, Waad, her husband and their two daughters now live in London, where Waad works with Channel 4 News and leads the advocacy campaign Action For Sama.

> We only lose when we give up hope. To all women, no matter where: continue to fight for what you believe in, dare to keep dreaming, and above all, never, ever give up hope.

Adriana Albini

Italy

Pathologist

adrianaalbini1

Adriana Albini is head of the vascular biology and angiogenesis laboratory of IRCCS MultiMedica, and of the MultiMedica Foundation; professor of general pathology at the University of Milan-Bicocca and a former visiting scientist at the US National Institutes of Health.

She is the first Italian elected to the American Association for Cancer Research's board of directors. As president of the Top Italian Women Scientists' Club at the National Observatory Foundation on Women's Health, she is engaged in the promotion of female researchers.

She is also a fencing champion, winning bronze at the 2018 Veterans World Cup and silver at the 2015 European Veterans Fencing competition.

> Researchers start their career by following a path; scientists build a path where the paved road seems to finish. Women scientists, with their multitasking nature, must find new paths where nobody is looking.

Ubah Ali

Somaliland

FGM educator

Ubah_Alii

Ubah Ali is a co-founder of Solace for Somaliland Girls, a foundation committed to eradicating all forms of female genital mutilation (FGM) across communities in Somaliland, through education and empowerment.

Ali, who studies at the American University of Beirut, also advocates for the rights of migrant workers in Lebanon.

> The world has changed a lot in 2020. There is an urgent call for the unity of women around the world – many experience domestic violence, rape, FGM and more. With unity, women can demand justice.

Nisreen Alwan

Iraq/UK

Public health expert

dr2nisreenalwan

Nisreen is a public health doctor and academic in the UK who researches the health and wellbeing of women and children, focusing on pregnancy.

During the Covid-19 pandemic, she raised awareness of the need for countries to measure and address not only mortality, but also long-term ill health from the virus (including "long-Covid"). People with long-Covid report ongoing symptoms such as fatigue, headache and shortness of breath.

> During 2020, I did three things more: speak my mind, do what I fear and forgive myself. I also did three things less: care what others think of me, blame myself and believe I'm less than others.

Elizabeth Anionwu

Professor Dame Elizabeth Anionwu is an emeritus professor of nursing at the University of West London and a patron of the UK Sickle Cell Society.

She is a groundbreaking sickle-cell and thalassemia nurse who campaigned for a statue of British-Jamaican nurse Mary Seacole. She's been a key figure in highlighting the disproportionate impact of Covid-19 on BAME communities.

> Never underestimate the positive global contribution that you and so many other women are making.

Nadeen Ashraf

Egypt

Campaigner

actuallynadeen

Nadeen is a philosophy student who believes in social media as a tool for change. She is passionate about spreading knowledge in a way that's accessible to the general population.

Nadeen is the founder of Assault Police, an Instagram account where women in Egypt can share their stories of sexual harassment. Nadeen is now seen within the feminist movement as a linchpin for social change in the fight against sexual harassment.

> I grew up surrounded by women who dedicated their lives to pushing for change; I never thought I would be in a position to amplify their voices. It's never too late to do something you believe in.

Erica Baker

Germany

Engineer

EricaJoy

Erica is a director of engineering at GitHub. Erica's career in tech began 19 years ago providing tech support for the University of Alaska before moving to Google in 2006.

She joined Slack in 2015 and Patreon in 2017 before landing at Microsoft, then transferring to GitHub. Erica has been on the advisory boards for Atipica and Hack the Hood, the Code.org Diversity Council, the Barbie Global Advisory Council board, the board of directors for Girl Develop It, and has been a tech mentor for Black Girls Code. Erica is currently based in Oakland, California.

> The world has changed a lot in 2020, and as we're relearning what it means to be selfless, the importance of service, and the value of connection, we're also being reminded that the world is not an equitable place for everyone. I would encourage women around the world to use the power they have to fight for justice, fight for freedom, and fight to ensure that we are all treated equally.

Diana Barran

UK

Parliamentary Under Secretary of State

dianabarran

Baroness Barran was appointed the UK's Minister for Civil Society in 2019, and is responsible for policy related to the Office for Civil Society. She is the founder and former chief executive of SafeLives, a national charity dedicated to ending domestic abuse.

She is also the former head of grant development at the New Philanthropy Capital think tank, and worked in asset management before founding one of Europe's first hedge funds in 1993.

Baroness Barran was a trustee at the Royal Foundation and Comic Relief, and chairwoman of the Henry Smith Charity. She received the Beacon Award for England in 2007 and was made an MBE in 2011 for her work addressing domestic violence.

> I think of the words of Maya Angelou: "People will forget what you said, people will forget what you did, but people will never forget how you made them feel."

Bilkis

India

Protest leader

DadiBilkis

At 82, Bilkis was part of a group of women who peacefully protested against a controversial citizenship law.

She became the face of a long-running protest at the capital's Shaheen Bagh, the Muslim locality where the protests were held. Indian journalist and author Rana Ayyub described her as "the voice of the marginalised".

> Women should feel empowered to step out of their homes and raise their voice, especially against injustice. If they don't leave their homes, how will they showcase their strength?

Cindy Bishop

Thailand

UN Women ambassador/model

cindysirinya

Cindy Sirinya Bishop is a model, actress and TV host, who also campaigns on ending violence against women. This year she was appointed UN Women regional goodwill ambassador for Asia and the Pacific, promoting gender equality through education, communities and governments.

She founded the #DontTellMeHowToDress movement in 2018 after authorities in Thailand told women not to look "sexy" if they wanted to avoid being sexually assaulted at Thai new year festivals.

She is also knowledge director of Dragonfly360, a regional platform that campaigns for gender equality in Asia, and is writing a series of children's books on safety, rights and respectful relationships.

> The world has changed a lot in 2020. With change comes opportunity for progress. Everyone should be allowed to live with equal dignity and freedom. We must continue to inspire the next generation of young women and men.

Macinley Butson

Australia

Scientist and inventor

Macinley_Butson

Macinley Butson began coming up with inventions when she was seven years old. Now 20, she has invented a range of devices, whose aims include improving outcomes for radiotherapy breast-cancer patients and providing safe drinking water for developing communities.

She has become an inspirational role model for young Australians, showing how they can give back to the community through science, technology, engineering and mathematics.

> Nothing defines our ability to create change. I implore every woman around the world to ask themselves, "If not me, then who? If not now, then when?"

Evelina Cabrera

Argentina

Football coach and manager

evelinacabrera23

Evelina was born into a context of vulnerability, but that did not prevent her from becoming a football coach and manager. She founded the Argentinian Women's Football Association at the age of 27.

She formed several teams (among them a football team for blind women), trained prisoners and helped vulnerable women and girls through sport and education. One of the first female football managers in Argentina, she has published an autobiography which details her fight for equality.

> Our gender and origin should not determine our future. It is a difficult path, but with the collective struggle of a united world, we will be able to achieve equality.

Wendy Beatriz Caishpal Jaco

El Salvador

Disability activist

wendy_caishpal

Wendy Caishpal is an entrepreneur, activist, motivational speaker, and spokesperson for the rights of disabled people and survivors of armed conflicts.

She is El Salvador's representative at the Women's Institute on Leadership and Disability and International Mobility USA. She is also founder and director of Ahuachapán Sin Barreras (Ahuachapán without Barriers), a municipal project that promotes and protects the rights of disabled people in the area.

> We must love what we do, and how we do it. Let us be instruments for social change: let us act, fight, make a difference. If everyone fights for it, we will have a better world.

Carolina Castro

Argentina

Union leader

carocastro79

Carolina Castro is the first woman to reach a governing position at the Argentine Industrial Union (UIA) in its 130-year history. Her activism has contributed to advancing the gender-equality agenda across party lines in a country where public debate is highly polarised.

Castro is the third-generation head of a family firm manufacturing car parts, which has broken stereotypes by employing women on the shop floor at rates well above the market average. She recently published Rompimos el Cristal ("We Broke the Glass"), an anthology of conversations with 18 Argentine women who have excelled in business, arts, politics and science.

> The equality agenda is not advanced by extraordinary people but by each and every one of us, of every gender, in every little daily choice we make.

Agnes Chow

Hong Kong

Pro-democracy activist

chowtingagnes

Agnes Chow, a 23-year-old pro-democracy activist in Hong Kong, was a key figure during the 2014 Umbrella Movement. This year she was one of a handful of activists arrested under a controversial new security law imposed by Beijing. She was accused of "colluding with foreign forces".

She's since been released on bail, but her arrest prompted an outpouring of support. She has been active in politics since the age of 15. Her supporters have given her the nickname "Mulan", in reference to the legendary Chinese heroine who fought to save her family and country. This month, Agnes Chow and fellow activist Joshua Wong have been remanded in custody after pleading guilty to unauthorised assembly charges.

> Having a female leader does not mean anything for women's rights. We need a change in the system, and genuine democracy.

Patrisse Cullors

US

Human rights activist

OsopePatrisse

Artist, organiser, educator, and popular public speaker, Patrisse Cullors is a Los Angeles native, co-Founder and executive director of the Black Lives Matter Global Network Foundation, founder of grassroots Los Angeles-based organisation Dignity and Power Now.

Patrisse is currently the Faculty Director at Arizona's Prescott College of a new social and environmental arts practice MFA programme that she has developed.

> Never give up your power. Cultivate your joy. And demand change - not just for you - but the women who will come after you.

Tsitsi Dangarembga

Zimbabwe

Writer and film-maker

efie41209591

Tsitsi is a critically acclaimed writer, film-maker and cultural activist. She has written award-winning books that are regarded as Zimbabwean classics, and her films have screened at festivals across the world, including the Sundance Film Festival. She lives in Harare, working locally with female African film-makers.

Tsitsi was among those detained for taking part in civic protests in Zimbabwe this year, with protesters accusing the government of corruption and misgovernance.

She was released on bail after being charged with incitement to commit violence and breach of health regulations introduced to curb the spread of coronavirus. Fellow authors have called for the charges, which Tsitsi denies, to be dropped.

> Don't be afraid of change. Make it a change that works for you.

Shani Dhanda

UK

Disability activist

shanidhanda

Shani Dhanda is an award-winning disability specialist and social entrepreneur, recognised as one of the UK's most influential disabled people. Shani founded, and continues to lead, the Diversability Card initiative, the Asian Woman Festival and the Asian Disability Network.

All three disruptive platforms are united by the common purpose of empowering under-represented communities.

> As the world recovers, it's our collective responsibility to rebuild an inclusive and sustainable future for all.

Naomi Dickson

UK

Chief executive

soldier_in_slip

Naomi has dedicated her professional life to supporting Jewish women and children who have experienced domestic abuse, and to educating the Jewish community so that they have the tools to highlight, expose and prevent domestic abuse, now and in the future.

As chief executive of Jewish Women's Aid, Naomi enjoys working with women of all faiths and none, educating communities and faith leaders to create a world where no forms of violence against women and girls are tolerated.

> The world has changed a lot in 2020 and we have learned to build our own resilience so that we are able to help others.

Karen Dolva

Karen Dolva is the chief executive and co-founder of No Isolation, an Oslo-based start-up founded in October 2015. Its mission is to bring people together through warm technology and knowledge.

To date, the company has created two products: AV1, a telepresence avatar aimed at tackling loneliness among children and young adults affected by long-term illness, and KOMP, a one-button communication device designed specifically for use by the elderly.

> We cannot afford to use Covid-19 as an excuse to stop fighting. It should be a wake-up call: the most vulnerable are always struck the hardest. We must use this time to drive change and protect those at risk.

Ilwad Elman

Somalia

Peace activist

ilwadelman

Ilwad Elman is a young female leader at the forefront of the Somali peace process and a global authority on ending conflict and reconciling communities.

At just 20, she co-founded Somalia's first rape crisis centre. Over the past decade, Ilwad has become a champion of building peace by giving all those impacted by conflict – particularly women and girls – a chance to contribute.

> The pandemic gave the world a crash course in empathy. We witnessed women lead where others have failed. Women in leadership must no longer be deemed an optional second, but a fundamental priority.

Jeong Eun-kyeong

South Korea

KDCA Commissioner

Dr Jeong Eun-kyeong has been described as a "virus-hunter" and has led South Korea's response to the Covid-19 pandemic.

As the current commissioner of the Korea Disease Control and Prevention Agency (KDCA) – and having previously served as its first female chief – she is known for her transparency and the calm she brings to her daily briefings on the pandemic.

> I give my heartfelt appreciation to all the healthcare workers who have devoted themselves to responding to the pandemic. I will make the utmost effort to help the world become safer by strengthening the capabilities against disease.

Fang Fang

Fang Fang, whose real name is Wang Fang, is an award-winning Chinese author who has produced more than 100 works. This year, she began documenting events in Wuhan, where the coronavirus outbreak first emerged.

Her diary provided millions in China with a rare glimpse into the city, and she wrote about everything from the challenges of daily life to the physiological impact of forced isolation.

As the diary attracted more international recognition, with a translation into English, an online backlash against her reporting of events accelerated. Many in China were angered, and even branded her a traitor.

> Be your independent self.

Somaya Faruqi

Afghanistan

Robotics team leader

FaruqiSomaya

When Afghanistan's first case of Covid-19 was reported in her home province of Herat, Somaya and her all-female robotics team – the "Afghan Dreamers" – set to work on a low-cost ventilator to treat coronavirus patients.

Somaya and her team are planning to show their design to the Ministry of Public Health. If the prototype is approved, it could be used in remote hospitals.

Somaya, who was born in 2002, has won several awards, including a silver medal for Courageous Achievement at the FIRST Global Challenge - in recognition of science and technology - in the US; a Benefiting Humanity in AI award at World Summit AI; the Janet Ivey-Duensing's Permission to Dream Award at the Raw Science Film Festival; and the Entrepreneurship Challenge at Robotex in Estonia, Europe's biggest robotics festival.

> The key to our future is what we are teaching our girls and boys today. We have to make sure every kid has the same access to education, and the tools to make their dream come true.

Eileen Flynn

Republic of Ireland

Senator

Love1solidarity

Eileen Flynn made history this year as the first woman from the Irish Travellers community to sit in the Seanad Éireann, the upper house of the Irish Parliament.

She is now using her role to help Irish Travellers and other marginalised communities. Her ambition is to introduce hate-crime legislation in the Republic of Ireland.

> Look after each other; give each other a hand; never try to push another woman down. Blowing out someone else's candle won't make yours burn any brighter. When we stand together, our flames can set the world on fire.

Jane Fonda

On-screen, Jane Fonda is a two-time Academy Award-winning actress, renowened for her work in iconic films such as Klute, Coming Home, On Golden Pond and 9 to 5 to name a few. She currently stars in the hit Netflix series Grace and Frankie.

Off-screen, she has been at the forefront of social activism for more than 50 years lending her voice to causes she believes in, ranging from women's rights to fair pay for workers who rely on tips, and most recently launching Fire Drill Fridays with Greenpeace USA, which stages weekly actions to educate and protest against the climate crisis.

> The world is heating up faster than science anticipated. Humanity faces an existential crisis. This is a collective solution. Women understand this. Women understand that we are all interdependent. They bear the brunt of the climate crisis and are the ones to lead us into the solutions. Let's rise to do this.

Kiran Gandhi

Kiran Gandhi, who performs as Madame Gandhi, is a singer and musician, artist and activist whose mission is to elevate and celebrate gender liberation. She has been on tour, drumming with acts such as MIA and Thievery Corporation.

She previously ran the London Marathon while "free bleeding", to tackle the stigma around menstruation.

> Because so many of us have had to redesign our businesses to work from home, it is actually allowing for a healthier outlook towards parenting. We have the power to redesign systems and make them work for us.

Lauren Gardner

US

Scientist

TexasDownUnder

Lauren Gardner is an engineering professor at Johns Hopkins University, and co-director of the Center for Systems Science and Engineering.

Gardner led the team that built the indispensable Covid-19 pandemic tracker that has become the authoritative source of Covid-19 case data. It is used by governments, infectious-disease researchers and media outlets around the world.

> Don't wait for permission. Take your seat and take action.

Alicia Garza

US

Human-rights activist

AliciaGarza

Alicia Garza is an organiser, political strategist, and author of The Purpose of Power: How We Come Together When We Fall Apart.

She is the principal at the Black Futures Lab and the Black to the Future Action Fund; co-creator of Black Lives Matter and the Black Lives Matter Global Network; director of strategy and partnerships at the National Domestic Workers Alliance; co-founder of Supermajority and host of the Lady Don't Take No podcast.

> Feet on the ground, head in the sky, eyes on the prize.

Iman Ghaleb Al-Hamli

Iman manages a group of 10 women who set up a solar microgrid, offering clean and low-impact energy, just 20 miles from the front line of the devastating Yemeni civil war.

The microgrid is one of three established by the United Nations Development Programme in off-grid areas of Yemen – and the only one run entirely by women. Initially, Iman's team was mocked for doing men's work. Since then, however, they have won the respect of their community – while also earning a sustainable income for themselves and developing new professional skills.

> My message to all girls in Yemen is to fulfil their dreams. They must strive with confidence and challenge all the difficulties they face in their lives to achieve those dreams.

Sarah Gilbert

The moment Chinese scientists published genetic details of the new coronavirus, Sarah and her team in Oxford set to work to create a Covid-19 vaccine. Trial results show 70% protection, but the researchers say the figure may be as high as 90% by tweaking the dose.

A scientist trained in microbiology, biochemistry, molecular virology and vaccinology, Sarah has been working to develop vaccines against emerging diseases since 2014.

> We can be resilient enough to get through this year. It's a time to concentrate on what really matters: health, education and good relationships with others.

Maggie Gobran

Egypt

Coptic nun

stephenschildrenus

Mama Maggie Gobran has devoted her life to transforming those of marginalised children in Egypt. Abandoning a life of affluence and a distinguished academic career, she has dedicated all her energy and resources to observing children, washing their feet, and looking into their eyes and telling them that they matter.

Since 1989, Mama Maggie and her team have had a holistic approach that has changed the lives of hundreds of thousands of children, providing psychological wellness, education, healthcare and, above all, dignity.

> When you reconcile with yourself, you will reconcile with heaven and earth.

Rebeca Gyumi

Tanzania

Lawyer

RebecaGyumi

Rebeca Gyumi is the founder and executive director at the Msichana Initiative, a local NGO working to advance girls' rights. She is an advocate for gender equality, and has vast experience working on youth engagement and building women's movements,and providing advocacy at national and grassroots levels.

In 2019, the Msichana Initiative won a landmark ruling at the Court of Appeal in Tanzania, which banned child marriages by raising the minimum age to 18.

> When the going gets tough, the tough get going. Let's recommit to keep fighting, to continue with the journey; and to own our voices and the contribution we bring, until the gender-equality agenda is fulfilled.

Deta Hedman

Jamaica

Darts champion

deta132

Deta worked nights at Royal Mail for 22 years. She has won 215 darts titles – the second-highest tally in the whole game, beaten only by Phil Taylor. She has appeared in 341 finals, more than anyone else in darts history. Deta arrived in England in 1973 and is the current captain of England Darts.

She is an ambassador to the charity Heart of Darts, and England's youth darts, and sits on the board of the World Darts Federation as its athletes representative. She has been placed at number one in the world rankings 11 times, and is the second-most capped player on the England ladies' team.

> I would urge all ladies: follow your dream and never give up. Age, sexuality and race are no reasons not to succeed. You are only here once – make the most of it. #Believe.

Muyesser Abdul'ehed Hendan

Exiled Uighur from Ghulja (in Chinese, Yining)

Writer

hendan_hiyal

Muyesser Abdul'ehed who goes by her pen name, Hendan, began making a name for herself as a poet and essayist while studying medicine. By the time she completed her master's degree in public health, she had resolved to focus on writing.

After relocating to Turkey in 2013, Hendan founded Ayhan Education, an organisation devoted to fostering and teaching the Uighur language in the diaspora. She currently lives in Istanbul.

Hendan's recent work grapples with the crisis in her homeland. Her debut novel, Kheyr-khosh, quyash (Farewell to the Sun), is the first extended work of fiction to focus on the detention camps in the Uighur region.

> Children are always the hope of a nation. It is education that can make this hope become reality.

Uyaiedu Ikpe-Etim

Nigeria

Film-maker

uyaiedu

Uyaiedu Ipke-Etim is a feminist film-maker, director and LGBTQ+ activist, who has committed herself to creating stories about marginalised groups in Nigeria.

Her film Ifẹ́, which means "love" in Yoruba, tells the story of two Nigerian lesbians navigating the harsh, homophobic realities of the country they live in. Following the announcement of the film's impending release, it has faced state censorship in Nigeria where homosexuality remains an extremely contentious issue.

> Women, please keep taking up space and don't stop telling the stories of those whose voices have been taken from them.

Miho Imada

Japan

Sake master brewer

fukuchoMiho

Sake-brewing has long been a man's world – for centuries, women were forbidden to set foot in Japan's breweries.

After the male master brewer at her family brewery retired, Miho decided to train and become one of the few female sake master brewers in Japan. Currently, about 20 of the country's sake breweries are run by women.

> If you can find a job worthy of your life's devotion, immerse yourself in it. If you treat your chosen profession with respect and sincerity, you will be on your way to achieving your goals.

Isaivani

India

Musician

isaivaniisaiv

Isaivani is a distinctive gaana singer in India. Gaana music emerged from the working class neighbourhoods of North Chennai (formerly Madras) in Tamil Nadu. Isaivani has spent years singing and performing in this male-dominated space.

To perform on the same stage as other popular male singers can be considered an achievement by itself. Isaivani has successfully broken an age-old tradition, which has led other young female gaana singers to come forward and express themselves.

> The world has changed a lot in 2020, but for women the world is changing every day: women have changed discourses and challenged spaces. This process will be constant for generations to come.

Manasi Joshi

India

Athlete

joshimanasi11

Manasi, an Indian para-athlete, is the current para-badminton world champion. In June 2020, the Badminton World Federation ranked her world number two in the SL3 singles. Manasi is also an engineer and a change-maker.

She aspires to drive a shift in how disability and para-sports are perceived in India. She was recently listed as a "Next Generation Leader" by Time magazine and appeared on the cover of its Asia edition as an advocate for the rights of disabled people in India.

> This year has been challenging to women in so many ways. Don't let the tough times get the better of you: keep exploring every possibility. Give yourself some time off every day.

Nadine Kaadan

France

Writer/illustrator

nadinekaadan

Nadine Kaadan is an award-winning children's book author and illustrator from Syria now living in London. She is published in several countries and languages and her mission is to champion empowered and inclusive representation in children's books, so that every child can see themselves in a story.

Nadine has worked with young refugees in mitigating post-conflict trauma. Her books Tomorrow and The Jasmine Sneeze touch on Syria's long and proud cultural heritage as well as the life of refugees. She has been nominated for a Kate Greenaway Medal, and is the 2019 winner of the Arab British Centre Award for Culture.

> Whether it's conflict or Covid-19, women continue to be peacemakers and leaders. Despite that, systemic structures seem to be designed against us. The struggle to redesign them, so that women can be fuller expressions of themselves, must continue.

Mulenga Kapwepwe

Zambia

Artist and curator

mulengakapwepwe

Mulenga Mpundu Kapwepwe co-founded the Zambian Women's History Museum, lauded in 2020 for marking Zambian women's contribution to their nation. She has also built libraries for children in the Zambian capital, Lusaka.

She chaired the National Arts Council of Zambia from 2004 until 2017. She has also served as patron for a number of organisations featuring dance, writing, music and culture.

> Make change your opportunity.

Jemimah Kariuki

Dr Jemimah Kariuki is deeply passionate about preventive medicine, especially in maternal and child health. She is the founder of the Peace Club, initiated in response to post-election violence in 2007, and the Public Health Club (which is instrumental in running cervical-cancer prevention drives).

As an obstetrics and gynaecology student, she noticed a sharp decline in maternal admissions, but a rise in complications, during the Covid-19 pandemic – especially during curfew.

Realising that access to health care was delayed by limited transport options, she came up with a solution - licensed vehicles, taking women from their homes to the hospital. This led to Wheels for Life - a free ambulance service.

> The pandemic has affected everyone; you are not alone. Nonetheless, that thought nagging you each day may be your calling: do not be afraid to respond. You may be the answer to someone else's need.

Gülsüm Kav

Turkey

Social justice activist

gulsumkav

Gülsüm Kav is a Turkish doctor, academic and co-founder of We Will Stop Femicide. Over the past year, high femicide rates and parliamentary debates over whether to repeal the Istanbul Convention (a legal framework designed to protect victims of domestic violence) have drawn widespread criticism in Turkey.

Gülsüm works tirelessly to raise awareness of gender-based violence in Turkey, and to advocate on behalf of the many families who have lost their relatives to femicide.

> The women offering resistance today seek equality and freedom. The pandemic, which has shed light on the inequalities that women experience, shows there is no other way than these women pushing for change.

Jackie Kay

Jackie Kay is a Scottish poet, playwright and novelist. Her memoir, Red Dust Road, which details her search for her biological parents, has been described by the author as a "love letter" to her white adoptive parents. In 2016 she was named the Scots Makar – the national poet of Scotland.

She is chancellor of the University of Salford. She has won several prizes for her work, and in 2020 was made a CBE for services to literature.

> We must never give up hope. The protests the world over this year have filled me with a strange optimism for our future.

Salsabila Khairunnisa

Indonesia

Environmental campaigner

jaga_rimba

Salsabila is a 17 year-old student from Jakarta, Indonesia. Every Friday she leads a school strike against deforestation in front of the office of the Ministry of Environment and Forestry.

At the age of 15, she co-initiated a youth-led movement, Jaga Rimba. As well as forest preservation, the organisation fights for the rights of the indigenous community members who are losing their homes in the Kinipan forest, one of the last surviving rainforests in Kalimantan.

> The pandemic has given us a collective consciousness that we are all under the same patriarchal-capitalist system that exists for profit. It is time for us to gather in solidarity, and lead a green and just recovery.

Mahira Khan

Pakistan

Actor

mahirahkhan

Mahira Khan is no ordinary actress – she is outspoken against sexual violence, refuses to endorse skin-lightening creams and supports the fight against racism. She wants to tackle social issues in her native Pakistan by changing the narrative in films and on TV.

Mahira is a national goodwill ambassador for the United Nations High Commissioner for Refugees, raising awareness of the plight of Afghan refugees in Pakistan. She's been a firm favourite with audiences ever since starting out as an MTV video jockey (VJ) in 2006. Mahira is also a devoted mother to her 11-year-old son.

> Speak up about the causes and issues that matter to encourage change.

Related articles

Angélique Kidjo

Benin

Musician

angeliquekidjo

Four-time Grammy award winner Angélique Kidjo is one of the greatest artists in international music today. She has cross-pollinated the West African traditions of her childhood in Benin with elements of American R&B, funk and jazz, as well as influences from Europe and Latin America.

After exploring the roads of Africa's diaspora in her take on the Talking Heads album Remain in Light, the French-Beninese singer is now investigating the African roots of celebrated icon Celia Cruz, the Cuban-born "Queen of Salsa".

Angelique also advocates on behalf of children as a Unicef ambassador, and through her own charitable foundation, Batonga, which supports the education of young girls in Africa.

> We have to continue caring for each other in solidarity, love and strength. Let's carry on being each other's keeper. This solidarity should cross social classes, ethnicity and sexual orientation.

Chu Kim Duc

Vietnam

Architect

kim_duc_

Architect Kim Duc is on a mission to promote children's right to play in Vietnam. As the co-founder and director of Think Playgrounds, she has been working with partners and communities in the country to create over 180 public playgrounds made from recycled materials.

She is currently working on therapy playgrounds for the Vietnam National Children's Hospital in Hanoi, and on the first low-carbon playground in the city.

> Be playful - in work and in life. It is about learning, with an intrinsic motivation: what do you need to do, what do you enjoy doing? Passionate, constant learning is what helps us overcome difficulties and be optimistic.

Safaa Kumari

Syria

Plant virologist

ICARDA

As a plant virologist, Dr Safaa Kumari looks for solutions to epidemics that destroy crops. After discovering seeds that could safeguard food security in Syria, she risked her life to rescue them from Aleppo.

She has spent years discovering virus-resistant plant varieties, including a faba bean that is resistant to the faba necrotic yellow virus (FBNYV).

> The world has changed a lot in 2020. Within a team tasked with overcoming such challenges, it is about ability – not gender. Women must believe that their contribution is equal to that of any man.

Ishtar Lakhani

South Africa

Activist

IshtarLakhani

Ishtar is a feminist, activist and self-proclaimed "troublemaker". She is based in South Africa, where she collaborates with social-justice organisations, movements and networks around the world, providing the support needed to strengthen their approaches to human rights-advocacy.

This year she has played a key part in the Free the Vaccine campaign, driven by the Center for Artistic Activism and Universities Allied for Essential Medicines (UAEM). She is working with others towards a single goal of making sure that a Covid-19 vaccine will be sustainably priced, available to all and free at the point of delivery.

> These moments of disruption are also an opportune time for us to grow a completely divergent future, rather than trying to fix a system that was never designed with our happiness in mind.

Claudia López

Colombia

Mayor

ClaudiaLopez

Claudia López is the first female mayor of Bogotá, Colombia's capital and the largest city in the country.

The daughter of a teacher, she served as senator for the Alianza Verde (Green Alliance) party between 2014 and 2018. She led the implementation of a popular consultation on anti-corruption that garnered 11.6 million votes (a 99% mandate) in favour of the proposed measures - a record in the history of Colombia.

> To the women of the world, I say: do not stop. The social revolution that began in the last century will not halt. We will see changes clearly reflected throughout our public and private lives.

Josina Machel

Mozambique

Social-justice activist

JosinaZMachel

Josina Z Machel is a long-standing defender of human rights, born into a legacy of activism. She is fiercely passionate in her life's calling to advance women's rights.

She holds an MSc from the London School of Economics and Political Science (LSE). A a survivor of domestic violence, she is turning her personal trauma into purpose through the Kuhluka Movement. The organisation helps to accelerate social change with regard to gender-based violence, and to create safe havens for survivors of violence in communities across southern Africa.

> The impact of additional pressures on women are yet to be calculated, but our resilience gives us the fortitude to keep being the mothers, wives, sisters, leaders and captains of industry the world needs.

Sanna Marin

Finland

Prime Minister of Finland

MarinSanna

Sanna Marin is Prime Minister of Finland and leader of the Social Democratic Party of Finland. The coalition government she heads has been formed with four other parties, all led by women: Maria Ohisalo (Green League), Li Andersson (Left Alliance), Anna-Maja Henriksson (Swedish People's Party) and Annika Saarikko (Centre Party).

Finland has been hailed for its handling of Covid-19, with one of the lowest infection rates in Europe, as of November 2020.

> We as women leaders can show that it is possible to fight the virus and at the same time tackle climate change, invest in education and make socially just reforms in society.

Hayat Mirshad

Lebanon

Activist

HayatMirshad

A feminist activist, journalist and humanitarian, Hayat is co-founder of Fe-Male, a pioneer feminist collective in Lebanon. Unapologetic and uncompromising, Hayat's mission is to ensure girls and women have access to justice, information, protection and human rights.

She continues to spread her message through various platforms by organising nationwide marches, and rallying the masses to challenge corrupt, patriarchal regimes and demand change.

> Despite the challenges and setbacks, women throughout history have challenged and fought against the patriarchy. Through solidarity, sisterhood and love, we will continue the fight, and amplify our voices and demands for a just and gender-equal future.

Bulelwa Mkutukana

South Africa

Singer/songwriter

zaharasa

Bulelwa Mkutukana is better known by her stage name Zahara. She came from humble beginnings in South Africa, and found her love of singing in the school choir. She started her singing career busking on the streets, but in 2011 Zahara's debut album went double-platinum in less than three weeks.

The singer-songwriter has been showered with awards and is enjoying a successful career in the music industry – but she has also used her platform to speak out about violence against women in South Africa, something she revealed has happened to her.

> Prayer has kept me going through this difficult time. Nothing can beat prayer.

Related articles

Lucy Monaghan

Northern Ireland

Campaigner

Lucy Monaghan waived her right to anonymity, to talk about how she was treated by police and prosecutors in Northern Ireland after reporting her alleged rape in 2015. Police initially told her that, as there was evidence she had been "flirting" with her alleged perpetrator, the case was unlikely to result in a conviction.

Lucy challenged the authorities in court over failures in their investigations, and as a result changes were made to how victims of sexual attacks are treated. Lucy now supports rape survivors, and in 2019 participated in the Judge Gillen review, which made more than 250 recommendations for changes to the law.

> They said I couldn't do it. I did it anyway. And so can you.

Douce Namwezi N'Ibamba

Douce Namwezi N'Ibamba is a multimedia journalist and the founder of Uwezo Afrika Initiative, a non-profit venture promoting women's empowerment through journalism, job training and social entrepreneurship.

She fights taboos around menstruation by making sexual education and hygiene kits available to students and women in the Democratic Republic of Congo.

> Let us be the generation of girls and women who navigate changes, who always find solutions to their daily problems, and who always say: nothing is impossible.

Vanessa Nakate

Uganda

Climate activist

vanessa_vash

Vanessa Nakate, 23, is a climate activist from Uganda and founder of the Africa-based Rise Up Movement. She campaigns internationally to highlight the impacts of climate change already occurring in Africa. She focuses particularly on how the climate crisis is exacerbating poverty, conflict and gender inequality.

In January 2020, the Associated Press (AP) cropped Nakate out of a photo featuring Greta Thunberg and other European activists, following their attendance at the World Economic Forum.

Nakate subsequently spoke up about racism in the global climate-change movement. AP later reinstated Nakate in the photo. While indicating there was no ill intent, it did not apologise. On 27 January 2020, executive editor Sally Buzbee tweeted, from her personal account, an apology on behalf of AP.

> Women often suffer the most from lockdowns and the climate crisis. But we are also the solution: educating and empowering women will draw down carbon, enhance disaster resilience and create climate leaders for the future.

Ethelreda Nakimuli-Mpungu

Uganda

Mental health expert

ethelmpungu

Dr Ethel Nakimuli-Mpungu, of Makerere University in Uganda, works towards making therapy more culturally appropriate, particularly for people living with HIV and depression.

She has developed a highly cost-effective group-therapy programme that can be delivered by lay health workers. It has also been shown to reduce symptoms of depression dramatically and improve adherence to antiviral medication among those affected.

> Make your mental health a priority and take your power back.

Nandar

Myanmar

Feminist activist

NandarMMR

Nandar is a feminist advocate, translator, storyteller and creator of two podcasts: Feminist Talks and G-Taw Zagar Wyne. She founded the Purple Feminists Group, and co-directed a production of The Vagina Monologues in Yangon.

Growing up in a village in the north-eastern Shan state, Nandar experienced the hardships women face when challenging traditional values of family and community life in Myanmar. She now uses her podcasts to tackle taboo topics in the country such as menstruation and abortion.

> I wish for more people to participate in ending inequality so that we can live in a world where we are valued and respected as humans. Together we can build a better, fairer world.

Vernetta M Nay Moberly

US

Environmental activist

Vernetta Moberly is a wife, mother, grandmother and friend.

Over the years she has gathered information from her elders, and handed her knowledge and skills down to the next generation of the Iñupiaq community. Her passion is the fight to save Mother Earth.

> Mothers: take care of yourselves. Continue to tap into your ancestors' knowledge. We are all connected. We have the same instincts and passion to help our children grow. Even if there's turmoil, find a solution.

Nemonte Nenquimo

Ecuador

Waorani leader

nemonte.nenquimo

Nemonte Nenquimo is an indigenous Waorani woman committed to defending her ancestral territory, culture and way of life in the Amazon rainforest.

She is co-founder of the indigenous-led non-profit organisation Ceibo Alliance, the first female president of the Waorani organisation of Pastaza province and one of Time magazine's 100 most influential people in the world.

> As women, we carry the strength needed to forge a path out of these dangerous times, when the survival of our planet and humanity is in peril. Now is the time for women to unite.

Sania Nishtar

Pakistan

Global health leader

SaniaNishtar

Dr Sania Nishtar is a leader in global health and sustainable development. Since 2018, she has been spearheading the transformative Ehsaas Poverty Alleviation programme, which has improved the livelihoods of millions of Pakistanis by providing mobile banking and savings accounts, and other basic resources.

As Special Assistant to the Prime Minister of Pakistan on Poverty Alleviation and Social Protection, Sania has helped to empower the masses by taking the necessary first steps toward the development of a welfare state in Pakistan.

> The dramatic impact of Covid-19 presents us with a once-in-a-generation chance to build a fairer world and bring an end to poverty, inequality and the climate crisis. For this, women must be equal, empowered stakeholders.

Phyllis Omido

Kenya

Environmental activist

Phyllis_Omido

Phyllis Omido is founder and executive director of the Center for Justice Governance and Environmental Action (CJGEA), advocating the environmental and socio-economic rights of marginalised communities affected by Kenya's extractive industries.

In 2015 she won the Goldman Environmental Prize (dubbed "the Green Nobel"), which recognised her work to successfully shut down a lead-smelting plant in Owino Uhuru

In June 2020 she won an environmental class-action suit with 1.3 billion Kenyan shillings awarded to the Owino Uhuru community, and a further 700 million shillings to the CJGEA. The court also ordered Phyllis's legal costs to be paid. The National Environment Management Authority's appeal is currently being heard.

> Just as women around the world have had to rethink their legitimate spaces against great adversity, so is nature struggling to regenerate herself from the ecological crisis. Only a woman can relate to nature's woes.

Laleh Osmany

Afghanistan

Activist

laleh_osmany

In Afghanistan, using a woman's name in public is frowned upon. Only the father's name should be recorded on a birth certificate. When a woman marries, her name does not appear on her wedding invitations; when she is ill, her name does not appear on medical prescriptions, and when she dies, her name does not appear on her death certificate or even her headstone.

Fed up with women being denied what she thought was a basic right, activist Laleh Osmany started the WhereIsMyName campaign. After a three-year fight, in 2020 the Afghan government agreed to allow Afghan mothers to have their names printed on their children's national identity cards.

> Everyone has some responsibility to try and make the world a better place. Change is difficult, but not impossible. You see it in women who have fought for their identities in a very traditional country like Afghanistan.

Ridhima Pandey

Ridhima Pandey is a climate activist who, at the age of nine, filed a petition against the government of India in response to its inaction to mitigate climate change. In 2019, along with 15 other child petitioners, Ridhima filed a lawsuit against five countries at the UN.

Ridhima is currently participating in international conferences and helping to empower other students, at all levels, to fight for their future and for the biodiversity of the world. Ridhima is working to save her future and that of coming generations.

> Now is the time for us to be strong and united, and to prove how capable we can be in difficult times. If a woman is determined to achieve something, no-one can stop her.

Lorna Prendergast

Australia

Dementia researcher

In 2019, Lorna Prendergast made global headlines when she graduated from Melbourne University at the age of 90, with a master's degree in ageing. She dedicated her degree to her late husband, to whom she had been married for 64 years and who had suffered from dementia.

As a researcher, she has created a deeper understanding of dementia patients' needs, improving their quality of life and their relationship with carers.

> No matter your age, whether young or old, you can make a difference in the world.

Oksana Pushkina

Russia

State Duma Deputy

opushkina

Oksana Pushkina is the deputy vice-chairwoman of the Committee on Family, Women and Children Issues, at Russia's State Duma.

In 2018, when several dozen female journalists made sexual-harassment claims against Leonid Slutsky, chairman of the State Duma Committee on International Affairs, Oksana was the only parliamentarian to come forward and publicly support the journalists.

> The world has changed a lot in 2020, but besides the trauma and crisis, one thing I've learnt is that new challenges always bring out the best in people.

Cibele Racy

Cibele is a retired headteacher who pioneered the teaching of racial equality to primary schoolchildren in São Paulo.

She reviewed all her school's management practices to make the working environment more inclusive for staff - no matter what their race, gender or position.

> This year has imposed a reflexive refuge on us, in terms of the commitments society must make in order to change. I hope we have gathered transformative energies for the challenges of 2021.

Susana Raffalli

Venezuela

Nutritionist

susanaraffalli

Susana is a humanitarian worker who has spent 22 years assisting in emergencies around the world. She helped Cáritas de Venezuela to establish a tool that showed, in real time, the impact of the humanitarian crisis on children at a time when the crisis was being denied in Venezuela. Susana also founded a network of centres providing nutritional support for children living in slums.

In 2020 Susana worked on maintaining food services for low-income citizens, women with HIV and youth prisons during the pandemic. Working with the Scaling Up Nutrition Movement, Susana also advised on bringing nutrition into the mainstream during national responses to the pandemic across Central America.

> Look after yourself first and start drawing liberation from there. That would make for a superb lockdown.

Sapana Roka Magar

Nepal

Crematorium technician

After becoming homeless for three months, Sapana travelled to Kathmandu where she became involved in an organisation that cremates unclaimed bodies.

The bodies of those who have died from Covid-19 are strictly managed by the Nepalese army. Sapana's organisation retrieves the abandoned bodies from the street or mortuaries and arranges for them to be taken to hospital for post-mortem examinations. If the body remains unclaimed for 35 days, the organisation brings it to the crematorium and performs the Dagbatti rituals, which in Hindu culture are usually performed by the son of the deceased.

> There are homeless, abandoned people across the world. People who die on the streets deserve proper last rites. I do this job not as a social service but for my own peace of mind.

Pardis Sabeti

Iran

Computational geneticist

PardisSabeti

Pardis Sabeti is a professor at Harvard University, the Broad Institute of MIT and Harvard, and the Howard Hughes Medical Institute. She has contributed to human and microbial genomics, information theory, and rural infectious disease surveillance and education efforts in West Africa.

In 2014 she was in the team of Ebola fighters named Persons of the Year by Time magazine, which also included her on its list of 100 Most Influential People. She is the host of educational video series Against All Odds, and lead singer of the rock band Thousand Days.

> Through all the challenges we will endure, solidarity and laughter with other good people in the fight for a better world is key to our endurance and success.

Febfi Setyawati

Indonesia

Activist

Febfisetyawati

Febfi Setyawati is the founder of Untukteman.id, an organisation that helps vulnerable people – especially ill people with financial difficulties and those affected by Covid-19.

She and her team drove around the community in a Volkswagen campervan to provide free internet access (which can be costly) and a mobile library for students, so they could continue their work. The team is now trying to provide signal transmitters for areas where there is no internet signal.

The grief she experienced when her son, Akara Haykal, died from Moebius syndrome, a rare neurological condition, inspired Febfi to help others.

> The world has changed a lot in 2020. We must change for the world, too. It is better for us to do a little of what is useful, rather than complain a lot.

Ruth Shady

Ruth Shady has a doctorate in archaeology and anthropology and is vice-dean of research at the Faculty of Social Sciences of the National University of San Marcos. She is director of multidisciplinary research at the Caral archaeological site, considered to be the oldest civilisation in the Americas.

She has honorary doctorates from five Peruvian universities and in 2018 won the L'Oréal-Unesco national prize for women in science. She was also awarded a Medal of Honour of the Congress of the Republic of Peru.

> Women should get involved in the activities that are required to promote change and to build a society where humans can live in harmony with each other and in balance with nature.

Panusaya Sithijirawattanakul

Thailand

Student activist

This year pro-democracy protests have swept through Thailand, and students like 22-year-old Panusaya are at the heart of it. She and other activists were arrested for their involvement but she was later released on bail.

A livestreamed video of her arrest shows four plain-clothes police officers carrying her from the floor of a hotel room, putting her in a wheelchair and wheeling her out to a police vehicle. Panusaya denies the charges against her, which include sedition.

In August, she took to the stage at a student rally and read out a now-famous 10-point manifesto, calling on the monarchy to refrain from interfering in politics. The move was seen as shocking, as Thailand is one of the few countries with a criminal royal defamation law. Anyone criticising king, queen, heir-apparent or regent could be jailed for up to 15 years.

> Everyone is a world-changer. No matter what you do or who you are, be confident and make your life worth it.

Nasrin Sotoudeh

Iran

Human rights activist

Nasrin Sotoudeh is an Iranian lawyer advocating for the rule of law and the rights of political prisoners, opposition activists, women and children in Iran. She is serving a prison sentence for standing up against the country's much-criticised justice system.

Despite her imprisonment, and the constant threats to her family, Sotoudeh remains a defiant advocate for the rule of law.

> The hijab is obligatory [in Iran] – and if they can force this half-metre of fabric on us, they can do anything with us.

Kathy Sullivan

US

Scientist/astronaut

AstroKDS

Kathy Sullivan is an accomplished scientist, astronaut, author and executive. She was one of the first six women to join the Nasa astronaut corps in 1978, and holds the distinction of being the first American woman to walk in space.

She is also the first woman to dive to the deepest point in the ocean – and, thanks to her combination of spaceflight and deep-sea dives, has earned the title "most vertical person in the world".

> The world has changed a lot in 2020. It reminds us how interdependent all life on this planet really is and forces us to reassess what we truly need and value.

Rima Sultana Rimu

Bangladesh

Teacher

SultanaRimu

Rima Sultana Rimu is a member of Young Women Leaders for Peace in Cox's Bazar, Bangladesh. This programme, part of the Global Network of Women Peacebuilders, aims to empower young women from conflict-affected countries to be leaders and agents of peace.

Rima responded to the Rohingya refugee crisis in her community by advocating for gender-responsive humanitarian action. She organises gender-sensitive, age-appropriate literacy and numeracy classes for Rohingya refugees, and for women and girls in the community who lack access to education.

Rima also uses radio broadcasts and theatre performance to raise awareness of UN Security Council resolutions, relating especially to women, peace and security, in her community.

> I am determined to bring gender equality to Bangladesh. I believe in the power of women and girls to fight for our rights. We will succeed.

Lea T

Brazil

Transgender model

leat

Not many models can say their first ever job was for Givenchy, but that's the case for Lea T. She's been in the business for more than 10 years, and has graced the pages of many high-profile publications, including Marie Claire, Grazia and Vogue.

In 2016, Lea also gained recognition as the first openly transgender person to participate in an Olympics opening ceremony. Lea is a pop-culture icon of transgender advocacy, speaking up about discrimination against LGBT people and calling for society to tackle it. Throughout her career, she's sought to inspire others like her to follow their dreams.

> The world is always changing, and we are always in perpetual motion – but women cannot walk alone.

Ana Tijoux

France

Musician

anatijoux

Chilean hip-hop protester Ana Tijoux is a feminist and activist, who denounces social and cultural deficiencies in her lyrics. Her parents went into exile during Augusto Pinochet's dictatorship in Chile, which left a mark on a career notable for a special sensitivity to political and social issues.

She highlighted her support for women's rights and opposition to gender violence in her 2014 album Vengo, with the song Antipatriarch. Tijoux frequently participates in campaigns against inequality and oppression in the world.

> 2020 has laid bare the fragility of the economic system and, in the face of this fragility, we have the strength of our network of relationships. We have to always remember that because that's where our value and our strength lies.

Opal Tometi

US

Human-rights activist

opalayo

Opal Tometi is an award-winning human-rights defender and one of three female co-founders of Black Lives Matter. She is also founder of a new media and advocacy hub, Diaspora Rising.

Born in the US, to Nigerian immigrants, her human-rights activism crosses borders and goes back almost 20 years.

> A true awakening has occurred. We all now know that to turn one's eyes away from injustice is to be complicit. I encourage everyone to stay courageous, committed, and connected to your community.

Sviatlana Tsikhanouskaya

Belarus

Politician

Tsihanouskaya

Sviatlana Tsikhanouskaya is a former presidential candidate in Belarus, where she led a national democratic movement. In August 2020, President Alexander Lukashenko claimed a landslide victory in the leadership election, sparking protests across the country amid widespread accusations of vote-rigging.

Shortly after the election, fearing for the safety of her children, Sviatlana fled Belarus for Lithuania. She continues to lead the democratic movement in exile.

> Never, for one second, believe anyone who says you are weak. We often don't realise how strong we are.

Related articles

Yulia Tsvetkova

Yulia Tsvetkova was born in a small industrial town in the Russian Far East, where she went on to study art, dancing and directing. Later, from her activist theatre and community centre, she began raising issues related to women's rights, LGBT rights, anti-militarism and ecology.

In 2019 she was charged with distributing pornography and three cases of "LGBT propaganda". She currently faces up to six years in prison for sharing her drawings of the female body online. She has been recognised as a political prisoner by Russian human rights organisations. She denies the charges.

> Never tolerate abuse, whether it comes from the government, a partner or society. You are strong and have the power to change the world. No matter how dark times are, keep dreaming and fighting.

Arussi Unda

Mexico

Campaigner

brujasdelmar

As Mexico faces rising femicide rates, Arussi and her feminist collective Brujas del Mar ("Witches of the Sea") have emerged as a voice for women.

This year they inspired women across the country to stage a national strike on 9 March, when women stopped work and their other activities, and stayed at home.

> At the moment there are so many slogans and mottos like "The revolution will be feminist" or "The future is feminist" – but the future is already here. We must be brave and keep rising up.

Anastasia Volkova

Ukraine

Entrepreneur

FluroSat

Dr Anastasia Volkova is an entrepreneur and agricultural innovator, who uses science and technology to tackle issues of food security.

In 2016 she founded FluroSat, a company that uses drone and satellite data, along with algorithms and other tools, to help farmers optimise crop production.

> Be the change that you wish to see in the world. I hope we can all find our own ways to take advantage of this situation and enable positive change.

Kotchakorn Voraakhom

Thailand

Landscape architect

kotch_voraakhom

Kotchakorn Voraakhom describes herself as "a badass Thai urban landscape architect". She began her work with the aim of prising apart the "cracked pavement" of Bangkok's sprawling cityscape and letting the seedlings of fresh ideas burst through.

She now works to develop productive uses of public space – and is making park-sized cracks in the fight to help megacities cope with climate change.

> What would more great architecture serve if our entire city is sinking? Before we can further our development, we need to address climate change, but not as a single community, country or region... We need to act as a unified world. This Earth is our home, and the only way to heal her is, for us, to work as one.

Siouxsie Wiles

Siouxsie is a scientist and public-health communicator who has been a force of nature in New Zealand during the pandemic. She has collaborated with cartoonist Toby Morris to communicate the science of Covid-19; their work together includes the popular "flatten the curve" visualisation, which has been translated into many languages and adapted by governments to help people understand lockdowns.

She also heads the Bioluminescent Superbugs Lab at the University of Auckland, where she and her team make bacteria glow in the dark in order to understand how infectious microbes make us sick, and to find new medicines.

> The countries where people have united to successfully protect each other from the pandemic show us that big challenges can be tackled with compassion and collective action.

Elin Williams

Wales, UK

Disability blogger

myblurredworld

Elin is a writer and disability advocate who has shared her experiences of myalgic encephalomyelitis (ME) and retinitis pigmentosa (a degenerative eye condition) on her blog, My Blurred World, since she was 16.

She writes honest, open accounts of her experiences, sharing everything from advice and the emotional impact of her conditions, to the societal barriers she faces and the importance of promoting accessibility in the fashion industry. Throughout, she weaves a thread of positivity into her content in the hope of raising awareness and letting others in a similar situation know that they're not alone.

> Find an outlet that allows you to channel your creativity, energy, thoughts, pain and happiness. Embrace all the positives it can bring. You deserve something that's completely yours, without any outside forces influencing its purpose.

Alice Wong

US

Disability activist

SFdirewolf

Alice is the founder of the Disability Visibility Project, a grassroots campaign encouraging people with disabilities to record their stories.

This year she published a new anthology, Disability Visibility: First-Person Stories from the Twenty-First Century.

> The world has changed a lot in 2020, and I don't ever want things to return to "normal".

Leo Yee-Sin

Dr Leo Yee-Sin runs Singapore's state-of-the-art National Centre for Infectious Diseases, which is responsible for handling outbreaks of communicable diseases.

As well as being at the forefront of the country's battle against Covid-19, she has spent decades improving HIV care in Singapore and leading teams through many outbreaks of infectious diseases, including Sars. She balances her work commitments with her role as a mother of three children.

> Covid-19 has changed everyone's life. However, it has not changed the prominence of female leadership. Those countering the virus at the frontline are predominantly women, and they do so with courage, strength and resilience.

Michelle Yeoh

Malaysia

Actor

michelleyeoh_official

Michelle Yeoh broke into acting by performing her own stunts in the "man's world" of Hong Kong martial arts films. She moved to Hollywood as a Bond girl (starring in Tomorrow Never Dies) and is one of very few actresses from Asia to enjoy a long, successful career in the USA.

After more than 30 years in the business, Michelle is securing lucrative roles in the new Avatar films and Marvel's first Asian-led superhero movie, Shang-Chi. She often speaks about the lack of Asian representation in Hollywood, and as a UN goodwill ambassador is working to eradicate poverty by 2030.

> Covid-19 affects us all, but women are bearing the brunt. Remember, we are not alone. If we are feeling isolated, we must reach out for support. Having a support network is more important than ever.

Related articles

Aisha Yesufu

Nigeria

Activist

AishaYesufu

Aisha Yesufu is a Nigerian activist demanding good governance in her country.

She is co-convener of the Bring Back Our Girls campaign, launched in response to the 2014 abduction of more than 200 girls from a secondary school in Chibok, Nigeria, by the militant group Boko Haram.

She was also a prominent participant in the "EndSars" protests, during which saw Nigerians take to the streets to demand greater accountability from the Nigerian Police Force, beginning with the dissolution of the controversial Special Anti Robbery Squad (Sars) members of which have been accused of the murder, rape and robbery of civilians.

> My advice to women is to fully and unapologetically take their place in the world. Women should stop asking for a place at the table – they should create their own table.

Gulnaz Zhuzbaeva

Kyrgyzstan

Disability activist

gulnazzhuzbaeva

In Kyrgyzstan, there are more than 5,000 people living with visual impairment, but many important governmental documents remain inaccessible to them. Gulnaz Zhuzbaeva, founder of the Kyrgyz Federation of the Blind, has been working tirelessly to make these materials available in Braille and improve access to those with visual impairment.

Her team runs a programme for blind people to provide them with the skillset needed to enter the job market. Of the 22 adults who completed the programme in 2020, six are already successfully employed and two are enrolled at university.

> Life is full of challenges; just take it as a given.

How were the 100 Women chosen?

The BBC's 100 Women team drew up a shortlist based on names gathered by them and suggested by the BBC's network of World Service languages teams. We were looking for candidates who had made the headlines or influenced important stories over the past 12 months, as well as those who have inspiring stories to tell, achieved something significant or influenced their societies in ways that wouldn't necessarily make the news. The pool of names was then assessed against this year's theme - women who led change - and measured for regional representation and due impartiality, before the final names were chosen.

Photo copyrights: University of Melbourne, Kim SooHyeon , Quoc Dat, Rachata Sangkrod, Fee-Gloria Groenemeyer, Rakyan Bramasto, NCID,Thomas Laisne, Nandar, Kunjan Joshi, Shajan Sam,Shahbaz Shazi, AxKimia, Arash Ashourinia, UNHCR, Nancy Rached, Emily Almond Barr, ICARDA, 89up, No Isolation, Anna Khodyreva, Bogdanowa Ekaterina, Anastasia Volkova by Sydney Morning Herald, University of Oxford / John Cairns, Arvid Eriksson, Jeronimo Zúñiga / Amazon Frontlines, Alejandra Lopez, Víctor Hugo Yañez Ramos, Rick Buchanan Photography, Eddie Hernandez Photography, Ant Eye Photography, Chris Collingridge, Abdelhamid Belahmidi, Kunmi Owopetu, Alien Prose Studio, Mastercard Foundation, Hannah Mentz, Fortress, Vice Media Group LLC, Francis Mweze from Sighted Design, Angelou Studio's, Zola Photo, David Gee, Will Kirk, Paloma Herbstein, Miguel Mendoza Photo Studio, Denise Else, Dioned Williams, Alcaldía Mayor de Bogotá, Global Network of Women Peacebuilders, Reece Williams with Artists in Presidents, Sebastian Lindstrom, Getty Images, Andrés Kerese, Gulnaz Zhuzbaeva, Claire Godley, The Australian Water Association, Wu Baojian, Laura Kotila Prime Minister's Office, O'Shea Tometi, María Esme del Río, Gio Solis, Laurent Serroussi, DCMS, Inti Gajardo, Morgan Miller, Helena Price Hambrecht, Courtesy of John Russo, UN Women/Ploy Phutpheng.

Edited by Amelia Butterly, Lara Owen, Lorin Bozkurt, Valeria Perasso, Stephanie Gabbatt, production by Alison Trowsdale, Ana-Lucia Gonzalez, development by Marta Marti Marques, Chloe Skillman and design by Sean Willmott.

BBC 100 Women names 100 influential and inspirational women around the world every year. We create documentaries, features and interviews about their lives, giving more space for stories that put women at the centre.

Join us for an exciting digital live event of masterclasses, big interviews and guests, hosted by the BBC's Nuala McGovern and Rianna Croxford on 30 November, from 13:00GMT, on the BBC website.