Paul Whelan: Grim life of US 'spy' in Russian labour camp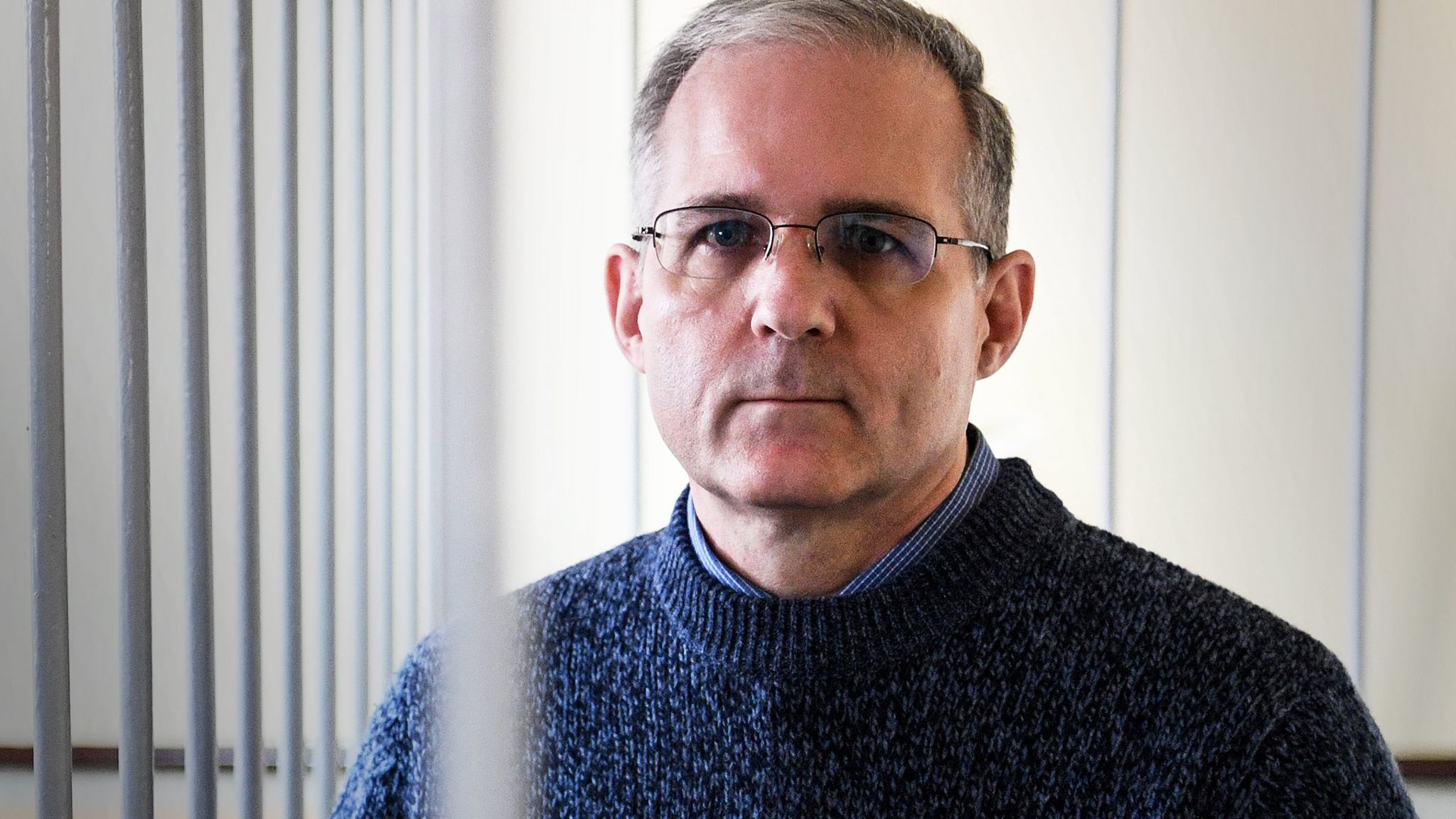 Convicted as an American spy, Paul Whelan is preparing to spend Christmas in a Russian labour camp as talks to negotiate his release have faltered.
In his first detailed interview since his arrest, Mr Whelan has described life locked up alongside murderers and thieves as a "very, very grim existence" and called on his four governments to do more to get him out.
The former US Marine has always insisted he is innocent, describing himself as a hostage of "slimy" Russian politics and a "sham" trial.
A high-profile prisoner, who also holds British, Canadian and Irish passports thanks to family ties, he had been banking on some kind of prisoner swap soon after sentencing.
That was more than six months ago.
"I get up in the morning and try to be as positive as I can," Mr Whelan told me from IK-17, his high-security prison eight hours drive south east of Moscow.
But part of the camp has just been quarantined for a suspected Covid outbreak and he's being woken at night every two hours by prison guards who tear off his blanket and take his photograph, supposedly checking he hasn't tried to escape.
The American says he's taking "one day at a time", not focusing on his daunting 16-year sentence.
We had spoken before: snatched exchanges through the bars of his cage during custody hearings that the guards would quickly close down.
But since his conviction Mr Whelan has called me from prison to relate his side of this spy story - a tale of deception and betrayal.
"I was getting ready and this person turned up, unexpected," Mr Whelan recalls his arrest in a Moscow hotel room two years ago.
The "person" was one of many friends he had made in Russia since his first visit in 2006. He knew this man's family, he'd stayed at their house - even introduced him to his own parents.
This friend enjoyed "running around with a foreigner", Mr Whelan remembers, showing him the sights.
But he worked for Russia's FSB security service and, moments after he showed up at the hotel that day, his colleagues burst in and bundled the American to the floor.
"They grabbed me and pinned me down," Whelan tells me in one call. "I thought at first it was some sort of joke or trick but it became real quite quickly."
Paul Whelan says the entire "ludicrous" case against him was based on the testimony of this same friend.
"The story was that the DIA [US military intelligence] sent me to Moscow to pick up a flash drive with the names and photos of students from the border guard school," Mr Whelan says, arguing that such a low-tech mission was "illogical" in the internet age.
He had supposedly paid for the secret data by wire transfer four months earlier, though Mr Whelan says that cash was a loan so his friend could buy his wife a new phone.
"The FSB just came up with a random story that doesn't make any sense," he says, and no concrete evidence was ever presented.
"It was really a farce. You hear about these things during the Soviet era, when people would then be taken out and shot. It's the same thing."
It's not possible to verify Mr Whelan's account as even defence lawyers here have to sign a non-disclosure agreement in spy trials and the court hearings themselves were closed and top-secret.
But Paul Whelan was led to believe that Russia wanted to trade him from the start.
He says two names were always mentioned: arms dealer Victor Bout and Konstantin Yaroshenko, convicted on a drug smuggling charge - Russians in prison in the United States.
Trading those two for a man who denies he's a spy seems a stretch.
Even so, the US administration is engaging "senior members" of the Russian government in talks, according to the US ambassador to Moscow, although he won't give away any specifics.
"I'd like nothing more than to… pick up Paul, give him a hug and send him home to Michigan," John Sullivan told me last week.
He's condemned the whole spy case as "outrageous" from the start and even drove to visit Mr Whelan in his prison camp, the first US ambassador through its gates.
"I have no higher priority in what's left of the Trump administration than to advocate for Paul and to do all we possibly can to get him released," Ambassador Sullivan said. "But we haven't been able to come to terms that would be reasonable for any US administration to agree on."
"I love my brother, but you don't just swap a tourist for a bunch of bad guys. That's ridiculous!" Paul Whelan's elder sister admits. "People just love the idea of a swap: it speaks to novels from the 1940s, the foggy bridge."
Elizabeth Whelan suggests the politicians will have to be more creative in this case, and preferably before Donald Trump leaves the White House on 20 January.
"We have to hope that the Russian Federation realises they have an opportunity right now to get something accomplished," she argues, given all Joe Biden's talk of "getting tougher" on Moscow.
She's been trying to nudge things along, posting flash drives to the Russian foreign ministry stamped with the hashtag #freepaulwhelan. They were posted back.
Once a globe-trotting security adviser, Paul Whelan now spends his days sewing prison uniforms in the camp "workhouse", his fate deeply entangled in the dire relationship between Moscow and the West.
Nothing about that is getting any easier.
"I'm being patient and waiting. I'm not the only pebble on the beach, I know. But I also don't want to be here too long," he tells me, down the phone line. "They've abducted a tourist. And I want to come home, see my family and live my life."