Covid travel: Why Instagram is still full of celebrities 'on holiday'
By Kelly-Leigh Cooper
BBC News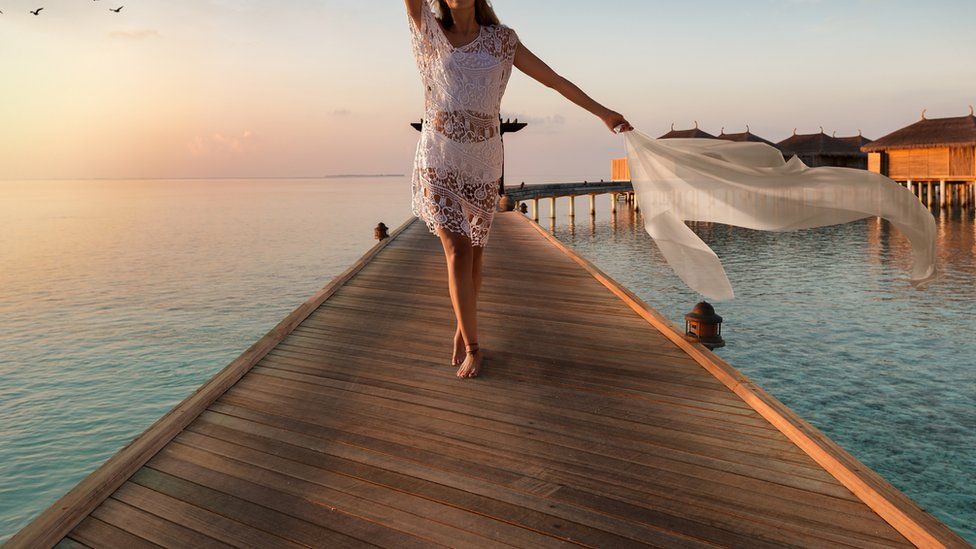 If you're a reality television fan who follows your favourite stars online, chances are you have seen some of them jetting off to luxury destinations in recent weeks - despite rising infection rates and restrictions across the UK.
With much of England first plunged into tier four and now lockdown, many seem to be wondering how all of these glamorous breaks have been able to go ahead at a time when millions are being told to stay at home.
So, what is going on and what do the rules say?
Before Prime Minister Boris Johnson announced strict new restrictions starting on 5 January, England was under a tier system across different regions.
The reality is that some of the stars posting their travel on social media in recent weeks may have left the country for their winter breaks when their local area was still under tiers two or three - when the advice about travelling was less strict.
Guidance urged people to stay local and carefully consider whether they must fly abroad, but did not ban trips explicitly.
The rules were stronger for those who were plunged into the very highest tier four - which was first announced for London and parts of the south east on 19 December before being extended to millions elsewhere last week. In those areas, people were instructed to stay at home by law unless they had a reasonable and legal excuse to leave including for work, shopping or caring responsibilities.
Guidance said people living under tier four could only travel internationally - or indeed elsewhere in the UK - if they first qualified under one of the strictly defined legally permitted reasons to leave home.
Some influencers and celebrities have been tagging brands and talent agencies in their posts - indicating their content shared abroad is sponsored or paid work. And travelling overseas was permitted for work reasons under tier four, when your job could not be done at home.
Trending Travel is a holiday company that specialises in using celebrities to promote trips which customers can then book and experience for themselves. CEO Keith Herman launched the company last year and points out that this period - December to March - is a key time for those in the hard-hit travel industry to market summer holidays.
"Travel agents and Tour Operators alike are all in the same boat, we need to get through these tough times and especially the next few months which is a critical sales period," he told the BBC. And it's not just his firm and influencers promoting bookings - summer holiday marketing is rife across the industry, including Ryanair marketing flights with slogans such as "jab and go" and "vaccines are coming".
Mr Herman's company had well-known figures, including Love Island stars with over 1m followers, sharing posts from the Maldives and Dubai in recent days - but he's now asked them to stop tagging the firm in new posts in light of the lockdown. "We will just have to be creative and find new ways of promoting ourselves for the next couple of months," he said on Tuesday.
TikTok and other social media platforms have been filled with people mocking the number of reality stars visiting Dubai, in the United Arab Emirates, in particular. A glance at comments on their pages in recent weeks shows the backlash some have received from followers stuck dealing with restrictions at home. Some commenters accused celebrities of being out of touch with their fans or trying to exploit loopholes in the rules.
But with commercial flights still flying, it's not just high-profile influencers who have been going abroad. One British holidaymaker told the BBC she and her partner were able to fly out to Dubai last Friday, following negative tests as per UAE entrance conditions, without being asked about their reasons for leaving tier four. She had booked the trip at short notice and described the flight as busy.
At the time of writing, a quick check online shows tickets still available for flights departing from the UK to Dubai in the next couple of days for just a few hundred pounds.
Asked by the BBC about people who have broken tier four rules for non-essential travel, a government spokesman said: "No one is above the law and those who are breaking the rules are putting friends, family and the wider public at serious risk."
They pointed to rules that state all travellers must fill out a Passenger Locator Form or be liable for a fine, and said that anyone returning from countries not on the travel corridor list must self-isolate for 10 days.
"Our measures are designed to keep us all safe and we are looking at what additional measures should be taken as we start the vaccination programme to keep people safe," he added.
Both the UAE and the Maldives currently remain on the travel corridor list, meaning people travelling home from there currently do not have to quarantine. The UAE was added to the list in November, which is why we may have all seen an uptick in holiday pictures from there on our social media timelines since.
And although many places severed travel links to the UK following growing international concern about a new virus variant spreading here in December, a number of luxury destinations popular with influencers and celebrities never did.
While other countries dissuaded visitors with measures like mandatory quarantines and other strict rules in place for arrivals, Dubai has been trying to court tourists back since the summer.
Sameer Hashmi, a BBC business reporter based there, points out that travel and tourism contributes more than 11% to Dubai's GDP. He says that safety measures in place and the relative ease of travel there has been a "big driver for tourists".
"When they began the Visit Dubai campaign in July, Dubai Tourism got down a lot of top influencers to promote the campaign," he says. "I think that also helped in attracting a lot of younger travellers. They have also spent a lot on the global marketing campaign, which I am sure has worked at some level."
A couple of weeks ago former X-Factor pop duo Jedward hit out at the upsurge of celebrities promoting travel to the emirate.
Info for Influencers promoting Dubai! It has Coronavirus 👍🏻 but doesn't have rights for LGBTQ+ so please stop promoting countries where it's criminal to kiss the one you love!

— JEDWARD (@planetjedward) December 20, 2020
In spite of its growing popularity as a tourist destination, the UAE continues to face criticism for its human rights record.
The rapid rise of development in Dubai, where luxury resorts and attractions are a key draw for tourists, has been fuelled by a workforce made up mostly of migrant workers. Human rights groups say the kafala (visa-sponsorship) system they work under - which sees visas tied to employment - leaves many vulnerable to abuse and exploitation.
Social media has been rife with speculation that the latest lockdown could leave reality stars and celebrities stuck abroad if flights get cancelled - but (based on their posts) some seem in no rush to return.
In their lockdown guidance for England, the government says UK residents currently abroad do not need to fly back immediately - but urges people to check with their travel operator for arrangements.
British Airways, in a statement to the BBC on Tuesday, confirmed they were reviewing their current flight schedule in light of the national lockdown restrictions and urged travellers to check their website for the latest flight information.