Covid hand-outs: How other countries pay if you are sick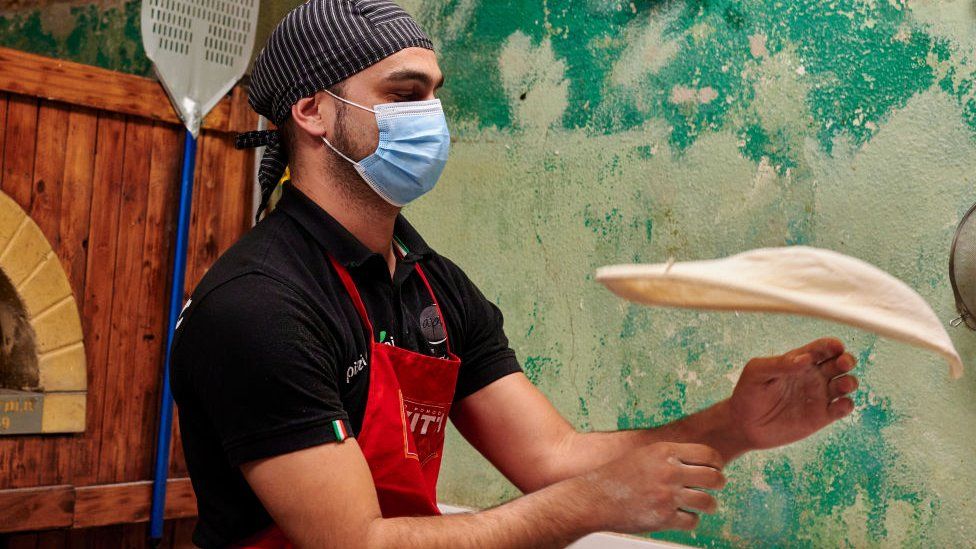 The idea of a flat £500 payment to anyone who tests positive for Covid-19 has been dismissed by the UK government. Health officials had come up with the suggestion in the hope of encouraging people with the illness to self-isolate.
There are concerns the virus is continuing to spread because some people are ignoring the instruction to stay home when they show symptoms or test positive. Downing Street has said there is already a £500 sum for those on low incomes who could not work from home and had to isolate. But this must be applied for and there have been high rejection rates in England at least, A behaviour expert who advises the government, told the BBC just 18% of people with symptoms were self-isolating for the full 10 days they were meant to.
So how do other countries handle the question of paying people to stay at home, or just trusting they will do the right thing? Here, BBC correspondents from Prague to New York, offer an insight.
In Portugal, even those who are just at-risk of contracting Covid - having been in direct contact with a confirmed case - are entitled to 100% of their basic salary, for 14 days, writes Alison Roberts, in Lisbon.
For those who show symptoms, or have tested positive, the same is available for up to 28 days. And the normal waiting times people are used to when claiming while ill have also been done away with - these Covid payments kick in on day one of isolation.
Those not on permanent work contracts tend to be treated as self-employed and are eligible for benefits based on income declared. But there are a lot of people, including many immigrants, who lack the necessary paperwork, and are therefore not eligible to claim.
Nevertheless, it's perhaps not surprising that, because people are able to claim full basic pay, there hasn't been much, if any, debate about people obeying self-isolation. If there are reports of people not seeking tests, or not isolating, it seems to be more out of ignorance, which is certainly rather worrying.
Slovenia has been offering compensation to people forced to self-isolate after exposure to coronavirus since it first introduced emergency measures in March, writes Guy De Launey in Ljubljana.
Depending on the circumstances, this covers anything from 80% to the full amount of usual earnings. The payments may be made directly to people in quarantine, or as compensation to employers. A government official told the BBC that with its socialist past, it was normal for Slovenia to take care of people in quarantine by providing payments - and that without compensation, it would be impossible to deal with coronavirus.
When the measures were first introduced, they enjoyed broad public support. But the second wave of the epidemic has seen case numbers skyrocket - Slovenia's per capita death-rate is now the third highest in the world - and public confidence overall has dipped.
By the end of 2020, market research company Valicon said that only 12% of Slovenians viewed the government's measures as "appropriate", adding that people were "worried and dissatisfied with the social situation", suggesting compensation is not a panacea.
In March last year, the US agreed to pay for some workers to stay at home - a big change for a country that had never paid sick leave requirement before, writes Natalie Sherman in New York.
The measure guaranteed up to 14 days of pay for workers forced to isolate because they had symptoms, had received medical advice to self-quarantine, or were under government lockdown orders. It also said it would guarantee two-thirds of pay for people caring for someone with the virus for up to two weeks. One study suggested it helped prevent hundreds of news cases a day.
As part of his $1.9tn stimulus plan, President Joe Biden is pushing to renew the law, and end the exemptions. But the proposal - which his team estimates would expand the benefit to as many as 106 million more Americans - faces stiff resistance from Republicans and key business lobbies.
In Germany financial support is generous for people ordered to self-isolate by the authorities because of infection risk, writes Damien McGuinness in Berlin.
As a result there hasn't been a debate in Germany about breaking self-isolation rules because of financial need. Fines can be huge - tens of thousands of euros - and are strictly enforced. Overall there's no great issue with compliance and Germany's financial package has widespread cross-party backing, and is supported by voters.
Employees who are unable to work at home receive full pay for up to six weeks. This is paid by the employer, who is then reimbursed by the state. After that, workers may be eligible for sick-pay.
Freelancers and self-employed people are generally also entitled to full pay for six weeks. But they would apply directly to their regional government. The exact rules and level of efficiency for payments vary from region to region. For those in the gig economy - Germany has it, though less so than Britain - this should be covered by state aid, based on tax returns.
The level of state support was agreed by Germany's national parliament in Berlin. But payments are administered and funded by regional governments.
There's been some discussion here about paying people to stay home if they test positive for Covid, writes Rob Cameron, in Prague.
The idea is advocated by at least one independent expert group. But it would be expensive, and the Czech state coffers are already stretched from keeping employees on furlough and paying compensation.
Instead, salaried employees who receive a positive diagnosis are left with two choices: work from home - if they're up to it, if their job allows it and if their employer agrees, or go on sick leave for 10 days and receive 60% salary.
For the self-employed it's worse. Only those who have chosen to pay state sickness insurance will receive anything. Most opt out - the benefits are marginal. So most continue working from home - if their health and profession allows it.
For many workers, in other words, a positive Covid test can be a real blow to the wallet. It's an open secret that many people - especially freelancers in creative professions - beg friends and colleagues who test positive not to declare them as contacts, to avoid having to go into quarantine. For some the fear of losing work and money outweighs social responsibility.
Moves to compensate people for taking time off work have largely been well received, writes Maddy Savage in Stockholm.
To encourage people to stay at home from the moment they develop coronavirus symptoms, the government changed the rules to allow Swedish employees and the self-employed to claim sick pay from the first day they are off, rather than the second. Employees receive about 80% of their salary while they isolate (capped at SEK 700 or £61.88 per day), and the self-employed are entitled to payments capped at 804 SEK or £71.05. The government has also introduced an allowance for people isolating because they live with someone who has coronavirus.
While Sweden has largely kept primary schools open throughout the pandemic, parents have been able to make use of a pre-existing benefit which allows them to take state-funded time off work if their children are ill (with the virus or any other illness), and an additional benefit has been introduced for parents who are forced to take time off work to look after children affected by school closures as a result of a local outbreak.
But these measures have also stirred debates about welfare inequality. There are concerns that workers who are paid by the hour or on temporary contracts aren't entitled to the same level of sickness benefits as permanent staff - there are reports that this has encouraged some to keep working despite developing Covid-19 symptoms.