Covax: How many Covid vaccines have the US and the other G7 countries pledged?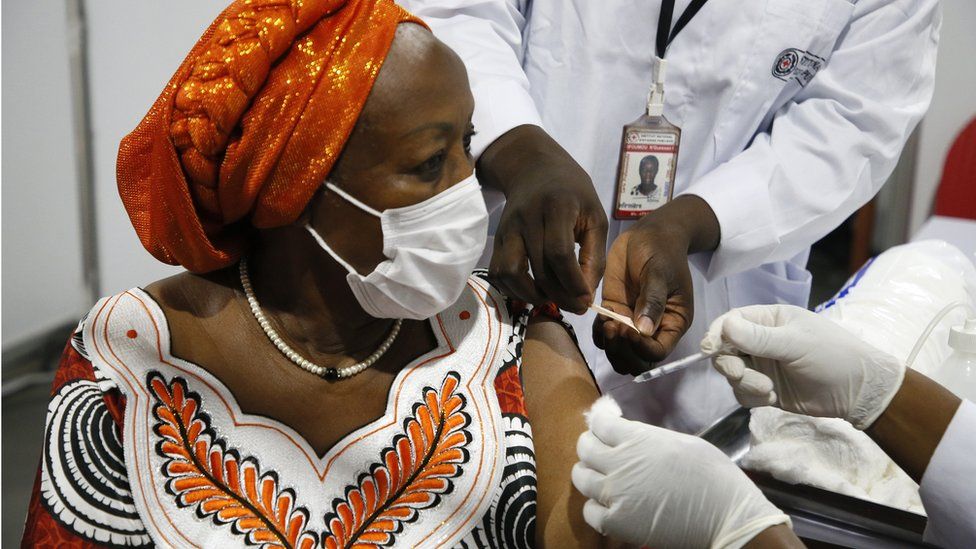 The US has pledged to donate 500 million more doses of the Pfizer vaccine to poorer nations from next year - bringing its total commitment to more than one billion.
"To beat the pandemic here, we need to beat it everywhere," US President Joe Biden told a virtual Covid-19 summit.
The donation will be routed through Covax - the international scheme designed to ensure low-income countries aren't left behind in the fight against Covid.
It came amid growing warnings over the pace of global vaccinations, and inequity of access.
What is the Covax scheme?
Covax was created last year to ensure that Covid vaccines are made available around the world, with richer countries subsidising costs for poorer nations.
The scheme hopes to distribute enough vaccines to protect at least 20% of the population in 92 low- or medium-income countries - starting with healthcare workers and the most vulnerable groups.
Its initial goal was to provide two billion doses of vaccines worldwide in 2021, and 1.8 billion doses to 92 poorer countries by early 2022.
Covax is run by a number of international organisations, including the World Health Organization (WHO) and the UN children's charity, Unicef.
Ghana was the first country to receive Covax vaccines in February.
Since then, more than 303 million doses have been shipped through Covax to 142 countries around the world, including Bangladesh, Brazil, Ethiopia and Fiji.
Most doses are going to poorer countries, but some have been sent to wealthier countries such as Canada, which defended its request.
Which countries are donating vaccines and how many?
Covax works with with governments and vaccine manufacturers around the world. Supporters include the US, the UK, Canada, Japan, Australia, New Zealand, the UAE, France, Germany, Italy, Spain, Sweden, and Portugal.
Countries have pledged to donate both money and surplus doses from their own vaccine supplies.
The UK, Japan, Canada and the European Union are among those to have committed to supplying tens of millions of doses.
WHO director-general Tedros Adhanom Ghebreyesus previously criticised wealthier nations for "gobbling up" the global vaccine supply.
G7 countries have purchased over a third of the world's vaccine supply, despite making up only 13% of the global population.
What vaccines does Covax use?
Six vaccines have been given "emergency use authorisation" by the WHO, meaning they can be shared via Covax: AstraZeneca, Pfizer, Janssen, Moderna, Sinopharm and Sinovac.
However, only Pfizer and AstraZeneca doses have been delivered so far.
Moderna has agreed to supply 500 million doses at its "lowest-tiered price", but most won't be available until 2022.
How has the Covax rollout gone?
Covax has been criticised for being slow. Some initial targets were missed, partly as a result of the poor health infrastructure in many of the recipient countries, and partly because of vaccine hesitancy.
Covax has told the BBC that too many donations have come in small quantities, at the last minute and with little time left before they expire. This makes it very hard to get them to where they are needed.
Representatives of the scheme also note that only a small percentage of the pledges made earlier this year have turned into actual doses.
Unicef executive director Henrietta Fore said countries needed to "accelerate their donation plans", with low-income nations unable to wait any longer.
While many high-income countries have now given at least one shot to more than half their populations, only 2% of people in low-income countries have had their first dose, according to data from the University of Oxford.
Covax says it is now expecting to hit its "key milestone" of releasing two billion doses for delivery some time early next year.
Can Covax help end the pandemic?
In total, some six billion doses of coronavirus vaccines have been administered, in over 195 countries worldwide.
However, while some countries have fully vaccinated a large amount of their population, many others have only just begun, or in some cases are still waiting for their first doses to arrive.
Covax aims to close that gap. "With a fast-moving pandemic, no one is safe, unless everyone is safe," the WHO says on its website.
But even if Covax meets its goal to vaccinate 20% of the population in its 92 target countries, that's well short of the level of immunity that experts say is needed to end the pandemic.
The WHO has suggested that figure is at least 70%. People may also need booster doses to remain protected.