Rocketman: Did the Vatican fund a film about Elton John?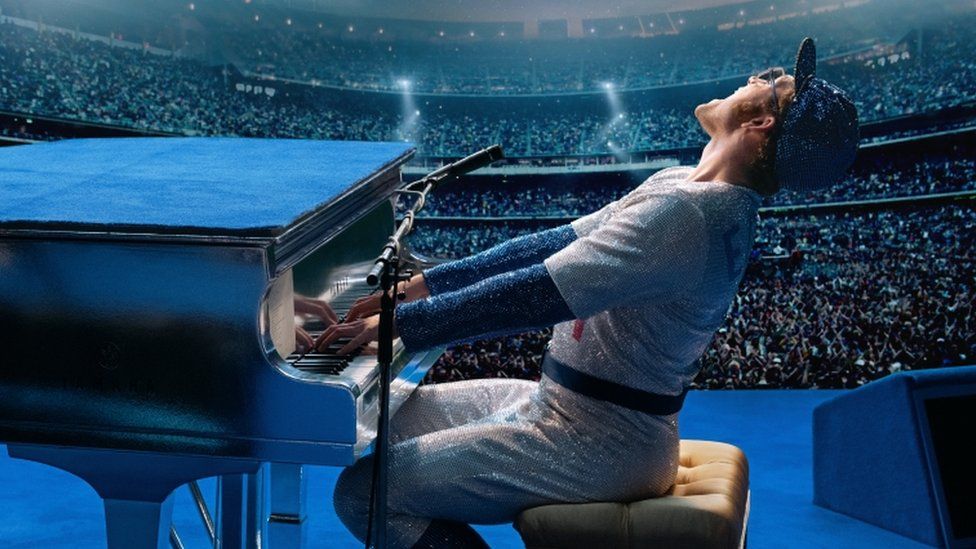 A reported link between the Vatican and a film celebrating Sir Elton John has resurfaced after a controversial Church decision on same-sex unions.
On Monday the Vatican's doctrine office said the Church could not bless same-sex unions as God "cannot bless sin".
The declaration was approved by Pope Francis, who has expressed support for gay couples.
Many members of the LGBT community were outraged, including British singer-songwriter Sir Elton.
"How can the Vatican refuse to bless gay marriages because they 'are sin,' yet happily make a profit from investing millions in 'Rocketman' - a film which celebrates my finding happiness from my marriage to David??" Sir Elton tweeted.
At the end of the tweet, he added the hashtag "hypocrisy".
For those who are unaware, Rocketman is a 2019 biographical musical film about the life of Sir Elton. It charts his rise to musical stardom, while exploring his sexuality and relationships with other men.
Rocketman has been described as the first major studio film to depict a male gay sex scene on screen.
This subject matter, you may be thinking, seems incongruous with the doctrine of the Vatican.
So, what is Sir Elton's tweet all about then? Why would an institution that deems same-sex unions to be sinful invest in such a film?
This takes a bit of explaining.
Sir Elton's representatives did not respond to a BBC request for comment. But a spokesperson told Newsweek on Monday: "Their [the Vatican's] investment has been widely reported in many credible news outlets including the Financial Times. Aside from that, we are not able to comment any further."
The newspaper said it had uncovered information about investments made by a fund that was partly financed by the Vatican's Secretariat of State.
The Secretariat of State is one of the most powerful departments of the Vatican. For centuries, it has overseen everything from Church administration to the Vatican's diplomatic affairs.
And its financial affairs, including - according to Corriere Della Sera - investments in blockbuster films.
This is where Sir Elton comes in.
In its report, Corriere Della Sera said more than four million euros (£3.4m; $4.7m) "went to finance the production of films such as the latest 'Men in Black' and the biography of Elton John, 'Rocketman'".
The paper said about one million euros of that sum had been invested in Rocketman.
It is unclear how closely the Vatican followed these investments. Some of the fund's money came from Peter's Pence, a papal charity that collects donations from Catholics, according to the Italian newspaper.
The use of funds from Peter's Pence has come under scrutiny since a Vatican investigation into London property investments in 2019.
Soon after that report, Pope Francis ordered a shake-up of the Vatican's financial affairs, stripping the Secretariat of State of funds it managed.
The Vatican has never publicly confirmed or denied the reports of the investment in Rocketman.
The BBC did request comment from the Vatican but, at the time of publication, had not received a response.
Thus, it remains unclear exactly how much Pope Francis knows about the financial affairs of the Vatican.
Would he be aware of the contradiction between Church doctrine and the funding of a film about Sir Elton?
Francis DeBernardo, executive director of gay Catholic group New Ways Ministry, did not think so.
"Rocketman was about a gay man struggling to accept his identity," he told the BBC. "That is a pastoral issue that Pope Francis is sensitive to, and Church doctrine supports the idea of helping people come to accept a gay or lesbian orientation.
"Blessing same-sex unions is another topic altogether because it touches on the doctrine about marriage."
That doctrine holds that gay unions aren't part of God's plan, so they can't be blessed by the Church.
Mr DeBernardo said this was "part of the problem with so much of the Vatican's teachings".
He added that, on another level, "I'm not sure that Pope Francis would even have been aware of the investment in the film".
"Decisions of that type are usually handled at lower levels," the executive director of the gay Catholic group added.