Covid: Will your pet need a coronavirus vaccine?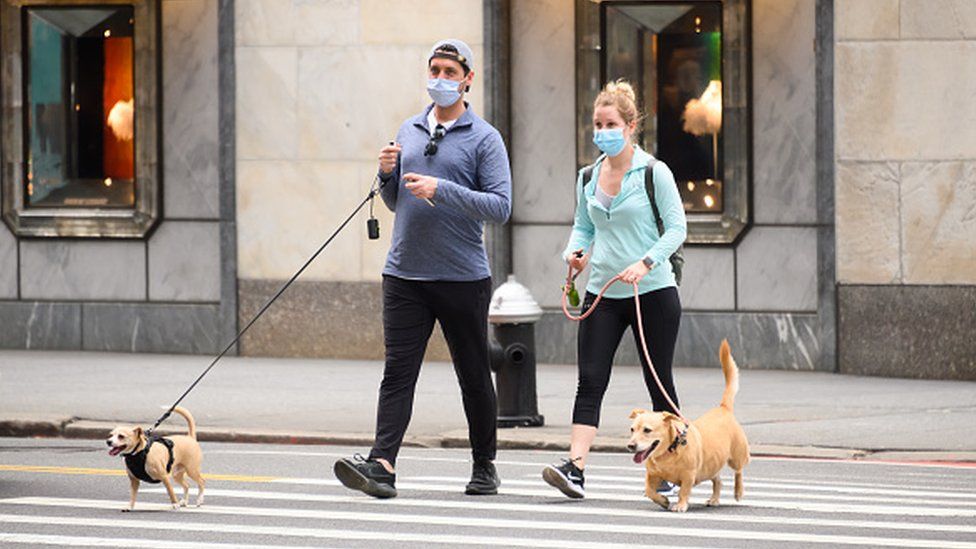 From the start of the pandemic, experts have shared their concerns about the impact of coronavirus on animals.
And while scientists say there is currently no evidence that animals play a significant role in spreading the disease to people, infections have been confirmed in various species worldwide.
These include dogs, cats, apes and even mink.
To address these infections, scientists are developing Covid-19 vaccines that are specially designed for animals. On Wednesday, Russia announced it had registered what it said was the world's first animal-specific jab.
But are these really necessary? Here's what we know so far.
Is it common for animals to become infected?
Data on this is limited. Most of what we know is from reports and small-scale studies.
At the time, the UK's Chief Veterinary Officer Christine Middlemiss said: "This is a very rare event, with infected animals detected to date only showing mild clinical signs and recovering within a few days."
Aside from domestic pets, several animals in zoos have also tested positive.
A tiger at the Bronx Zoo in New York is believed to be the first known case of an animal becoming infected in the US. Later, eight gorillas at San Diego Zoo in California became the first known great apes to test positive for Covid-19.
In both these cases, it was suspected that the animals became sick after being exposed to a zookeeper that had the virus. They are reported to have recovered after suffering mild symptoms.
But Covid-19 has been a far more serious problem for mink - semi-aquatic mammals farmed for their fur. Multiple countries have reported infections in farmed mink which, in some cases, have fallen severely ill or died.
So do we need a vaccine for pets?
There are differing opinions on this.
Take cats and dogs, for example. Scientists don't believe they play an important role in transmitting the virus to humans, so some question the need to vaccinate them at all.
"There's no need for a vaccine from a public health standpoint," William Karesh, a health expert for the non-profit EcoHealth Alliance, told Science Magazine last year.
The US Department of Agriculture (USDA), which regulates pet vaccines, has taken a similar stance.
In terms of other animals, scientists agree that, given the susceptibility of mink to Covid-19, there is merit in developing a vaccine for them.
The threat to great apes has also prompted concern, as they are known to be susceptible to catching respiratory diseases from humans. Conservationists are particularly worried about the danger to gorillas, which have populations that are listed as critically endangered.
What are the risks of not vaccinating animals?
In the worst-case scenario, vulnerable populations of animals - such as gorillas - could be pushed to the brink of extinction, experts say.
The impact on great apes has been limited so far, but the culling of mink in Denmark shows the risk of uncontrolled transmission in animal populations.
Experts also fear that, should the virus spread widely among animals, new mutations of the disease could emerge. In theory, these variants could be resistant to vaccines currently being rolled out across the world.
"It is not unthinkable that vaccination of some domesticated animal species might be necessary to curb the spread of the infection," researchers wrote in an editorial for the journal Virulence in January.
Mutations in animals could "come back into the human population looking quite different", Kevin Tyler, editor-in-chief of Virulence, told the BBC.
"Then you've got a substantially different variant that could be a problem in the future," he said. "The best way to deal with that might be vaccines."
Are more animal vaccines on the way?
There are several known efforts to develop them.
One is led by Russian researchers, who said they had secured regulatory approval to mass produce a vaccine earlier this week.
The country's veterinary watchdog, Rosselkhoznadzor, said it had been testing a vaccine called Carnivak-Cov on dogs, cats, mink, foxes and other animals since October.
"All test animals that were vaccinated developed antibodies to coronavirus in 100% of cases," Konstantin Savenkov, the deputy head of Rosselkhoznadzor, said.
Another vaccine is being developed by the US veterinary pharmaceutical company Zoetis. It started developing a jab for animals last year after a dog tested positive for the virus in Hong Kong.
The vaccine was initially deemed safe and effective in cats and dogs. But then an opportunity presented itself to test it on other animals after the gorillas at San Diego Zoo tested positive in February.
So for now, the research and development of animal-specific jabs continues.
As it does, it's "quite unlikely" we'll see pets vaccinated in any great numbers for the foreseeable future, Mr Tyler says.
You may also be interested in: