May Day protests: Turkey arrests hundreds as rallies sweep globe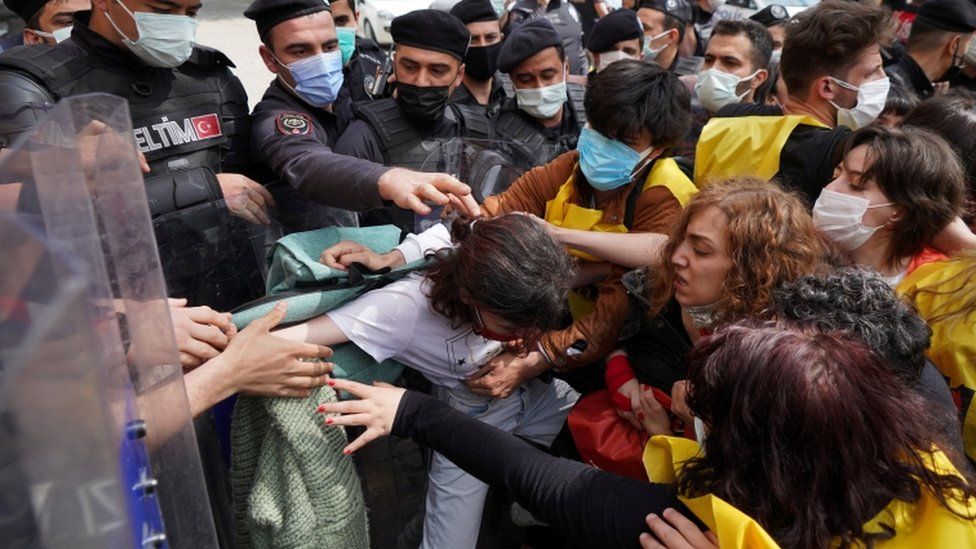 Turkish police have arrested more than 200 people for holding unauthorised protests on May Day, which has seen rallies across the world despite the continued spread of Covid-19.
The protesters in Turkey's largest city, Istanbul, were caught breaching restrictions imposed to curb a third wave of coronavirus.
Marches led by workers and unions are held on 1 May every year as part of International Labour Day celebrations in many countries.
This year, the rallies took place once again against the backdrop of a pandemic that has destroyed livelihoods and upended economies worldwide.
In many countries, police were deployed in large numbers to deal with possible disorder and ensure coronavirus restrictions were observed.
Scaled-back rallies were held in Germany, Russia, Spain, Sweden, the UK, Cuba, Colombia, the Philippines, Indonesia and many other countries. Most demonstrations were peaceful.
But Turkey was among several countries where police were embroiled in May Day protests that turned violent on Saturday.
The office of Istanbul's governor said 212 people had been arrested after they broke away from marches and tried to enter Taksim Square, a symbolic area of protest.
Pictures showed chaotic scenes in which police used their shields to push back crowds and dragged some protesters away from the square.
In France, at least 46 people were arrested in the capital, Paris, after some marchers clashed with riot police, threw stones, smashed windows and set fire to rubbish bins.
French government agencies condemned one protester who was pictured assaulting a firefighter as they attempted to extinguish a blaze in the capital.
The Interior Ministry said more than 106,000 people marched at almost 300 rallies organised in Paris and other cities, including Lyon, Nantes, Lille and Toulouse.
The protesters voiced their opposition to government plans to change unemployment benefits and demanded economic justice.
Similar demands were heard in Germany, where May Day protests were held nationwide despite the introduction of tougher Covid-19 rules last week.
In the capital, Berlin, thousands of police were deployed to monitor multiple demonstrations, including one organised by a group that opposes the government's coronavirus strategy.
An estimated 10,000 cyclists staged a peaceful anti-capitalist protest in the city.
But as darkness fell, the mood grew more tense as protesters set barricades alight and confronted police who were trying to enforce Covid-19 regulations at a left-wing demonstration.
Coronavirus was on the agenda in Indonesia as well.
At one rally, protesters in the capital of Jakarta laid mock graves on the street to symbolise the human toll of the pandemic.
Labour Day celebrations were unusually muted in Cuba, where workers gather for large events to commemorate the communist revolution that brought Fidel Castro to power in 1959.
But for the second year running, Cuba called off its May Day march though Havana's Plaza de la Revolution Square, as the country battles Covid-19 and an economic crisis.
Instead, a small number of national leaders gathered at largely empty public spaces, while citizens were urged to celebrate at home.
In Brussels, Belgium's capital, officers trying to clear a dance rave from a park used water cannon, pepper spray and batons as some of the partygoers pelted them with eggs.
During the commotion, one demonstrator was knocked unconscious after they were struck by a water cannon truck, local media said.
Meanwhile, a proposed law that would give police extra powers to curb protests was one of the main subjects of grievance at protests in the UK.
All photographs subject to copyright