Dungannon: Man given suspended prison sentence for racist abuse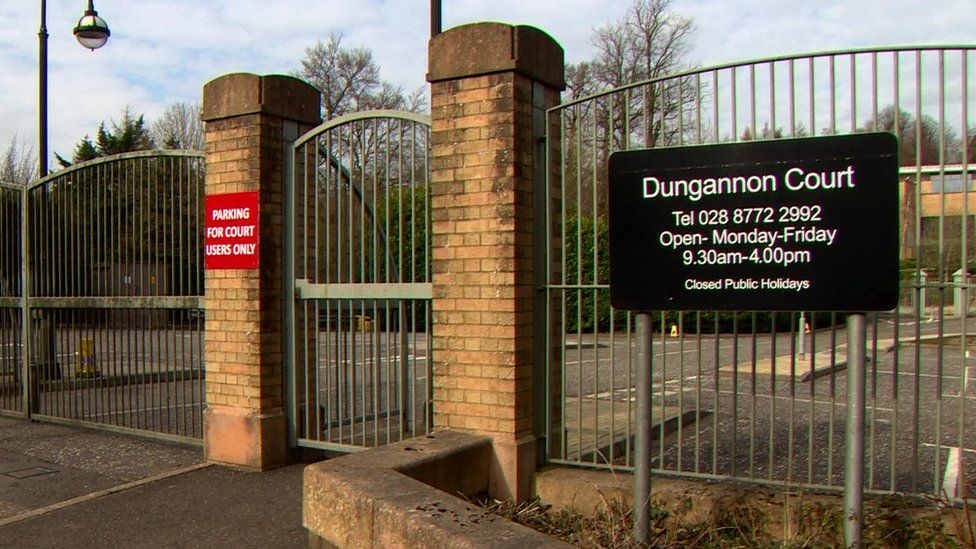 A Dungannon man who racially abused a woman and child for not wearing masks has been given a two-month suspended prison sentence.
Malachy Patrick McIlvanna, 51, of Springdale, admitted disorderly behaviour at a Dungannon supermarket on 28 January.
The court heard the adult victim had captured him on video using racist slurs.
His defence lawyer said McIlvanna was "fixated" on Covid-19.
He appeared via video-link at Dungannon Magistrates' Court on Friday.
During his police interview, he denied being a racist person but said he was offended by the victims' "disrespect in not wearing masks" and "may have used racist language".
However, his counsel told the court McIlvanna was "clearly" racist, and the question of whether he was or not was irrelevant.
He said: "The defendant is fixated on Covid. He was extremely and overly disturbed about the risk of Covid.
"That continues and played some part in the incident. It's not an excuse and in no way condones what he did."
Deputy District Judge Sean O'Hare said it was a "disgraceful lack of respect".
He said: "You used racist and abusive language to the victims, one of whom was a child. This case is aggravated by racial hostility and that will be reflected accordingly."
The judge said McIlvanna had ruled out community service but had not provided any medical evidence, adding "I treat that as self-serving".
He sentence McIlvanna to two months in prison, suspended for 12 months.