Quad countries vow to work for freedom in region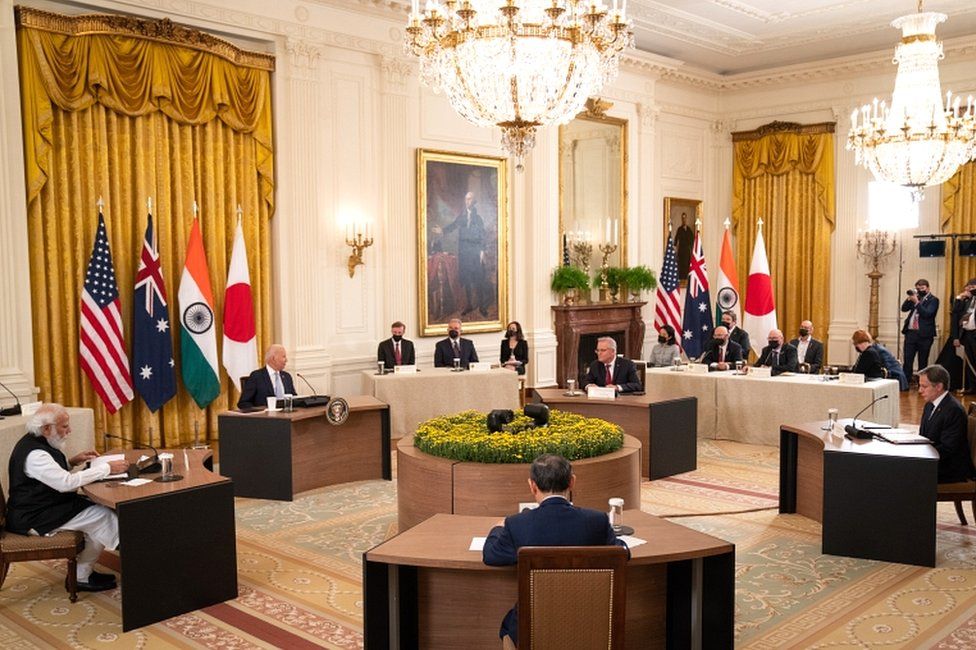 The leaders of the US, Japan, India and Australia have vowed to work together for a free and open Indo-Pacific region at their first in-person summit, amid shared concerns about China.
The so-called Quad group of nations agreed to move ahead on a joint plan to provide Covid-19 vaccines around Asia.
They also launched a climate initiative pledging to "decarbonise at pace" and "keep climate goals within reach".
The four nations will hold annual summits.
Indian Prime Minister Narendra Modi said at the White House summit that his country would resume exports of coronavirus vaccines next month.
"This is an immediate delivery from the Quad into the Indo-Pacific region," Indian Foreign Secretary Harsh Vardhan Shringla told reporters, vowing to supply "quality and affordable" vaccines.
The Quad group of nations agreed in March to supply a billion doses of vaccine to Asia this year, but Delhi suspended exports during a wave of coronavirus in April.
The four leaders also reaffirmed support for free and open order rooted in international law.
Without explicitly mentioning China, the four leaders said they were committed to "promoting the free, open, rules-based order, rooted in international law and undaunted by coercion, to bolster security and prosperity  in the Indo-Pacific and beyond".
"We stand for the rule of law, freedom of navigation and overflight, peaceful resolution of disputes, democratic values and territorial integrity of states," they said in a joint statement.
Japanese Prime Minister Yoshihide Suga raised concerns during the talks about Beijing's assertiveness at sea, its trampling of Hong Kong's special status and Chinese action towards Taiwan, Japanese foreign ministry spokesman Tomoyuki Yoshida said.
After the summit, the leaders pledged "to meet challenges to the maritime rules-based order, including in the East and South China Seas".
Correspondents say the summit marked President Biden's latest attempt to cement US leadership in Asia, in the face of growing Chinese economic, diplomatic and military influence.
You may also be interested in: