COP26: Wheelchair-using minister unable to attend summit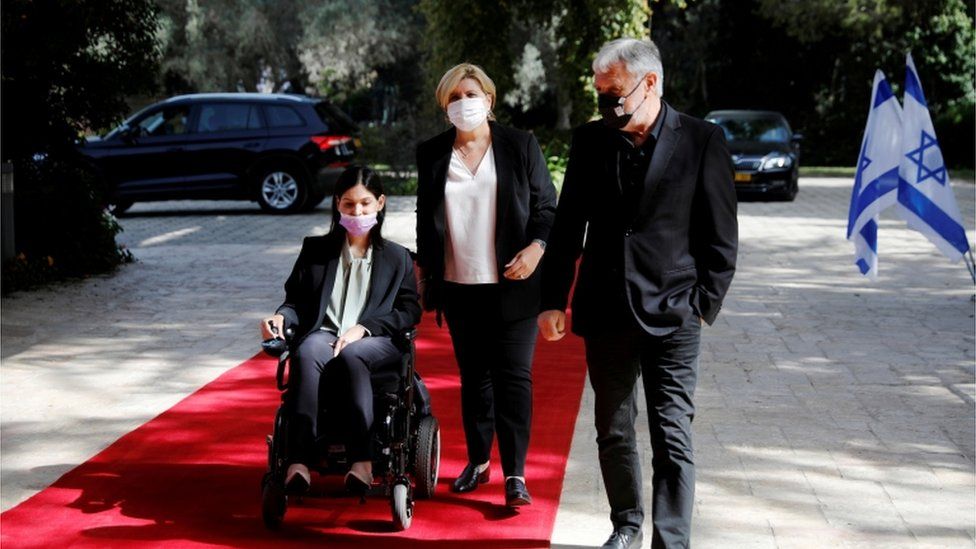 An Israeli minister has said she could not attend the COP26 summit on Monday because it was not wheelchair accessible.
Karine Elharrar tweeted that it was "sad" the UN "does not provide accessibility to its events".
An official in Israeli Prime Minister Naftali Bennett's delegation said they had formally complained to organisers.
And Mr Bennett said he would not attend on Tuesday if Ms Elharrar could not access the summit, the official added.
The UK's Environment Secretary, George Eustice, said the incident was "deeply regrettable" and the government had apologised to Ms Elharrar - who has muscular dystrophy.
But he also appeared to blame the Israeli delegation, telling BBC Radio 4's Today programme: "What would normally happen in this situation is that Israel would have communicated that they had that particular need for their minister.
"There was obviously something that went wrong in this instance and they weren't aware of that so they hadn't made the right provisions at that particular entrance she was coming too."
Mr Eustice added: "I know that at most of the other entrances there [is] wheelchair access there. It was because she obviously came to an entrance that didn't have that provision."
He faced some criticism for the remarks, with Lib Dem peer Lady Ludford tweeting: "Not the most gracious of responses for the COP26 host to blame the guest."
Ms Elharrar reportedly told Israel's Channel 12 that she could not get onto the grounds of the conference because the only options were to either walk or take a shuttle that was not suitable for a wheelchair.
Her office told the Times of Israel she waited outside the venue in Glasgow for two hours, and she was eventually forced to return to her hotel in the Scottish capital Edinburgh 80km (50 miles) away.
An official in the Israeli PM's delegation said Mr Bennett had told UK Prime Minister Boris Johnson about the incident, and Mr Johnson had invited Ms Elharrar to join a meeting between the two prime ministers on Tuesday.
On Monday, UK Foreign Office Minister James Cleverly said he was "deeply disappointed and frustrated" Ms Elharrar could not access the summit.
"The COP venue is designed to be accessible for all. I have spoken to the minister about this and I look forward to meeting her [on Tuesday]," he tweeted.
You may be interested in watching: