How many Ukrainian refugees are there and where have they gone?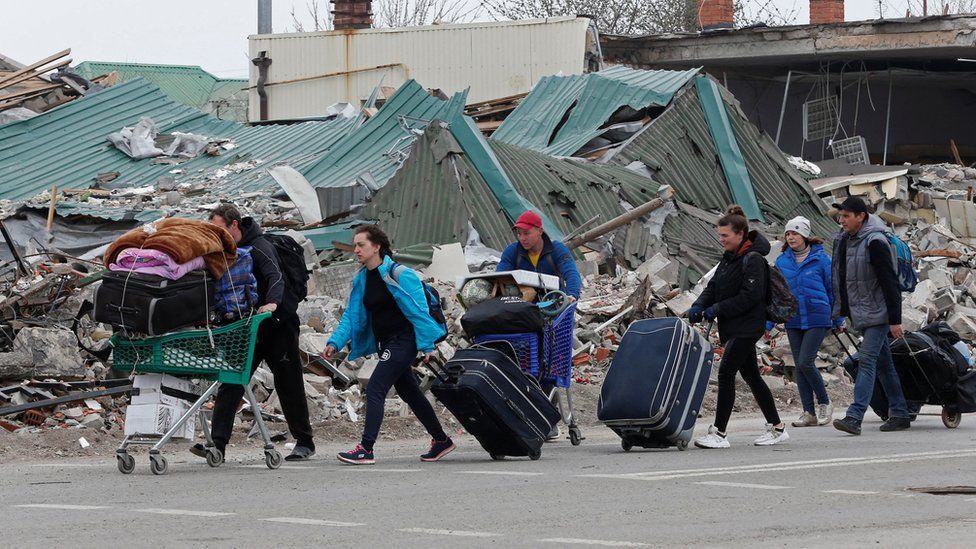 At least 12 million people have fled their homes since Russia's invasion of Ukraine, the United Nations (UN) says.
More than five million have left for neighbouring countries, while seven million people are still thought to be displaced inside Ukraine itself.
However, hundreds of thousands of refugees have returned to their home country - especially to cities like Kyiv.
Where are refugees going?
In updated figures, the UN says that, as of 21 June, more than 5.2 million refugees from Ukraine have been recorded across Europe. More than 3.5 million have applied for temporary residence in another country:
Russia: 1,305,018 Ukrainian refugees recorded
Poland: 1,180,677
Moldova: 85,797
Romania: 82,733
Slovakia: 78,972
Hungary: 25,042
Belarus: 9,006
The UN says there are more than 780,000 Ukrainians in Germany, almost 380,000 in the Czech Republic and 137,000 in Italy.
Some Ukrainians travelled to Russia from the pro-Russian regions of Luhansk and Donetsk.
What help are countries offering refugees?
The EU has granted Ukrainians the automatic right to stay and work throughout its 27 member nations for up to three years.
Refugees are housed in reception centres if they can't stay with friends or relatives. They are given food and medical care, and information about onward travel.
They are entitled to social welfare payments and access to housing, medical treatment and schools.
Poland, one of the countries which has taken the highest number of refugees, and Moldova, which has the largest concentration of refugees by population, have asked for additional support.
How many people are returning to Ukraine?
Ukraine's border force had previously said people were crossing back into the country at a rate of about 30,000 a day.
Some are returning to areas of Ukraine such as the capital Kyiv, which were threatened by Russian army advances at the start of the war, but which are now considered safer.
Where are people fleeing inside Ukraine?
27% of refugees were from the Kharkiv region
16% from Kyiv
16% from the Donetsk region in eastern Ukraine
24% indicated their homes had been damaged or attacked in the war
The IOM estimates that more than half of the people who are internally displaced are women. Many are particularly vulnerable because they are pregnant or have small children, have a disability or are a victim of violence.
The UN is working alongside other organisations to provide cash, food and other supplies.
What is the UK doing to help Ukrainian refugees?
The UK introduced a family visa scheme for Ukrainians who have an immediate or extended family member in the UK.
People in the UK can nominate an individual or family to stay with them rent-free for at least six months.
Refugees who come via the scheme can live and work in the UK for up to three years, and get access to healthcare, welfare and schools.
Applications are made online, and both hosts and refugees are vetted. Hosts receive £350 a month.