World Cup 2022: How has Qatar treated foreign workers?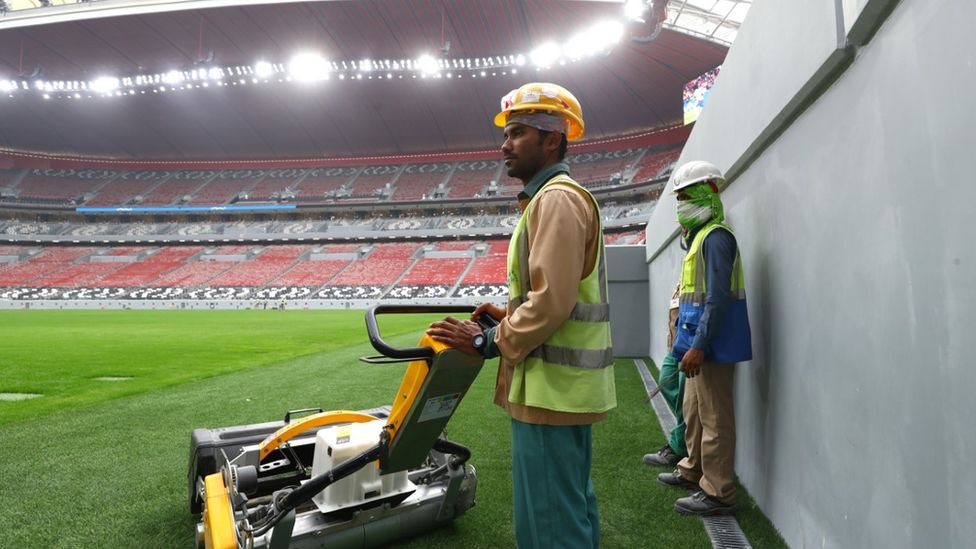 The football fans who will soon arrive in Qatar for the World Cup finals will stay in hotels and watch matches in stadiums which were built by tens of thousands of migrant workers.
Qatar has come under intense scrutiny for the way it treats these workers.
How many foreign workers have worked on World Cup projects?
Qatar has built seven stadiums for the World Cup finals as well as a new airport, metro system, series of roads and about 100 new hotels.
An entire city has been constructed around the stadium which will host the final match.
How many foreign workers have died in Qatar?
The number is based on figures provided by the countries' embassies in Qatar.
However, the Qatar government has said the total is misleading, because not all the deaths recorded were of people working on World Cup-related projects.
It said that many of those who died had worked in Qatar for several years, and could have died from old age or other natural causes.
The government said its accident records showed that between 2014 and 2020, there were 37 deaths among labourers at World Cup stadium construction sites, only three of which were "work-related".
However, the International Labour Organisation (ILO) says this is an underestimate. Qatar doesn't count deaths from heart attacks and respiratory failure as work-related - even though these are common symptoms of heatstroke, brought on from doing heavy labour in very high temperatures.
It has compiled its own figures for World Cup related incidents, collected from government-run hospitals and ambulance services in Qatar.
BBC Arabic has also gathered evidence which suggests Qatar's government has under-reported deaths amongst foreign labourers.
How are foreign workers treated?
Ever since Qatar won the rights to host the World Cup in 2010, human rights groups have criticised its treatment of foreign workers.
It said many workers lived in squalid accommodation, were forced to pay huge recruitment fees and had wages withheld and their passports confiscated.
Since 2017, the government has introduced measures to protect foreign labourers from working in very hot weather, limit their working hours, and improve the conditions in workers' camps.
However, in a 2021 report, campaign group Human Rights Watch said foreign workers were still suffering from "punitive and illegal wage deductions", and faced "months of unpaid wages for long hours of gruelling work".
Qatari companies used to operate a system called "kafala", under which they sponsored foreign workers to come to the country but then prevented them from leaving their jobs.
What has Qatar's government said about foreign workers' rights?
Working in conjunction with the ILO, the Qatari government has introduced a number of reforms.
These include a wage protection scheme designed to ensure employers pay their staff on time.
A government spokesperson told the BBC its reforms are improving the working conditions of most foreign labourers in Qatar.
"Significant progress to ensure the reforms are effectively enforced has been made," said the spokesperson.
"The number of rule-breaking companies will continue to decline as enforcement measures take hold."
What have teams taking part in the World Cup said?
The issue is likely to remain in the spotlight during the finals.