'Lettuce Lady' takes on Kenya's meat-eaters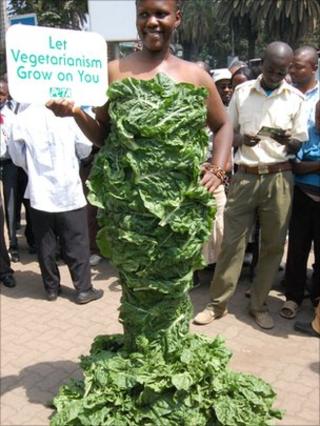 A campaigner wearing a dress made of spinach has paraded through Nairobi urging Kenyans to give up meat.
Dubbed "the Lettuce Lady", Michelle Odhiambo from People for the Ethical Treatment of Animals, admitted her campaign was provocative on two fronts.
Firstly because of her dress and secondly by trying to convince Kenyans to give up popular dishes such as roast meat, known as "nyama choma".
The organisers of the event said meat-eating contributed to hunger in Africa.
Ms Odhiambo, who became a vegetarian eight years ago, said this was because the amount of food consumed by animals reared for slaughter could be used to feed more people.
Holding up a sign saying: "Let Vegetarianism Grow On You", she told curious onlookers that she was also concerned about the treatment of farm animals.
"They are confined in very tight places; the way they are castrated; they are skinned alive - and all these is happening without painkillers. Is this fair?''
Ms Odhiambo went on to urge restaurants to change their menus to cater for vegetarians.
The BBC's Anne Mawathe in the capital, Nairobi, says not eating meat, especially in urban areas, is often associated with poverty in Kenya.
Our reporter says some people were bemused by Ms Odhiambo's call.
''So what do we eat, if we don't eat meat?'' said Mohamed Asman, from the north-east of the country where many people's whole way of life is based on animals.
"Meat is like our staple food," he said.