Sand creations bring life to Durban beach front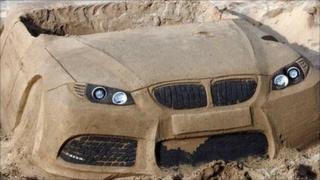 If holiday-makers building sand castles on the beach in South Africa's port of Durban need inspiration, they do not have far to look.
Half-way down the golden sands to the cascading waves of the Indian Ocean there usually lies a collection of amazingly lifelike sand sculptures in the form of cars, buildings and wild animals.
These works can take up to a week to complete but can be destroyed in a matter of minutes. So why do their creators make them?
For Siboniso Shezi, a 16-year-old homeless teenager, sculpting often means he doesn't have to go to bed on an empty stomach.
"Sometimes people are really impressed by what we do and give us money," he says.
"I enjoy what I do because it keeps me out of trouble. I also like getting donations from the tourists who visit Durban."
His car sculpture took him and a friend three days to complete.
The perfectly named Sandile Dube, 17, lives more than 40 kilometres outside Durban and has already been making sand sculptures for four years.
"I use some of the money I make to travel between home and the beach. Some days I make up to 100 rand ($13; £9) a day, it makes me feel proud to earn a living on my own."
"I love making sand sculptures, most of them include wild animals because they fascinate me.
His latest masterpiece is a woman whose head is stuck inside a leopard's mouth.
Mr Dube pays meticulous attention to detail, he uses black sand to create the spots on the animal's body and carefully carves its teeth with a sharp object.
"I see pictures of wild animals in magazines - that image stays in my head until I make a sculpture of it," he says.
Tourists stop to admire the figure as it nears completion, they drop coins on a handkerchief he has laid out a few inches away from him - next to a piece of cardboard urging "please support".
Passers-by sometimes offer to extra money so they can take photographs near the works of art.
Mr Dube has been making sculptures since he was 13 years old but says his skill has improved over the years.
"It used to take me weeks to finish one thing but now I can finish big statues in two days," he boasts.
'Beautifying the beach'
Sculptors line up along Durban's north and south beaches, either working on a new design or rebuilding one that was destroyed overnight by heavy rains or wind.
Mr Shezi says none of them have formal training and adds that creativity is important here.
Lungile Dlamini, 32 agrees.
He is one of the oldest sculptors working from the Durban beach front and says the younger sculptors offer some healthy competition.
"You have to stay on top of your game and always be creative; I enjoy the competition we have here."
He specialises in sculptures of buildings - from modest huts, including a recreation of the village of Zulu King Shaka, to skyscrapers.
He has been working along the beach front for the past 10 years.
Mr Dlamini is from Umlazi township, approximately 20 kilometres outside Durban and commutes to town daily - just to get his hands on the sand.
"I enjoy recreating homes or buildings I've seen. I think what we do goes a long way in further beautifying the beach," he says.
And while it could be frustrating to see all your efforts flattened by the high tide each day, at least it means he starts each day with a blank canvas.