Rwandan police arrest suspect in Rwisereka murder case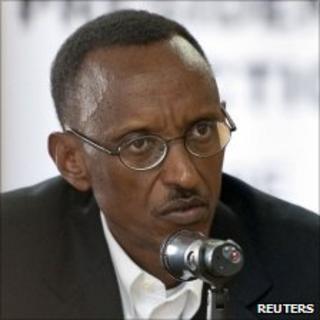 Police in Rwanda investigating the murder of opposition politician Andre Kagwa Rwisereka have arrested a man.
The suspect had been a business partner of the dead man, a police spokesman said.
He had been seen with Mr Rwisereka in a bar on Monday night, he added.
The body of the deputy leader of the Democratic Green Party was found dumped by a river near the southern town of Butare on Wednesday.
Green Party chairman Frank Habineza called on the Rwandan government to use all means possible to find out the cause of his death.
The party has been unable to register for presidential elections next month.
Human rights groups have accused the government of clamping down on the opposition before the vote.
Last month, former Rwandan army chief Lt Gen Faustin Kayumba Nyamwasa, who had fallen out with President Paul Kagame, was shot in South Africa.
His family have said it was an assassination attempt - allegations which have been denied by the Rwandan government.