Central African Republic army 'beats back rebel raid'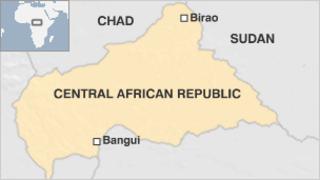 The Central African Republic army says it has regained control of the northern town of Birao, after rebels attacked its base there.
An official with the UN peacekeeping mission in Birao confirmed the army's claims to the BBC.
No casualty figures have been released after the pre-dawn rebel attack on the army base.
Birao lies in a highly unstable region near the border with both Sudan and Chad.
It is not clear which rebel group was behind the attack.
But the BBC's Junior Liguangue in the capital, Bangui, says former fighters from two groups - the UFDR and MLCJ - are stationed in the town, waiting to be disarmed.
The attack could be linked to protests by these ex-combatants demanding money, although the AFP news agency quotes the head of a third group, the CPJP, as saying it was behind the raid.
There are also some 300 troops from the UN peacekeeping mission, Minurcat, based in Birao.
The CAR government struggles to extend its control over much of the country, while elections - due in 2010 - have been repeatedly postponed.