South Africa: Foreigners injured in xenophobia clashes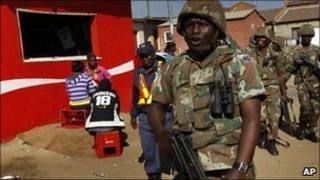 At least four foreigners have been injured in the South African township of Kya Sands, Johannesburg in xenophobic attacks.
A police spokesman said they were also investigating cases of looting.
A reporter for Johannesburg's EyeWitness News said officers had used rubber bullets, an armoured vehicle and helicopter to halt the clashes.
Since the World Cup finished, there have been fears of a repeat of the deadly xenophobic attacks seen in 2008.
At least 62 people were killed in that violence when South Africans blamed foreign workers for taking their homes and jobs.
Johannesburg's emergency services said that they had taken "about five people" to hospital after receiving a call at 0115 local time about the violence, the South African Press Association reports.
A police spokesman said four people were assaulted.
"I was just sitting at my home and a group of people just came and they asked me where I come from and before I could answer they started hitting me," a man in Kya Sands told Eyewitness News.
The authorities have been trying to quell possible xenophobic tensions since the World Cup ended earlier this month - hosted in Africa for the first time.
Thousands of temporary workers taken on for the football showpiece have been laid off since it ended on 11 July.
Over the weekend, the ruling African National Congress (ANC) party held a rally against xenophobia in Johannesburg.
But their efforts have not stopped people fleeing and on Monday, the Zimbabwean government said it had set up temporary shelters at various border posts for Zimbabweans leaving South Africa following threats of attacks on foreign nationals.
"We have put three big tents in Beitbridge, 10,000 blankets, 20 boxes of laundry soap and 1,000 buckets," Madzudzo Pawadyira, head of the government's civil protection unit, told AFP news agency.
An estimated three million Zimbabweans are living in South Africa, after fleeing economic meltdown and political violence at home.