Rwanda: Call for independent autopsy of murdered critic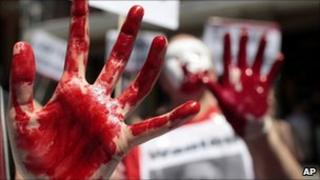 Rwanda's government should allow independent experts to carry out an autopsy on a murdered opposition politician, Human Rights Watch says.
The US-based group says there are discrepancies in the official account of Andre Kagwa Rwisereka's death.
The police say Mr Rwisereka was killed in a financial dispute and arrested a suspect last week.
But shortly before his death, he had told colleagues he was under threat for his opposition to the government.
Mr Rwisereka, who was buried on Tuesday, was vice-president of the Democratic Green Party which has been blocked from registering for presidential elections in August.
His body was found last week dumped by the roadside close to his home in the south of Rwanda.
Pictures seen by the BBC show that his head had been almost completely severed from his body.
The BBC's Rob Walker in the capital, Kigali says his death follows other attacks on critics of President Paul Kagame's government.
Last month, a former head of the army, Lt Gen Faustin Kayumba Nyamwasa, was shot and wounded in South Africa.
The general alleges that it was an assassination attempt ordered by Mr Kagame.
Shortly afterwards, a Rwandan journalist investigating that incident was shot dead here in Kigali.
Human Rights Watch says only an independent enquiry with foreign involvement can establish what really happened to Mr Rwisereka.
"This is the second killing of an outspoken critic of the Rwandan government in less than a month," Kenneth Roth, executive director of Human Rights Watch, said in a statement.
"An independent autopsy and inquiry are necessary to determine what happened to Rwisereka."
United Nations Secretary General Ban Ki-moon has also called for a full investigation.
The government has strongly denied any involvement in these attacks.
On Tuesday, President Kagame promised the elections would be free, but the allegations have overshadowed the start of his campaign, our reporter says.
Mr Kagame has many admirers in the international community who praise him for rebuilding Rwanda following the 1994 genocide.
Some of his supporters say he is just the no-nonsense military strongman the country needs, given that Rwanda lies in such a troubled neighbourhood.