Kenya torture victims get compensation payment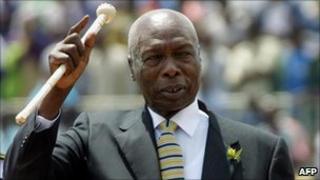 Kenyan judges have awarded 21 former political prisoners almost $500,000 (£330,000) between them in compensation for torture they suffered in the 1980s.
They were among hundreds of people who were illegally detained and tortured during the government of President Daniel Arap Moi, who retired in 2002.
Their lawyers, who first brought the case in 1988, said the constitutional court had made a landmark ruling.
The victims had described spending days in waterlogged torture chambers.
For almost as long as Mr Moi ruled Kenya, Nyayo House in Nairobi became an unutterable synonym for torture, terror and detention.
The upper floors of the building housed the department of immigration, but beneath them in the basement worked the special branch of internal security - Mr Moi's secret police.
His government always denied torture, but more than two decades ago, while he was still in power, 21 former prisoners tried to sue the administration for violating their fundamental rights.
At the time, the court ruled that the case could not continue while the government remained in office.
So it is only now - eight years after Mr Moi retired - that the case has finally concluded.
During the hearings, victims told of being left in waterlogged torture chambers without food or water, and being hung from the ceiling while police beat them.
Judge Hannah Okengu said it had been a violation of their rights to liberty and freedom from torture.
She awarded the 21 victims a total of almost $500,000 in compensation - a blow to the credibility of Mr Moi, who is now campaigning against a new constitution.