Trafigura found guilty of exporting toxic waste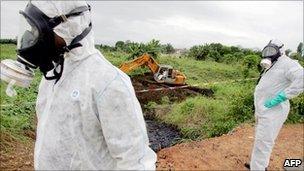 A Dutch court has found multinational Trafigura guilty of illegally exporting toxic waste from Amsterdam and concealing the nature of the cargo.
In 2006, Trafigura transported waste alleged to have been involved in the injury of thousands of people in Ivory Coast. Trafigura denied any wrongdoing.
It expressed disappointment in the ruling and is considering an appeal.
The firm was fined 1m euros (£836,894) for its ship, the Probo Koala, transiting Amsterdam with its cargo.
The ship then went on to unload its cargo in Ivory Coast.
Trafigura employee Naeem Ahmed, who was involved in the ship's operation in Amsterdam, was fined 25,000 euros and the captain of the Probo Koala, 46-year-old Sergiy Chertov, was sentenced to a five-year suspended jail term.
This is the first time Trafigura has faced criminal charges since the toxic waste scandal unfolded in Ivory Coast's commercial capital, Abidjan, in 2006.
Trafigura, an oil trading company, initially tried to clean up low-grade oil by tipping caustic soda into the hold of the Probo Koala. The company tried to unload the waste in Amsterdam for treatment, declaring it as "harmless slops".
When the treatment company came back with a higher price for cleaning the waste, the cargo was shipped to Africa where it ended up in Abidjan to be handled at a much lower rate.
Presiding Judge Frans Bauduin said: "Trafigura - which by that time knew of the exact composition [of the waste] - should never have agreed to its processing at such a price."
Trafigura said it was pleased to have been acquitted of the charge of forgery, but was "disappointed by the judges' ruling on the other two, which it believes to be incorrect".
A statement from Trafigura said: "Concerning the delivery of dangerous goods, it is important that the court has noted that there was limited risk to human health from these slops, and indeed no damage occurred in Amsterdam."
Trafigura said it was considering an appeal.
A lawyer representing the company, Robert de Bree, said: "I think it's important to notice that the convictions relate to highly technical, complex legal matters and we will carefully study the judgement to look at the possibility of an appeal."
Another Trafigura lawyer, Michael Wladimiroff, was quoted by Associated Press news agency as saying the company believed the Marine Pollution Treaty applied and that the court had incorrectly applied the terms of another waste management treaty.
The firm also maintained that Mr Ahmed "did nothing wrong".
Greenpeace, which brought this case, has welcomed the outcome, saying it was a warning to firms not to export waste to developing countries.
Greenpeace toxics campaigner, Marietta Harjono, said that further legal action should be taken against Trafigura: "We must also be very clear that justice is not complete yet, because this is only the beginning, because Trafigura has not been brought to trial yet for the deliberate dumping of toxic waste in Africa."
One of those who fell ill after waste was dumped, Ivorian Guy Oulla, told the BBC: "I believe it is a very good decision because people should pay for what they do, you know. So, I agree with that decision. You know, we live in Africa and it could happen again because in Africa people do everything for money."
In 2008, a court in Ivory Coast found two non-Trafigura employees guilty of illegally dumping the waste.
A Nigerian national named Salomon Ugborugbo was sentenced to 20 years in jail.
He was the head of an Abidjan firm, Tommy, which Trafigura said it contracted in good faith to handle the waste from the Probo Koala.
Essoin Kouao, who worked as a shipping agent at the Port of Abidjan and had recommended Tommy to Trafigura, received a five-year prison term.
In 2007 Trafigura paid $160m (£104m) to the government of Ivory Coast without admitting liability.
Trafigura also paid $50m (£32m) in an out-of-court settlement to individuals in Ivory Coast who said they had been injured when the waste was spread on dumps around Abidjan.
Related Internet Links
The BBC is not responsible for the content of external sites.