Guinea to join AU peacekeeping force in Somalia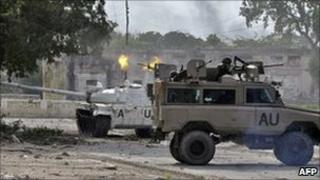 Guinea will send troops to join a peacekeeping force in Somalia, the African Union has said.
AU Commission chief Jean Ping said Guinea was preparing "a battalion to be sent... immediately".
Mr Ping was speaking in Uganda, where African foreign ministers are to discuss how to tackle al-Shabab insurgents in Somalia.
So far only Uganda and Burundi have contributed soldiers to the AU force, which currently has some 6,000 troops.
Other countries have failed to deliver on promises to send troops to the AU force (Amisom) to Somalia.
In a separate development, two Ugandan peacekeepers were killed in Somalia's capital Mogadishu on Friday, the AU said.
Somalia has been in a state of anarchy for two decades.
Earlier this month, at least 70 people were killed when al-Shabab launched two attacks in Uganda's capital, Kampala.
The al-Qaeda-linked al-Shabab and its allies control most of southern Somalia.
Stronger mandate
"Guinea's commanders are in Mogadishu preparing for the arrival of their troops," Mr Ping said in Kampala on Friday, the Associated Press reported.
Mr Ping also said that "Djibouti prepared a battalion six months ago" to be sent to Somalia. He did not provide any further details.
A battalion can consist of between several hundred and more than 1,000 troops.
Somalia's UN-backed government has said it wants a Muslim country to join Amisom - to get rid of what some analysts refer to as an "infidel Ugandans" tag which they say leads to foreign jihadists joining al-Shabab.
Both Guinea and Djibouti are mainly Muslim.
Mr Ping was speaking ahead of next week's summit of AU heads of state in Kampala, which will discussing what the AU can do to tackle al-Shabab.
The summit is likely to push for a stronger mandate of the peacekeeping force.
AU leaders also want the UN to take over the mission. This has been agreed in principle but no date has been set yet.