Al-Qaeda in North Africa 'kills French hostage'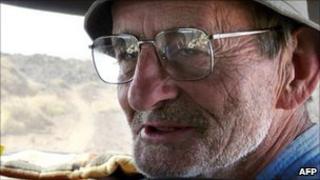 Al-Qaeda's North African offshoot has said it has killed a French hostage being held in Mali, in an audio statement broadcast by al-Jazeera.
The leader of al-Qaeda in the Islamic Maghreb (AQIM), Abdelmalek Droukdel, said Michel Germaneau was killed on Saturday in revenge for a failed rescue raid by French and Mauritanian troops.
Six militants were killed in the cross-border operation on Thursday, he added.
French officials said there had been no confirmation of Mr Germaneau's death.
The French government said it was investigating the report and President Nicolas Sarkozy held an emergency meeting of his top defence and security officials to address the case on Monday.
The 78-year-old retired engineer was kidnapped in Niger in April and was reportedly being held by Abdelhamid Abou Zeid, the leader of one of two al-Qaeda in the Islamic Maghreb factions operating in the Sahara desert.
In a message posted on the internet last month, the group had said it would execute him by 26 July unless some of its members were released from prisons in several North African countries.
'Treacherous operation'
In a statement issued following Thursday's raid, the French defence ministry said al-Qaeda in the Islamic Maghreb had "refused to give a proof of life or engage in negotiations to release our compatriot Michel Germaneau".
The operation "was able to neutralise the group of terrorists and to prevent the planned attack against Mauritanian targets", it added.
But in the audio recording sent to al-Jazeera, Abdelmalek Droukdel said that President Sarkozy had not only "failed to free his compatriot" but "opened the doors of hell for himself and his people".
"As a quick response to the despicable French act, we confirm that we have killed the hostage Germaneau in revenge for our six brothers who were killed in the treacherous operation," he added.
Al-Qaeda in the Islamic Maghreb emerged in early 2007, after an Algerian militant group, the Salafist Group for Preaching and Combat (GSPC), aligned itself with Osama Bin Laden's international network.
It has waged a campaign of suicide bomb attacks and ambushes in Algeria, and in recent years has become more active in the Sahara, where governments struggle to impose their authority and gangs of smugglers, bandits and rebels operate alongside the militants.
Last year, the group said it had executed the British hostage, Edwin Dyer, and it is still thought to be holding two Spanish aid workers, Roque Pascual and Albert Vilalta, who were seized in Mauritania in November.