Pet tiger escapes in South Africa on trip to vet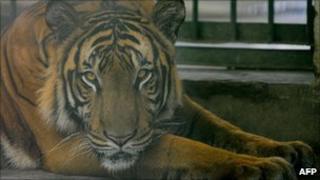 A tiger which was being kept as a pet in South Africa has escaped from the back of a truck and is running loose.
A search is on to find the animal, called Panjo, after it escaped on the trip between Johannesburg, its home, and Springs, where it was being taken to a vet clinic for a check-up.
The authorities urged people to stay away from the animal.
But its owner said was it was used to humans and told anyone who came across Panjo to treat it "like a dog".
Owner Rose Fernandes told local radio that all people had to do was pick up a stick and say "No" in a loud voice.
Brenda Santon, national wildlife manager for the Society for the Prevention of Cruelty to Animals (SPCA), said SPCA teams were working to locate the escaped tiger and warned people not approach it.
"We believe it is wrong to keep tigers as pets. The animal must be left to live in the jungle. They remain dangerous," she said.