Escaped pet tiger found in South Africa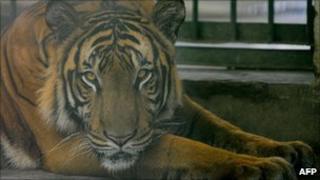 A tiger kept as a pet which escaped in South Africa has been found after a two-day search with a helicopter, a tracker, and sniffer dogs.
The 140kg (310lbs) Bengal tiger, named Panjo, broke free from the back of a vehicle while being taken to a vet.
He was tracked down at a farm about 50km (30 miles) east of Pretoria and coaxed from his hiding spot by his master's voice, local media said.
Panjo was "stressed out" after his adventure, his owner said.
During the hunt his owner, Goosey Fernandes, had said the tiger was harmless and should be treated like a dog.
But experts said tigers are dangerous and should not be approached.
Tigers are not native to Africa but are found on game reserves.