Ex-President Moi told to respect Kibaki in Kenya vote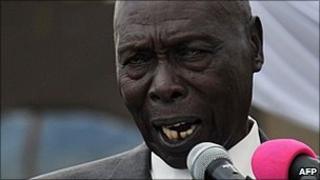 Kenya's ex-President Daniel arap Moi has been told to respect his successor by a body set up to promote peace, after the two men exchanged insults during a referendum campaign.
President Mwai Kibaki wants Kenyans to approve a new constitution, while Mr Moi is leading the "no" campaign.
But the body set up to enhance national integration said the personal row was undermining its efforts.
The body was set up after deadly violence following the 2007 election.
Some fear Kenya could see a repeat of the post-election clashes in 2007 and 2008, which left some 1,300 people dead and 300,000 homeless.
On Wednesday, Mr Moi, who lead Kenya for 24 years, said Mr Kibaki should not criticise him for opposing the draft constitution, as he had broken his promise to change the constitution within 100 days of being elected in 2002.
He also rejected suggestions he should take a rest and said he had the right to take part in the campaign like any other Kenyan.
"When I see things going wrong I will speak out."
President Kibaki, 79, had earlier said Mr Moi, 86, was embarrassing himself during the campaign.
National Cohesion and Integration Commission (NCIC) chairman Mzalendo Kibunjia called on Mr Moi to respect the presidency, and also urged both Mr Moi and Mr Kibaki to refrain from statements that could bring tension to the referendum campaigns.
The referendum vote is to be held on 4 August.
At least six people were killed when a grenade was thrown at a "no" campaign rally in Nairobi in June, while five MPs have been charged with hate speech during the campaign, following a complaint by the NCIC.
Much of the 2007-8 violence occurred when election rivalries triggered long-standing land disputes, especially in the Rift Valley - Mr Moi's home region.
One of the provisions of the new constitution sets up a land commission which would repossess land illegally acquired during the Moi era.
This is an emotive issue in the Rift Valley and some 10,000 members of the security forces have been deployed there in an attempt to prevent any clashes.