Bashir's party raises doubts on south Sudan referendum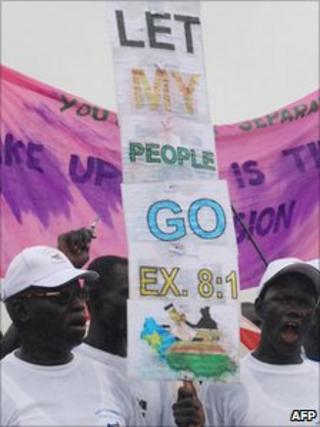 President Omar al-Bashir's party has said the referendum on whether south Sudan should secede cannot take place until the internal border is decided.
A vote on a possible new country without a clear border would be a recipe for a new war, the NCP says.
But the former rebels in charge of the south insist the referendum must be held on time.
The SPLM fought the north for two decades before a 2005 peace deal which paved the way for January's referendum.
The BBC's James Copnall in Khartoum says some in the south see the National Congress Party's statement as an attempt to delay the vote, or possibly to press the SPLM to back down over areas in dispute.
He says there are several areas of dispute about the boundary, including near lucrative oil fields.
As part of the peace deal, the two parties are officially in coalition but tension is growing ahead of the referendum in Africa's biggest country.
In Sudan's landmark elections in April, SPLM leader Salva Kiir stood in the election for president of the south, rather than the whole country.
This was generally taken to show that his priority is to lead the south to - and after - independence.
Several donor nations have recently expressed their fears that the necessary preparations have not been made for the referendum.
Both north and south have accused the other of delaying the demarcation process.
A senior NCP official, Ibrahim Ghandour, told the BBC he did not want Sudan to follow the example of Ethiopia and Eritrea.
Eritrea split from Ethiopia in 1991, but the two countries are still arguing and have fought over the precise border.
Southern Sudan's Regional Co-operation Minister Barnaba Benjamin told the BBC that linking the border issue with the referendum was "illogical and unacceptable".
He agreed that the border must be demarcated but said if this was not done by January, the referendum should still be held as planned.
The SPLM leader in the north, Yassir Arman, said the NCP was not interested in holding the referendum on time.
A majority of southerners, who are mostly Christians or followers of traditional religions, is expected to vote for independence from the mainly Muslim and Arabic-speaking north.
Earlier this month, a group of south Sudanese church leaders called for people to vote for independence.
After the long conflict, the south remains one of the least developed parts of the world.