Mugabe mourns after sister Sabina dies in Zimbabwe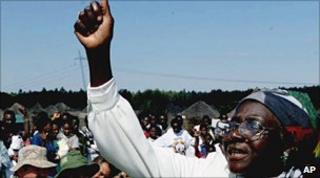 Zimbabwe's President Robert Mugabe is in mourning after his younger sister, Sabina, died, aged 76.
He said the family was "full of sorrow".
She served as an MP for 23 years until 2008 when she retired and was seen as a close ally of Robert Mugabe, 86.
Mr Mugabe's Zanu-PF party has declared her a national heroine, meaning she will be buried in Hero's Acre, a shrine dedicated to those who fought in the 1970s war against white minority rule.
Two of her sons have also been MPs.
One is Leo Mugabe, former head of Zimbabwe's Football Association, the other Patrick Zhuwao, a senior Zanu-PF official.
She died at a clinic in the capital, Harare, after an undisclosed long illness.
President Mugabe told mourners at State House his sister had suffered brain damage after a stoke in 1995, reports the state-owned Herald newspaper.
"Doctors said one-third of her brain had been damaged. Physically she would appear well, but mentally she became somehow confused," he said.
The Zimbabwe Independent newspaper reports that the Movement for Democratic Change, which is sharing power with Zanu-PF, was not consulted over the decision to accord Miss Mugabe hero status.
She was accused of benefiting from Zimbabwe's controversial land reform programme and encouraging the violent invasion of white-owned farms.