South Africa ex-students fined over 'racist video'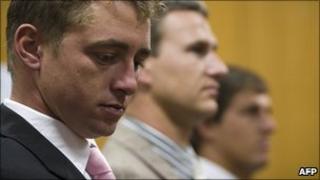 Four white South Africans have been fined $2,700 (£1,700) each for making a video humiliating five black university workers and posting it online.
The former students at the University of Free State pleaded guilty to crimen injuria at the trial on Tuesday.
The video showed the five staff being made to kneel and forced to eat food which had apparently been urinated on by one of the students.
The video sparked anti-racist protests when it surfaced in 2008.
The trial was seen as deeply symbolic in a country trying to come to grips with its racially divided past, 16 years after the end of white minority rule.
The four - RC Malherbe, Johnny Roberts, Schalk van der Merwe and Danie Grobler - were also given six-month prison terms, suspended for five years on condition they are not found guilty of discrimination during that period.
The fines of 20,000 rand were higher than that requested by the prosecution.
"It sends a strong message to potential offenders of similar crimes," said magistrate Mziwonke Hinxa in the mainly white town of Bloemfontein.
If the four do not pay the fines, they face 12 months in jail.
The five university workers had asked that the four should be fined, rather than jailed.
But the workers - four women and a man - are expected to launch a civil case for damages now that the criminal case is over.
Vomit-inducing
In a statement read out by their lawyer, the men said the video had been made to demonstrate the traditions of their hall of residence and to protest at plans to make the university more racially mixed.
They said the food had not been urinated on - that had been an illusion.
They also claim the staff had taken part willingly.
But the men agreed that they would never have performed their actions if they had known the consequences.
In the video, apparently filmed in 2007, the workers were forced to drink full bottles of beer and perform athletic tasks.
The final extract of the film seems to show a white male urinating on food, and then shouting "Take! Take!" in Afrikaans and apparently forcing the campus employees to eat the dirty food, and causing them to vomit.
Last year, the first black director of the University of the Free State, Jonathan Jansen, courted controversy by inviting the students back as a gesture of reconciliation.
His decision was condemned by both the ruling African National Congress and opposition parties.