Sudan to monitor movements of UN peacekeepers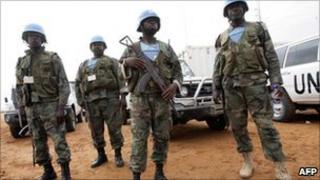 Sudan says it has instructed UN peacekeepers in Darfur to inform Khartoum of all their travel plans.
Government spokesman Rabie Abdelati told the Reuters news agency that the UN had failed to keep the peace at refugee camps in the western region.
Peacekeepers will now have their bags searched at airports, and will have to inform the Sudanese government before moving on roads, even within cities.
On Friday, the UN Security Council extended their mandate for a year.
According to the UN, an estimated 300,000 people have been killed in Darfur and more than 2.6 million displaced since ethnic rebels took up arms in 2003.
The Sudanese government says the figures have been exaggerated.
'Respecting sovereignty'
On Saturday, the local authorities in South Darfur asked members of the African Union/UN hybrid operation in Darfur (Unamid) to co-ordinate all their movements with the Sudanese security forces.
The BBC's James Copnall in Khartoum says it is not immediately clear if this amounts to a complete restriction on how the peacekeepers operate.
A Unamid spokesman said he was not aware of an official request along these lines.
Mr Abdelati, a senior official at Sudan's ministry of information, said that peacekeepers would no longer be able to avoid normal procedures at the airport in the city of Nyala in South Darfur.
"Unamid should adhere to all the normal procedures of the country and respect its sovereignty," he told Reuters. "All movement should be in clear co-ordination with us and no activities should happen without the government's knowledge."
He added that Unamid had been asked to hand over within 48 hours five "criminals" who he said were being sheltered by the force following clashes in Kalma, a vast camp for people displaced near Nyala.
"Unamid has not done its job at all - there was shooting, burning, people died and all they did was watch," Mr Abdelati said, adding that he had been in South Darfur at the time of the fighting.
"The governor of South Darfur told Unamid they should either do their job or get out and let the government take over," he added.
Our correspondent says more than 100,000 people live in Kalma, and it is known to be very politicised. Earlier this week, a number of people died in clashes there between supporters of different rebel movements.
Some rebel groups have taken part in negotiations with the government, but one major rebel group that is popular in Kalma, the Sudan Liberation Movement (Abdul Wahid Mohammad Ahmed al-Nur faction), is refusing to join the talks.
Unamid would not confirm if it had handed over the men, who are believed to be supporters of the Abdul Wahid faction.
The relationship between Sudan and Unamid has never been very good, but it seems particularly tense at the moment, our correspondent adds.