Somali pirates capture Panama-flagged cargo ship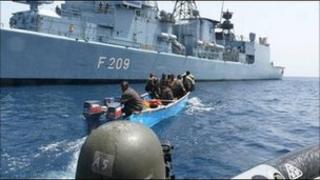 Somali pirates have hijacked the Panama-flagged MV Suez cargo ship with 23 crew on board, the European Union naval force (EUNAVFOR) has said.
The ship, which is carrying a cement consignment, came under small arms fire while sailing in a recommended shipping lane in the Gulf of Aden.
Its crew are from Egypt, Pakistan, Sri Lanka and India.
Although they called for help, the pirates were on board by the time a naval helicopter arrived.
Early on Monday morning, a message from the 17,300-tonne freighter said it was captured "under small arms fire from a pirate attack". Minutes later she reported "pirates on board", EUNAVFOR Somalia said in a statement.
Last week, 11 Somali pirates were sentenced to 10 years in prison in the Seychelles for attempting to seize a coastguard boat in December.
In recent years, pirates have extended their reach further from the shores of East Africa.
Warships from around the world are patrolling the Indian Ocean in a bid to deter pirate attacks.
However, pirate suspects are routinely freed because of doubts about where they should face trial.
Last year, Somali pirates carried out more than 200 hijackings, a record number, according to the Piracy Reporting Center of the International Maritime Bureau.