Zimbabwe attacks Western envoys after burial incident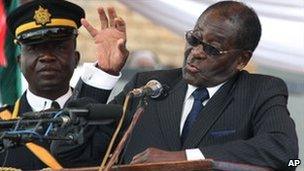 Zimbabwe has demanded apologies from three Western diplomats for walking out of a burial ceremony on Sunday for President Robert Mugabe's sister.
German, US and EU envoys left after Mr Mugabe attacked Western nations, saying they should "go to hell" for interfering in his country's affairs.
US Ambassador Charles Ray said he had left the ceremony because he was "very disappointed" in Mr Mugabe's conduct.
He had, he added, nothing to apologise to Mr Mugabe for.
Sabina Mugabe, the president's younger sister, died in the capital Harare at the age of 76, five years after suffering a stroke.
While she was declared a national heroine by the ruling party, others accused her of benefiting from Zimbabwe's controversial land reform programme and encouraging the violent invasion of white-owned farms.
In his funeral oration on Sunday, her brother attacked international sanctions on Zimbabwe.
They say 'remove so and so' - of course, they mean 'Mugabe must go before we can assist you'," he said.
"To hell with them. Hell, hell, hell with them whoever told them they are above the people of Zimbabwe that they decide what Zimbabwe should be and by who it should be ruled."
Zimbabwean Foreign Minister Simbarashe Mumbengegwi said the envoys' decision to walk out was "unacceptable".
"Your conduct was therefore very disrespectful to our national heroes' shrine, the heroine who was being honoured and his excellency the president," he said in a statement.
Mr Ray told reporters: "When America is treated in the manner it was treated on Sunday, I will react."
Related Internet Links
The BBC is not responsible for the content of external sites.