Kenyans back change to constitution in referendum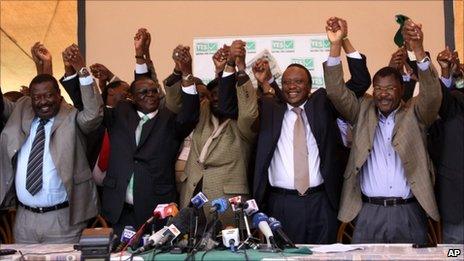 The official result of Kenya's referendum on a new constitution shows resounding support for reform.
The head of the electoral commission said 67% had voted in favour of the introduction of a new constitution.
Among the measures which will now go ahead are the introduction of a bill of rights, land reform and new curbs on the president's power.
Despite this last measure President Mwai Kibaki was among those who had campaigned for a "yes" vote.
Earlier, when provisional results indicated victory for the "yes" campaign, Mr Kibaki told crowds celebrating in Nairobi that he was "happy to welcome" the result.
"Fellow Kenyans, we are happy to welcome the provisional results of the referendum," said the president. "The historic journey that we begun over 20 years ago is now coming to a happy end."
"Let us all join hands together as we begin the process of national renewal."
Voting appears to have passed off peacefully around the country, with none of the violence that marred the general election in December 2007.
The referendum was part of a deal to bring that conflict, in which more than 1,000 people died, to an end.
Energy Minister Kiraitu Murungi, head of the "yes" campaign, said the people of Kenya had spoken with a "thunderous voice".
"Saying that we have won is truly an understatement. Kenya has been truly reborn. This is the rebirth of a second Republic of Kenya," he said.
"[The] majority had their way, we had our say," said William Ruto, Kenya's higher education minister and a leader of the "no" campaign, as he admitted defeat.
"We are now proposing immediate consultations."
The result of the referendum and the absence of violence show an unprecedented enthusiasm for the radical changes the constitution is proposing, says the BBC's Peter Greste in Kenya.
The fact the Rift Valley - Mr Ruto's political heartland - polled two to one against presents a serious challenge to national unity, but despite the difficulties, this remains a historic moment for Kenya, adds our correspondent.
Rift Valley province saw the worst of the post-election violence in 2007 and 2008.
Mr Ruto, who has ambitions to run for president in the 2012 elections, had opposed clauses about abortion and land reform.
But those in favour of the document say that for the first time it introduces a sensible approach to land reform by stating that land acquired illegally can be repossessed.
Kenyans now face an intensive legislative process to implement the reforms approved by the referendum.