Climate of fear as Rwanda prepares for elections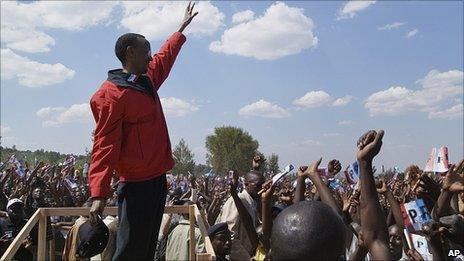 President Paul Kagame's well-oiled campaign machine has spent the past few weeks criss-crossing Rwanda.
Thousands of supporters are present wherever he goes, waving placards or wearing T-shirts emblazoned with pictures of his face.
Members of the ruling party will tell you why Mr Kagame deserves to win Monday's election and secure another seven years in office: They point to the new schools and roads spreading across the country.
Above all, they point to security; to the fact that Rwanda has become one of the safest countries on the continent.
"You can see the transformation from a hopeless, fearful society to a hope-filled, vibrant, competitive society," said Protais Musoni, minister of cabinet affairs.
But there is another side to Rwanda too.
"We want to have a better Rwanda, but you cannot have that when you take decisions by force," said Frank Habineza, leader of the Democratic Green Party.
"You cannot have a better Rwanda when you think that there is only one side, one idea that has to be taken, no question, no debate, no consultation."
Last month, Mr Habineza's vice-president was brutally murdered near the southern town of Butare. The police believe he may have been killed because of a business dispute. Human Rights Watch says the murder may have been politically motivated.
The killing has spread fear among opposition parties.
"The problem is that we want to have a situation in Rwanda where someone should not be imprisoned or killed because they have a different idea," said Mr Habineza.
Human rights groups say opposition politicians have been harassed and prevented from standing against President Kagame in the election.
But it is not just politicians who are afraid. Rwanda ranks near the bottom of league tables on press freedom.
Two independent newspapers have been suspended by the government in recent months and journalists have been fleeing the country.
Even some of Rwanda's staunchest supporters are worried.
The United States has described the political environment ahead of the election as being "riddled by a series of worrying actions" by the authorities.
Paul Kagame's Tutsi rebel group, the RPF, took power in 1994, putting a stop to the genocide in which an estimated 800,000 Tutsis and moderate Hutus were killed.
Today it is still Mr Kagame and a tight-knit circle of former rebels from the Tutsi minority who hold real power in Rwanda.
That is something that, 16 years on, is a source of growing frustration.
But finding people willing to express criticisms publicly in Rwanda is difficult.
One person who did agree to speak to me was Theoneste Sibomana, a member of FDU-Inkingi, one of the opposition parties that has not been allowed to register in time for the election.
He believes as a Hutu he is disadvantaged.
"To be a Tutsi in this country is to have a definite advantage," he said.
"It gives you access to schools, to work, to government jobs, to get scholarships to study abroad. So it is a plus to be Tutsi. In a way... it is a kind of racism."
To express such views is taboo in the new Rwanda. Talk of Hutus and Tutsis is frowned upon. The official line is that everyone is a Rwandan now.
Those who suggest otherwise risk being accused of creating ethnic divisions or propagating genocide ideology.
And this is where the disagreement lies about what Rwanda is - and what it should be.
The government argues there is democracy; that people are free to criticise and opposition parties are free to operate.
But there must be controls to prevent a return to the violent ethnic politics of the past.
"Rwanda sets up mechanisms and legal frameworks to create opposition, to allow opposition to happen, but not opposition that would endanger the path the nation is taking in the recovery phase," said Mr Musoni.
Opponents say this is a tactic for President Kagame and his inner circle to maintain their grip on power.
And such opponents include both Hutu and Tutsi.
"There is always a limit to which you can repress people. Push them against a wall and they will explode," said Patrick Karegeya, Mr Kagame's former head of foreign intelligence, and one of a growing number of his former comrades who have gone into exile.
The Rwandan government says Mr Karegeya was behind a grenade attack in Kigali earlier this year. He denies that, and says he left Rwanda three years ago because the president could not tolerate dissenting views, even inside the ruling party, the RPF.
"The people around him are just scared," he said. "There is no political party. The party has become himself. What is happening in Rwanda is just not sustainable. The oppression he is forcing on people - it is not sustainable."
But as well as critics, there are supporters of Mr Kagame in Rwanda's growing cities and on its crowded hillsides. He is the man who has brought and kept security and used donor money to good effect.
It is difficult, though, to work out the level of support or opposition, because many people are afraid to speak openly, and because international observers say past elections have been deeply flawed.
What is clear is that Mr Kagame faces no genuine challenge in this election. The candidates standing against him are from parties which have been allied to the ruling party.
The real question is where Rwanda goes now, and whether Mr Kagame will allow competitors to emerge in the years ahead.
Related Internet Links
The BBC is not responsible for the content of external sites.