Moroccan police 'break up 18-strong militant cell'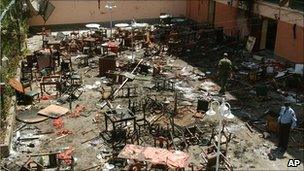 The police in Morocco have broken up a cell of 18 radical Islamist militants who were planning a series of attacks in the country, officials have said.
Three of the suspects had previous convictions for terrorism, the interior ministry said in a statement.
The cell "was preparing to commit acts of terrorism and sabotage within national territory and against foreign interests in Morocco", it added.
Several hundred people are awaiting trial in Morocco on terrorism charges.
The North African state has stepped up attempts to crack down on militant groups since more than 40 people were killed by a series of suicide bombings in the northern port city of Casablanca in May 2003. The security services say they have rounded up more than 60 cells.
Wednesday's statement by the interior ministry did not reveal when or where the cell was broken up. Nor did it identify which targets the suspects allegedly planned to attack or name the foreign targets.