Uganda arrests 'masterminds' of World Cup bombings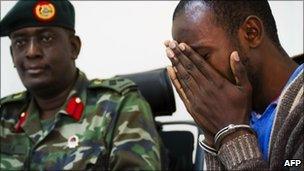 Investigators in Uganda have arrested four men who they say masterminded twin bomb attacks that killed more than 70 people last month.
The men, all of them Ugandan, admitted their involvement in the Kampala attacks during a news conference.
They all spoke of their role in the attacks that struck a restaurant and a rugby club - the venues hosting fans watching the World Cup football final.
After the attacks, a Somali Islamist group said it was behind them.
Al-Shabab said the bombings were in revenge for Uganda's role in sending troops to Somalia as part of the African Union's mission to support the besieged government there.
Investigators in Uganda and Kenya have already detained a number of people they believe were connected to the attacks.
The four suspects appeared in a press conference organised by military intelligence in Uganda's capital, Kampala.
The BBC's Joshua Mmali in Kampala, who attended the event, says the suspects were brought in one by one.
Each gave detailed descriptions of how they were involved in the plot, he said.
The suspects told the media that they had organised the attacks out of religious conviction.
One of the men seemed remorseful and occasionally cried during his testimony, our reporter says.
"I know I'm a monster to you all because of the evil acts that I did… as I told you I wasn't thinking straight," he said.
"One thing I want to stress is that they never promised us any cash."
The suspects were asked by journalists if they had been tortured while in custody, but they denied that they had, our reporter says.
One of the men said he was the contact with al-Shabab.
At a separate briefing the head of police, Kale Kayihura, said that 22 people were in custody directly connected to the bombings, our Kampala correspondent says.
About 5,000 African Union troops from Uganda and Burundi are based in Somalia's capital, Mogadishu, propping up the fragile interim government.
The force is engaged in frequent firefights with the Islamist insurgents that control much of southern and central Somalia.
Related Internet Links
The BBC is not responsible for the content of external sites.