Gunmen seize Darfur peacekeepers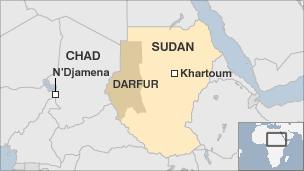 Two peacekeepers with the joint UN-African Union force in the Sudanese region of Darfur have been kidnapped.
A spokesman for the mission said the two police advisers were seized by gunmen about 100 metres (110 yards) from their accommodation in Nyala.
The Unamid force deployed in 2008 to protect civilians in Darfur.
The UN says that about 300,000 people have been killed in Darfur and more than 2.6 million displaced since ethnic rebels took up arms in 2003.
The nationality of the police advisers kidnapped on Saturday has not been released.
The peacekeepers say they have had no contact with the kidnappers yet.
There has been a wave of kidnappings in Darfur targeting foreign aid workers in recent years. Peacekeepers or civilian workers with Unamid have also been targeted by kidnappers.
The BBC's James Copnall in Khartoum says that most kidnappings appear to be for money.
Our correspondent says the news of this abduction comes at a bad time for Unamid, which is involved in a clash with the Sudanese government.
The Sudanese government is demanding it hand over six local leaders who came to it for protection in Kalma camp, near Nyala.
The six are accused of instigating violence in which several people were killed. Some Sudanese officials have talked of kicking the peacekeepers out if they do not hand over the accused.
The UN's undersecretary general for humanitarian affairs, John Holmes, has accused the Sudanese of blocking humanitarian access to Kalma since the crisis broke out, a charge which the governor of South Darfur denies.