Zimbabwe: Diamond dealer threatens traders over ban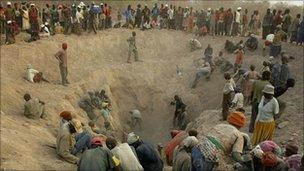 A major gems company has held to its trade ban on all diamonds from Zimbabwe's Marange fields despite an official sale last week.
The Rapaport Group said it would expel members of its global Rapnet diamond trading network if they sold them.
Zimbabwe sold $72m (£46m) worth of diamonds in the first release from Marange since the body overseeing trade in "blood diamonds" lifted a ban.
But Rapaport said the Kimberly Process could not guarantee human rights.
The Kimberley Process suspended diamond exports from Zimbabwe last November in response to allegations of atrocities committed by the military at Marange, in the east of the country, in 2008.
But last month, it ruled that abuses had ceased and said Zimbabwe could resume limited exports.
However, there has been concern that Zimbabwe's army still controls and benefits from the mines at Marange.
"There is no assurance that diamonds with KP certification are free of human rights violations," Rapaport group chairman Martin Rapaport said in a letter to members.
He also says the Zimbabwean company selling the diamonds is on the international sanctions list.
Rapnet claims to be the world's largest diamond trading network, with members in more than 70 countries and daily online listings of gems worth more than $4bn.
Zimbabwe's unity government, in power for the last 18 months, has been trying to stabilise an economy hit by rampant inflation and shortages of food and fuel.
Diamonds from the Marange field could see the country become one of the world's top six exporters and generate $1.7bn a year.
A review of conditions at Marange will be carried out in September by a Kimberley Process monitor, after which Zimbabwe may be able to resume full exports.
The Kimberley Process was set up in 2002 after the diamond trade was accused of fuelling several conflicts in Africa.
Related Internet Links
The BBC is not responsible for the content of external sites.